Theatr Clwyd Announces Further Programming For 2018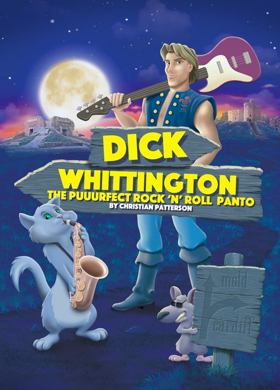 With The Assassination of Katie Hopkins in rehearsals, Artistic Director of Theatr Clwyd, Tamara Harvey and Executive Director, Liam Evans-Ford today announce the 2018 Autumn Season for the company. This includes an all-female cast in a co-production with Sherman Theatre of Lord of the Flies and a first-time co-production with Clean Break of the world première of Thick as Thieves from award-winning Welsh playwright Katherine Chandler.
These join the previously announced, Dick Whittington - The Puuurfect Rock 'N' Roll Panto written for the first time by the inaugural winner of the Best Script Award in the 2017 Great British Pantomime Awards, Christian Patterson and directed by Zoë Waterman, who returns to Theatr Clwyd this Christmas following last year's acclaimed production of Sleeping Beauty.
In June Theatr Clwyd creates three world première co-productions with Paines Plough, continuing their partnership in developing new writing. Vinay Patel's How to Spot an Alien,Georgia Christou's Sticks and Stones and Island Town by Simon Longman, will open in the Roundabout on Theatr Clwyd's hilltop before going on to the Edinburgh Festival Fringe and then embarking on a national tour. Alongside these productions three new Writers in Residence as part of Theatr Clwyd's TYFU (GROW) strand of work - will be given the opportunity to work with both companies in the groundbreaking Roundabout Theatre to develop their own writing in the Welsh Language.
Highlights of the visiting season include a reimagined production of The 39 Steps in the round direct from the Stephen Joseph Theatre, and Tom Pemkinki's Duet for One.
Artistic Director Tamara Harvey said today "This year more than ever, it feels vital that we produce work which celebrates and empowers women, in the stories we tell and in the people we choose to tell them. This is one of the reasons I'm so thrilled to be co-producing with the Sherman Theatre, breaking new ground with an all-female production of Lord of the Flies directed by the brilliant Caroline Steinbeis. As we recognise the centenary of (at least partial) female suffrage, our co-production with Clean Break will I hope give power to the voices of those women who often go unheard, shaped by Katherine Chandler and Róisín McBrinn. And as we head into Christmas, Zoë Waterman will return to helm our much-loved panto. We're delighted that this wonderfully interconnected season sees women at the forefront, both onstage and off."
The season also sees the return of the third annual Family Arts Weekend, giving access to all areas of the building with performances, workshops and adventures for children of all ages and their families. Running Friday 27 - Sunday 29 July 2018, productions include Tiddler and Other Terrific Tales, The Doodle Dance Show, A Square World and Arabian Nights.
Anthony Hopkins THEATRE
A Theatr Clwyd and Sherman Theatre co-production
LORD OF THE FLIES
By William Golding
Adapted by Nigel Williams
Thursday 20 September - Saturday 13 October 2018
Press night: Wednesday 26 September 7.30pm
Director: Caroline Steinbeis; Designer: Janet Bird
On a remote island, a new society is being created. A group of evacuated school children have crash landed. There are no adults to tell them what to do. They've ripped up the rule book and are starting all over again. But it's not long before their utopia descends into a nightmarish hell.
Step into a terrifying dystopian future where rules don't matter, law means nothing and school kids rule the world. This is a bold and contemporary staging of William Golding's classic.
Nigel Williams is an award-winning author, playwright and screenwriter. His theatre credits include Class Enemy, which has been translated into more than 30 languages. His novels include My Life Closed Twice which won the Somerset Maugham Award and the "Wimbledon Trilogy" - The Wimbledon Poisoner, They Came from SW19 and East of Wimbledon. He later adapted The Wimbledon Poisoner for a television film. For film his credits include the award-winning Elizabeth I.
Caroline Steinbeis directs. She is Sheffield Theatres Associate Director - her work for the company includes the upcoming regional première production of Caryl Churchill's Love and Information, and Githa Sowerby's Rutherford and Son. She was the recipient of the 2009 JMK Award and was previously on attachment at the National Theatre and in 2008 completed the Director's Course at the NT Studio. She was International Associate at the Royal Court under Dominic Cooke, developing and directing workshops and new plays from all over the world. Her previous credits include Edward II (Cambridge Arts Theatre), The Tempest (Royal & Derngate Northampton), The Crucible and Brilliant Adventures (Royal Exchange Manchester), We Want You to Watch (National Theatre), The Broken Heart (Shakespeare's Globe), Show 6 of Secret Theatre (Lyric Hammersmith), Talk Show, Mint and A Time to Reap (Royal Court Theatre), Earthquakes in London (National Theatre as Associate, and the UK tour director), Fatherland (Gate Theatre and Radical Jung Festival, Munich) and Mad Forest (BAC for which she won the 2009 JMK Award).
Emlyn Williams THEATRE
A Theatr Clwyd and Clean Break co-production
THICK AS THIEVES
By Katherine Chandler
Thursday 11 - Saturday 27 October 2018
Press night: Wednesday 17 October 7.45pm
Director: Róisín McBrinn
Two women from very different worlds: Karen has built a picture-perfect life while Gail struggles to keep hers together. When Gail re-enters Karen's life from out of the blue she brings with her everything Karen has been running from... This tense, revealing play explores what it means to care for one another and asks who, in a time of increasing disconnect, we expect to look after us.
Katherine Chandler is an award-winning playwright and her credits include Bird (Royal Exchange Theatre/Sherman Theatre), Parallel Lines - winner of Wales Drama Award (Dirty Protest Theatre/Chapter Arts), Before it Rains (Sherman Theatre/Bristol Old Vic),Hood (National Theatre), Buddy (Royal Welsh College of Music and Drama/The Gate),The Silly Kings, Peggy's Song (National Theatre Wales), Princess and the Sea, The Ugly Duckling (Sherman Theatre), Spent (Clean Break Theatre Company), Leaves on a Line (Royal Court Theatre/Dirty Protest Theatre).
Róisín McBrinn is an award-winning theatre director. She is the Head of the Artistic Programme at Clean Break Theatre Company and her credits for the company include Joanne(Soho Theatre/RSC) and House/Amongst the Reeds (Yard Theatre). Other credits include Noveccento (Donmar Warehouse), Afterplay (Sheffield Theatres), Yerma (West Yorkshire Playhouse), Discurso (Prime Cut Villa), No Escape, Perve, Heartbreak House (The Abbey Theatre), Before it Rains, Sleeping Beauties and It's A Family Affair (Sherman Theatre). She will also be directing the forthcoming stage adaptation of Roddy Doyle's The Snapper for The Gate Theatre, Dublin.
Anthony Hopkins THEATRE
A Theatr Clwyd production
Dick Whittington - The Purrrrrfect Rock 'N' Roll Panto
Friday 23 November 2018 - Saturday 19 January 2019
Press night: Tuesday 27 November 7pm
The rock 'n' roll panto is back in Mold with disco frocks, sparkling sets, slapstick galore and the colourful panto puppets.
The flamboyant Phylip Harries takes centre stage as the Dame. Well-known on both the Welsh stage and screen, this is Phylip's twelfth appearance in panto at Clwyd. As well as leading the company of actor/musicians in a riotous performance of seasonal fun, with lashings of audience participation, he will sing and play instruments, including flute, saxophone and keyboards.
Take a trip with Dick Whittington down streets paved with Welsh gold, as actor-musicians play favourite rock 'n' roll songs live! It's sure to be a Christmas Cracker that's filled with funky cat-titude. This is a festive treat that will have audiences feline good!
Christian Patterson is one of the most recognisable and best loved faces on Theatr Clwyd's stages. This will be his pantomime writing debut for the company. As an actor his credits include The Rise and Fall of Little Voice (Theatr Clywd) and My Country (National Theatre). He won the Best Actor honour at the Wales Theatre Awards in 2016. He has written award-winning hit pantomimes for other UK theatres.
Zoë Waterman returns to Theatr Clwyd to direct. Her credits for the company include Sleeping Beauty. Further credits includes The Rubenstein Kiss, Amy's View, After Miss Julie(Nottingham Playhouse), Swan Song: an evening of music and song (Swan Theatre/Royal Shakespeare Company), Enlightenment, Shining City (Theatre by the Lake), The Bogus Woman (Theatre by the Lake/UK tour),Philistines (RWCMD), The Lark, Blackshirts, The Europeans (East 15), Blue Stockings, 13, Arcadia, The Laramie Project (Arts Educational School) and A Kind of Alaska (Edinburgh Fringe Festival). Assistant directing includes 2012-13 at the Royal Shakespeare Company, including assisting Gregory Doran on The Orphan of Zhao. She was the recipient of the New Wimbledon Theatre's Emerging Directors Award 2007.
https://www.theatrclwyd.com/en/
Related Articles View More UK Regional

Stories

Shows
More Hot Stories For You