Rashid Razaq's THE NIGHTMARES OF CARLOS FUENTES to Run 23 July - 16 August at Arcola Theatre
Rashid Razaq's new play, The Nightmares of Carlos Fuentes, is based on an award-winning short story by Hassan Blasim. It is directed by Nicolas Kent, who was Artistic Director of the Tricycle Theatre from 1984-2012. The cast includes Nabil Elouahabi who was a leading actor in the Olivier nominated, and critically acclaimed trilogy, The Great Game: Afghanistan, which ran at the Tricycle Theatre and toured throughout the US. He also was a series regular in Channel 4's BAFTA nominated Top Boy (series two).
The World Premiere of The Nightmares of Carlos Fuentes runs at the Arcola Theatre from 23 July until 16 August, with press night on 29 July 2014. Design is by Ellan Parry, lighting by Matt Eagland and sound by Andy Graham. Further casting will be announced shortly.
Salim, an Iraqi refugee, takes on a new identity In London after fleeing persecution in Baghdad. He is picked up, and marries a wealthy older woman, who enthusiastically coaches him in the bedroom for his forthcoming citizenship test. But Carlos Fuentes finds that knowing the names of all six of Henry VIII's wives can neither satisfy his new wife nor turn him into a "Britishman". The nightmare of the violence of his past catches up with him, and suddenly he is at the airport, accompanied by a G4 security guard, waiting for a plane to take him back to Baghdad.
The Nightmare of Carlos Fuentes is supported by ACE, Backstage Trust, John S Cohen Foundation and the Potter Foundation.
Nicolas Kent started his career at Liverpool Playhouse in 1967 as an ABC TV trainee regional theatre director. In 1970 he became Artistic Director of the Watermill Theatre, from 1970-72 Associate Director of the Traverse Theatre, Edinburgh and from 1976-81 Administrative Director of The Oxford Playhouse Company. From 1984-2012 he was Artistic Director of the Tricycle Theatre in London.
He has directed productions in over 100 theatres around the world including the West End and New York; as well as for notable companies in Great Britain including The National Theatre, The Royal Shakespeare Company, The Royal Court, The Donmar Warehouse, The Hampstead Theatre, the Lyric Theatre Hammersmith and the Young Vic.
He is probably best known for the political work he did at Tricycle Theatre, where the verbatim plays he directed became known as the Tricycle Tribunal plays, and included The Colour of Justice (the Stephen Lawrence Inquiry), Nuremberg, Srebrenica, Bloody Sunday and Guantanamo. Most of which were broadcast by the BBC and two were performed in the Houses of Parliament and on Capitol Hill. More recently The Great Game: Afghanistan enjoyed a critically acclaimed run at the Tricycle Theatre, including a special performance presented to the previous Chief of Defense Staff, General Sir David Richards and members of the British Army. The Great Game then toured over the US and was also presented to the Pentagon, Washington DC.
Nicolas has also directed many plays in the USA, both regionally and in New York, on television for the BBC and for BBC radio. Recently he directed Letter of Last Resort from The Bomb series of plays, which premiered at the Tricycle Theatre, for BBC Radio 4, and his translation of Jean-Claude Grumberg's I just don't Believe It with Michael Gambon and Frances de la Tour at last year's Cheltenham Literary Festival.
Nabil Elouahabi's theatre credits include Love Your Soldiers at the Sheffield Crucible, The Great Game: Afghanistan for the Tricycle Theatre/US Tour, Crossing Jerusalem also at the Tricycle and Sparkleshark at the National Theatre. His television credits include the next series of Fox's Emmy Award winning drama 24, starring Kiefer Sutherland as Jack Bauer, which is released on SKY1 in May, the BAFTA award winning drama Top Boy Series II for Channel 4, Generation Kill for HBO, The Path to 9/11 for ABC, Mad Dogs on SKY and he is well known for his role as Tariq in the BBC's EastEnders. His film credits include Zero Dark Thirty, Code 46, In This World, Ali G Indahouse and The Sum of All Fears. The Nightmares of Carlos Fuentes will be Nabil's first co-production, with further projects in development.
Rashid Razaq is a playwright, screenwriter and journalist. His debut play The President and The Pakistani (directed by Tom Attenborough), based on the real-life story of Barack Obama and his illegal immigrant flatmate opened at the Waterloo East Theatre in run-up to the US presidential election in 2012. Rashid's short play Arab Spring (starring Nabil Elouahabi) was performed at the Nursery Festival in 2011 and was featured on BBC Arabic Service. His short play, Hardcore, was selected for a best of programme at the 503 Theatre. He is a graduate of the Royal Court Theatre's Young Writer's Programme.
Rashid wrote Man and Boy (starring Eddie Marsan), which won Best Short at the Tribeca Film Festival 2011 and a top prize at the Aspen Film Festival. His previous short film Father (starring Sam Spruell and Matt King) was selected for festivals in the UK and internationally. He has co-written the forthcoming feature film Orthodox (starring Stephen Graham) about an Orthodox Jewish boxer and has another feature film in development.
Rashid works as a reporter for the London Evening Standard covering subjects including crime, arts and politics.
Hassan Blasim originally trained as a filmmaker but was forced to flee his home city, Baghdad, in 1999 when his films were identified as dangerous critiques of the Saddam Hussein regime. He moved to Kurdistan (Northern Iraq) where he continued to make films under a pseudonym for several years before eventually leaving Iraq completely and traveling, as an illegal migrant, across Europe, eventually arriving in Finland, where he now lives. His first collection of short stories, The Madman of Freedom Square, was commissioned by Manchester's Comma Press and published in English first in 2009 (it has since been published in half a dozen languages). His second collection, The Iraqi Christ, has just been shortlisted for the 2014 Independent Foreign Fiction Prize. He is the winner of two English PEN Writers in Translation awards.
More Hot Stories For You
THE TALES OF THE BROTHERS GRIMM Announced At Sherman Productions

December 1, 2022

Inspired by the famous fairy tales, Hannah McPake - writer, performer and star of numerous Sherman productions - reimagines the world of the Brothers Grimm in a new Christmas show for the whole family.
---
IDIOTS ASSEMBLE: SPITTING IMAGE SAVES THE WORLD Comes to Birmingham Rep Next Year

December 1, 2022

40 years after the hugely popular satirical sketch show Spitting Image was first filmed in Birmingham, the iconic puppets return to the city for the World Premiere of Idiots Assemble: Spitting Image Saves the World at Birmingham Rep.
---
Invisible Disabilities: Second Hand Dance Release Report On UK Festivals

December 1, 2022

This World Disability Day Second Hand Dance will shine a light on invisible disability with the release of research the company has carried out into how it impacts professionals attending arts festivals.
---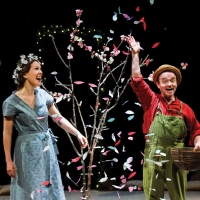 New Season of Visiting Work Announced For Winter/Spring 2023 at Scarborough's Stephen Joseph Theatre

December 1, 2022

A season of visiting shows at Scarborough's Stephen Joseph Theatre has been announced. Learn more about the full lineup here!
---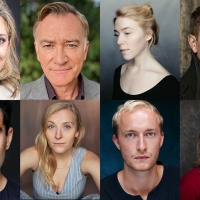 Cast Announced For THE MERCHANT OF VENICE at Watford Palace Theatre and HOME Manchester

December 1, 2022

Casting has been announced for The Merchant of Venice, coming to Watford Palace Theatre and HOME Manchester in 2023.
---