Photo Flash: Inside Rehearsal For BROKEN GLASS at Watford Palace Theatre
Watford Palace Theatre presents Arthur Miller's play Broken Glass, which opens 80 years after the events of Kristallnacht, leading up to the Second World War. Richard Beecham directs Charlotte Emerson (Sylvia Gellburg), Clara Francis (Harriet), Andrew Hall (Stanton Case) Michael Higgs (Dr Harry Hyman), Rebecca Lacey (Margaret Hyman) and Michael Matus (Philip Gellburg). Broken Glass opens at Watford Palace Theatre on 6 March, with previews from 1 March and runs until 24 March.
Check out photos from rehearsal below!
Phillip and Sylvia Gellburg are living increasingly separate lives. Phillip is obsessed with getting ahead, in a real estate company where he is the only Jew. Sylvia is disturbed by news of Kristallnacht from Germany. In a single night, the Nazis destroyed thousands of Jewish homes and businesses, smashing windows and burning synagogues. Haunted by these images, she becomes ill and is unable to move. Phillip takes her to see the popular and attractive Dr Harry Hyman, whose 'talking cure' has unexpected consequences.
Arthur Miller is one of the most celebrated writers of the twentieth century. His most notable works include Death of a Salesman, A View From The Bridge, The Crucible and All My Sons. Broken Glass was first performed in 1994 and was nominated for a Tony Award later that year. In 1995 it received the Olivier Award for Best New Play.
Charlotte Emmerson plays Sylvia Gellburg. Emmerson returns to Watford Palace after appearing in The Daughter-In-Law. Other theatre credits include Sunspots, On the Rocks (Hampstead Theatre), The Postman Always Rings Twice (Playhouse Theatre and West Yorkshire Playhouse), The Cherry Orchard, The Coast of Utopia, Thérèse Raquin, The Good Hope (National Theatre) and The Children's Hour (Royal Exchange, Manchester). Her work for television includes Love, Lies and Records, From Darkness, Casualty 1909, Stan, The Alan Clark Diaries, DCI Banks, Underworld and Resort to Murder; and for film, Food Of Love, Smile, The Last Minute, Wangle and Weekend Bird.
Clara Francis plays Harriet. Theatre credits include Ring Around The Moon (King's Head Theatre), Queuing For Everest, A View From The Bridge, Angels In America (Sheffield Crucible), Blood Wedding and The Crucible (Young Vic Theatre). For television, her credits include Coming Up/Loveless, Fooling Hitler, Bella and The Boys and In Your Dreams; and for film, Disobedience and Under The Skin.
Andrew Hall plays Stanton Case. Hall returns to Watford Palace Theatre after appearing in Dead Funny. Other theatre credits include A Midsummer Night's Dream, Camille, Hamlet, Romeo & Juliet (RSC) and Mamma Mia! (Prince of Wales Theatre). For television his credits include Hollyoaks, Two Point Four Children and Nixon's The One.
Michael Higgs plays Dr Harry Hyman. Previous theatre credits include The Homecoming (Royal Exchange, Manchester) and The Blue Room (Theatre Royal, Haymarket). His work for television includes EastEnders, Broken, Hetty Feather, New Tricks, Materical Girl and Bad Girls; and for film, Prisoners of the Sun and Assassination Games.
Rebecca Lacey play Margaret Hyman. Her recent theatre credits include The Curious Incident of The Dog In The Night Time (National Theatre and Gielgud Theatre), Pride And Prejudice (Regent's Park Open Air Theatre) and Benefactors (Sheffield Crucible). Her work for television includes Doc Martin, Rellik, New Tricks, Hustle, May to December and Shine on Harvey Moon; and for film, Chalet Girl, Arthur's Dyke and The Romanovs.
Michael Matus plays Phillip Gellburg. Recent theatre credits include Lend Me A Tenor (Gielgud Theatre), A Christmas Carol (Arts Theatre), A Midsummer Night's Dream and Timon of Athens (Shakespeare's Globe), Making the Future: Hitler's Childhood and Grace (Young Vic). For television, recent credits include The Bill,Trinity, Endeavour, A Prince Among Men, A Perfect World, EastEnders and Then; and for film, A Muppet Christmas Carol.
Richard Beecham directs. Beecham returns to Watford Palace Theatre having previously directed Neville' Island, A Taste of Honey and Translations. Other theatre credits include Driving Miss Daisy (Theatre Royal, Bath and UK Tour), Rose (Home, Manchester) and Playing For Time (Sheffield Crucible and Dancing at Lughnasa (Theatre Royal, Northampton).
Watford Palace Theatre is a 21st century producing theatre, making new work across the art forms of theatre, dance, outdoor arts and digital, and developing audiences, artists and communities through exciting opportunities to participate. Recent premières include: Miss Meena & the Masala Queens by Harvey Virdi, Dodie Smith's I Capture the Castle, good dog by Arinzé Kene, Folk by Tom Wells, Wipers by Ishy Din, Poppy+George by Diane Samuels, Coming Up by Neil D'Souza, Jefferson's Garden by Timberlake Wertenbaker, Love Me Do by Laurence Marks and Maurice Gran, An Intervention by Mike Bartlett Shiver by Daniel Kanaber, the Ideal World season of three new plays-Perfect Match by Gary Owen, Virgin by E.V.Crowe, Override by Stacey Gregg, Jumpers for Goalposts by Tom Well, Our Brother David by Anthony Clark, Our Father by Charlotte Keatley, and Family Business by Julian Mitchell.
Creative Associates are central to Watford Palace Theatre's vision these include Resident Partner Company Rifco Art, Creative Associate Companies tiata fahodzi, Scamp Theatre and Up In Arms and Creative Associates Kate Flatt, Shona Morris, Gurpreet Kaur Bhatti, Charlotte Keatley, Gary Owen, Ruari Murchinson and Timberlake Wertenbaker.
Photo Credit: Richard Lakos

Rebecca Lacey, Michael Higgs

Michael Higgs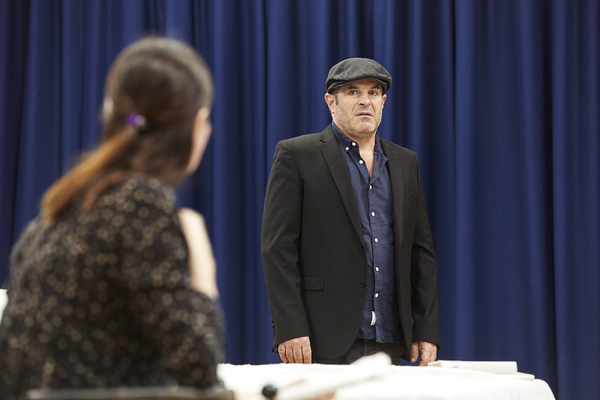 Michael Matus, Charlotte Emmerson

Clara Francis, Charlotte Emmerson