Photo Flash: In Rehearsal With WHITE TEETH At Kiln Theatre
Kiln Theatre Artistic Director Indhu Rubasingham presents the world première of Stephen Sharkey's adaptation of Zadie Smith's White Teeth. See the cast in rehearsal below!
The cast includes Ayesha Antoine (Irie Jones), Michele Austin (Mad Mary), Philip Bird (Des/Marc Perret/Marcus Chalfen), Ayesha Dharker (Alsana Iqbal), Naomi Frederick (Ruth/Poppy/Joyce Chalfen), Tony Jayawardena (Samad Iqbal), Richard Lumsden (Archie Jones), Karl Queensborough(Anthony /Denise/Josh Chalfen), Sid Sagar (Magid Iqbal), Amanda Wilkin (Rosie Jones), Assad Zaman (Millat Iqbal), and actor-musicians Matthew Churcher, Nenda Neurer (also Clara Jones) and Zoe West. The production opens on 5 November, with previews from 26 October, and runs until 22 December.
'You're in Kilburn. Melting pot where nothing's actually melted it's all just kinda stuck together at the bottom in a gooey mess, know what I mean?'
Photo Credit: Mark Douet

Naomi Frederick, Amanda Wilkin, Karl Queensborough, Richard Lumsden, Tony Jayawardena and Sid Sagar in rehearsals for White Teeth at the Kiln Theatre.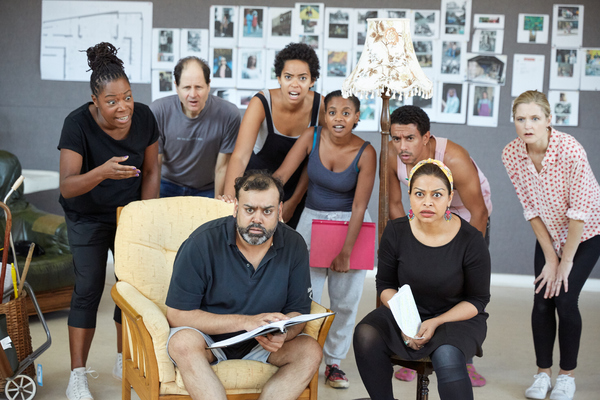 Michele Austin, Philip Bird, Tony Jayawardena, Amanda Wilkin, Ayesha Antoine, Karl Queensborough, Ayesha Dharker and Naomi Frederick in rehearsals for White Teeth at the Kiln Theatre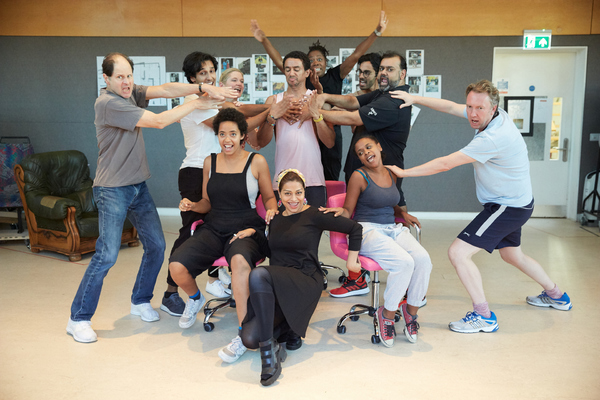 Philip Bird, Assad Zaman, Amanda Wilkin, Naomi Frederick, Ayesha Dharker, Karl Queensborough, Michele Austin, Ayesha Antoine, Sid Sagar, Tony Jayawardena and Richard Lumsden in rehearsals for White Teeth at the Kiln Theatre