Lost Dog's JULIET AND ROMEO On Tour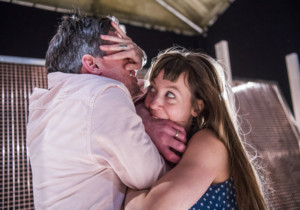 LOST DOG's "searingly witty" (SeeingDance) 'Juliet & Romeo' opened to packed houses and critical acclaim at a two week run at Battersea Arts Centre in London earlier this year. Broadly based on Shakespeare's deeply pessimistic teenage love story, this "highly entertaining, extremely amusing and occasionally quite tender evening of theatre and dance" (Times) is performed by Lost Dog's Artistic Director Ben Duke and Solène Weinachter. This clever, funny production explores contemporary culture's celebration of youth and how it creates unrealistic expectations around love, sex and relationships. The Guardian described the show as "smart, subversive and sexy".
Says Ben Duke: "I hope audiences will be entertained and moved by the work. It's a piece that allows people to consider the nature of their own relationships, something we could all do with reflecting on." Lost Dog are touring to theatres and non-theatre venues (which have been booked via Rural Touring Dance Initiative). "I love the fact that people come along to see the show because it's happening in their theatre or their village hall," continues Ben, "and that means they arrive with no expectations even though there are the names of two very famous literary characters in the title of the piece. I love the intimacy of smaller venues as well - there's nowhere to hide!"
Ben Duke:
"I've allowed myself to imagine a alternate version to Shakespeare's original: in this work Juliet and Romeo have been together about 25 years and they are in something of a marital crisis. They love each other but sometimes they wish the other one were dead...the bloom of teenage romance has definitely faded but it still haunts them.

"Romeo is in the middle of a mid-life crisis; he is trying to let go of the passionate teenager he was and become a Man. But he doesn't have any clear idea what that Man should look like so he is in limbo. Juliet is very attached to the extraordinary teenager she was and is finding the ordinariness of her current life a struggle.
"There have been a few changes to the show since we first performed it but the heart of the piece is the same. Juliet and Romeo are still trying to work out how to continue in this complicated game that is their relationship.
LOST DOG's one-man show, Paradise Lost (Lies Unopened Beside Me) won Ben Duke huge critical acclaim, the 2016 National Dance Critics' Circle Award for Outstanding Male Performance and a nomination for the 2016 South Bank Sky Arts Award for Dance. Paradise Lost performs at the Tipperary Dance Festival on October 12th. Ben's recent piece for Rambert, 'Goat', was another big hit with critics and audiences alike and was nominated for a 2018 Olivier award.
LOST DOG was formed in 2004 by Ben Duke and Raquel Meseguer to create work using text, movement and music in which dance is framed by stories and characters. The company's first work, Pave up Paradise, won 1st prize at the Burgos International Choreography competition. In 2005 The Drowner received a Bonnie Bird UK New Choreographers' Award. Lost Dog has also created Hungry Ghosts (2007-2008); The Rain Parade (2009); Salvage (2010) and in 2011 won The Bloomberg Place Prize for Dance with It Needs Horses. More recent work includes Home for Broken Turns (2012), Like Rabbits, made in collaboration with writer Lucy Kirkwood (2014) and the prize winning hit show Paradise Lost (lies unopened besides me) (2015-2018).
Ben Duke trained at Guildford School of Acting, the London Contemporary Dance School and has a first class degree in English Literature from Newcastle University. His work explores the overlap and transition between Dance and Theatre. Ben is a Work Place artist, was Associate Artist at South East Dance 2012- 14 and was the recipient of the Bonnie Bird New Choreography Award 2011.
Paradise Lost (lies unopened beside me) won the 2016 National Dance Award for Outstanding Male Performance, the 2017 Rural Touring Award for the most innovative and inspirational show, and was shortlisted for a South Bank Sky Arts Award.
Ben has also directed and choreographed works Rambert (Goat), Barely Methodical Troupe (Kin), Scottish Dance Theatre (The Life and Times of Girl A), Dance Umbrella (The Difference Engine), Phoenix Dance Theatre (Pave up Paradise) and more. He has performed with Probe, Hofesh Shechter Company, The Gate Theatre, The National Theatre of Scotland, Glyndebourne Opera and Punchdrunk.
Born in France, Solène Weinachter trained in the regional conservatoire of Lyon and then pursued her training at London Contemporary Dance School where she obtained a BA(Hons) and an MA in contemporary dance and performance. Solène has worked with a wide range of dance and physical theatre companies in Europe including: Scottish Dance Theatre, Lost Dog, Gecko Theatre Company, Troubleyn and most recently Vera Tussing Projects. She is also a founding member of Collective Endeavours, a Glasgow-based music and dance improvisation collective.
Related Articles View More UK Regional

Stories

Shows
More Hot Stories For You