Disabled-Led Ensembles Unite For a Performance of Specially Commissioned Work at Sage Gateshead
The performance is set for 3rd March.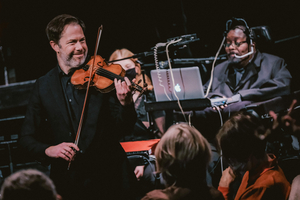 RNS Moves, the inclusive ensemble bringing together disabled and non-disabled musicians from Royal Northern Sinfonia are joining forces with players from BSO Resound, the disabled-led ensemble at the core of Bournemouth Symphony Orchestra, for a monumental performance at Sage Gateshead on the 3rd March.
Both founded in 2018, the ensembles are at the cutting edge of music-making and are reshaping the world of classical performance through their inclusive approach and inventive instrumentation.
The group will perform Falling, a newly commissioned piece from award-winning composer Kate Whitley, who is also known for co-founding The Multi-Story Orchestra. Falling was composed following a series of workshops with Kate and has been specially orchestrated to feature the accessible electronic instruments used by the musicians - including a Linnstrument and the Headspace. The performance will be conducted by RNS Principal Conductor Dinis Sousa, and will also feature works by Ligeti, Sibelius, and Kodály.
The ensemble features a whole host of inspiring musicians, including Clarence Adoo MBE, who co-founded the ensemble after a life-altering car accident left him paralysed from the neck down, meaning he could no longer hold his position as a trumpeter in RNS. Following the accident, German composer-come-inventor Rolf Gehlhaar was asked to create a bespoke instrument for Clarence so that he could continue to play music. The result was the Headspace - an innovative MIDI wind instrument controlled by breath and head movements.
Composer Kate Whitley said, "It's been a total pleasure working on this project - it's an incredible group of musicians and we've worked to create the piece together, which has been a really inspiring process. I'm lucky to be a part of it"
James Thomas, Director of Royal Northern Sinfonia and Classical Programme at Sage Gateshead, said, "Inclusivity is at the heart of what Royal Northern Sinfonia does, and we're really pleased to be underlining our commitment to it by this RNS Moves collaboration with our friends at BSO Resound. The two ensembles have already hugely enjoyed their creative exchange, workshopping the music together last year, and we're now very excited that this new project will be brought to the main stage at Sage Gateshead, giving audiences in the North East the chance to enjoy the music making of these ground-breaking ensembles."
Clarence Adoo, founding member of RNS Moves, said, "This is a real beacon of high-quality playing, unique around the world. It doesn't matter if someone has a disability - music makes a connection to all of us and people can create on all levels."
The ensembles will perform at Sage Gateshead on the 3rd March, accompanied by Royal Northern Sinfonia. The event is also available to livestream and tickets are on sale now via https://cloud.broadwayworld.com/rec/ticketclick.cfm?fromlink=2223646®id=57&articlelink=https%3A%2F%2Fsagegateshead.com%2Fwhats-on%2Frns-musical-changemakers%2F?utm_source=BWW2022&utm_medium=referral&utm_campaign=article&utm_content=bottombuybutton1.