Casting Announced For THE MELTING POT at Finborough Theatre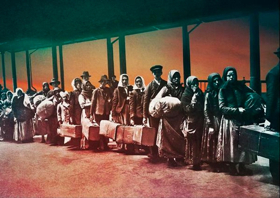 In a rediscovery commissioned by the Finborough Theatre, The Melting Pot by Israel Zangwill runs at the Finborough Theatre, playing Sunday and Monday evenings and Tuesday matinees from Sunday, 3 December 2017.
The classic story of a young Russian immigrant fighting to uphold his dream of a new life in a new country. After his family are massacred in a pogrom, Jewish composer David Quixano escapes to New York City, in search of a new life. There he falls in love with Vera, a beautiful Russian Christian.
Inspired by the multitude of ethnicities in his new home, David's exuberance bursts forth in his composition - an "American Symphony". But, as characters from his past begin to reappear, David is confronted with the terrifying realisation that his "melting pot" burns the good with the bad.
Can vicious divisions of race, religion and class ever really be left behind? Or is the idea of a cauldron of nations, free of ethnic divisions and hatred, an impossible dream?
Originally performed in Washington DC in 1908, The Melting Pot received its UK premiere at The Royal Court Theatre in 1914 and transferred to two West End theatres. Unseen in the UK since 1938, the play popularised the phrase "melting pot", and remains a determined celebration of multiculturalism.
British novelist, essayist and playwright Israel Zangwill (1864-1926) was born in London into a family of Jewish immigrants from the Russian Empire. He spent his life championing cultural Zionism, territorialism, pacifism and women's suffrage. He strongly advocated the erasure of racialized language, the assimilation of immigrants to the United States, and the development of America as an amalgamation of migrant cultures. In 1892, Zangwill's first novel, Children of the Ghetto was published, earning him the nickname 'the Dickens of the Ghetto'. He followed this with four similarly themed novels over the turn of the century: Grandchildren of the Ghetto, Dreamers of the Ghetto,Ghetto Tragedies and Ghetto Comedies. Zangwill is also known for pioneering the 'locked room' mystery subgenre through his novel The Big Bow Mystery. In 1899, Zangwill's own dramatization ofChildren of the Ghetto appeared on Broadway. His other plays includeThe Serio-Comic Governess,Nurse Marjorie and Merely Mary Ann.
Director Max Elton is a writer and director. Direction includes The End of Hope (Orange Tree Theatre, Richmond, and Soho Theatre), Big Brother Blitzkrieg (King's Head Theatre), Leftovers(Tristan Bates Theatre), Trevor's House (Tabard Theatre), Distraction (Pint Sized Theatre, The Bunker). Assistant Direction includes assisting Paul Miller on Sheppey (Orange Tree Theatre, Richmond), Jez Bond on Madame Rubinstein (Park Theatre) and The Drunken City (Tabard Theatre). He trained on the Theatre Directing MA at the Orange Tree Theatre in association with St Mary's University.
The cast is:
Steffan Cennydd | David Quixano
Trained at Guildhall School of Music and Drama where he won the Gold Medal for Acting and the Richard Burton Memorial Award.
Theatre includes Under Milk Wood (Watermill Theatre, Newbury).
Film includes Last Summer.
Alexander Gatehouse | Quincy Davenport
Productions at the Finborough Theatre include Chicken Dust which subsequently transferred to The Curve, Leicester, and Black Jesus.
Trained at the London Academy of Music and Dramatic Art.
Theatre includes Ventoux (Salisbury Playhouse, Crucible Theatre, Sheffield, and National Tour), The Fool On The Hill, Arkansas, Green and Pleasant Land, Clause IV and A Doll's House (Arcola Theatre), Paramore (Hightide Festival Theatre), The Comedy of Errors, Macbeth, A Midsummer Night's Dream and The Merchant Of Venice (National Tour), Sochi 2014 (King's Head Theatre and Hope Theatre), Old Fools (Bush Theatre), Hamlet (Stern Alarum), The Taming of the Shrew andCyrano de Bergerac (US Tour), Eden 2.0 (Soho Theatre), Someone to Blame and Big Shoe (King's Head Theatre), The Exonerated (Charing Cross Theatre), A Midsummer Night's Dream (Unicorn Theatre), Communication Breakdown (Theatre503), Present Tense (Trafalgar Studios), The Gift (Old Vic New Voices), Freddie Hearts Freddie (Southwark Playhouse), Beat Generation (Jerwood Space),Inches Apart (The Old Vic and Theatre503), Peter and the Wolf (Corn Exchange, Ipswich), Hanging Around (KneeHigh at the National Theatre), A Bequest To The Nation (Jermyn Street Theatre),Valpariso (Old Red Lion Theatre), All For Honour (Tara Art Theatre) and The Winter's Tale (Theatre Alive).
Film includes Almost Unmarried, Dreams of a Life, Totally Unexpected, Dog Tags, How We Treat Each Other, Transcended, Pete?, Snow Club and The One Inside.
Television includes A London Affair.
Web series include Figg and Dates.
Peter Marinker | Mendel Quixano and Baron Revendal
Productions at the Finborough Theatre include Portraits, The Early Hours of a Reviled Man, Waiting for Godot and Hurried Steps.
Trained at Webber Douglas Academy of Dramatic Art.
Theatre includes The Merchant of Venice (The Old Vic), Curse of the Starving Class (Royal Shakespeare Company), The Ice Man Cometh (Lyric Theatre, Belfast), We Want You to Watch(National Theatre), Blue Heart Afternoon (Hampstead Theatre), Southwark Mysteries (Shakespeare's Globe), Are You Lonesome Tonight? (Phoenix Theatre), Have I None (Southwark Playhouse) andThe Stoning (BAC).
Film includes United 93, Love Actually, Event Horizon, Judge Dredd, The Russia House, Emerald Forest, Enemy Mine, Martian Chronicles and Fear is the Key.
Television includes Into the Badlands, Knightfall, Family, The Vice, Doctors, Bugs, Bodyguards,Young lndie, Casualty and Three Wishes for Jamie.
Katrina McKeever | Kathleen O'Reilly
Productions at the Finborough Theatre include Everything Between Us.
Trained at Guildhall School of Music and Drama.
Theatre includes The First Man (Jermyn Street Theatre) and Goblin Market (Lyric Theatre, Belfast, and Edinburgh Festival).
Film includes Nightclubbing, Lady Death and The First Man.
Hayward B Morse | Herr Pappelmeister
Productions at the Finborough Theatre include Eden's Empire, Weapons of Happiness andMagnificence.
Trained at the Royal Academy of Dramatic Art.
Theatre includes Brand New Day (Arts Theatre), Bar Mitzvah Boy (Upstairs at the Gatehouse),Barking in Essex (Wyndham's Theatre), Travels With My Aunt (Birmingham Rep), The Rocky Horror Show (Kings Road Theatre), The Canterbury Tales (Phoenix Theatre), What The Butler Saw(Queen's Theatre) and the Broadway production of Butley (Morosco Theatre, New York) for which he received a Tony Award nomination.
Film includes Agency and Death Wish 3.
Television includes James May's Man Lab and Autopsy; The Last Hours of Lou Reed.
Audio work includes The Theban Plays, The Man on the Mountaintop and over 100 audiobooks for the Royal National Institute of Blind People.
Ann Queensberry | Frau Quixano
Theatre includes Uncle Vanya (Almeida Theatre), Three Sisters (The Young Vic), La Fausse Suivante(Théâtre des Bouffes du Nord, Paris, and European Tour) and Pygmalion and The Schoolmistress(Chichester Festival Theatre).
Film includes Patrick, Final Score, Remainder, Ashes, City of Ember, Irina Palm, Mrs. Henderson Presents, Smilla's Sense of Snow and Jane Eyre.
Television includes Maigret's Dead Man and Tenko.
Whoopie van Raam | Vera Revendall
Trained at Guildhall School of Music and Drama.
Theatre includes Babette's Feast (The Print Room).
Theatre whilst training includes Lulu, Top Girls, Mephisto and Into the Woods.
Film includes Advertentie.
For tickets, visit www.finboroughtheatre.co.uk.
Related Articles View More UK Regional

Stories

Shows
More Hot Stories For You