A Soulful Night To Remember Comes to Edinburgh Playhouse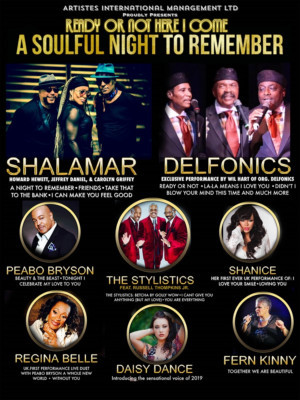 Dubbed the biggest American soul compilation show ever to tour UK theatres, A Soulful Night to Remember comes to Edinburgh Playhouse on Sunday 17 March as part of its UK tour.
Starring a who's who of soul music, the line-up includes: Shalamar, The Delfonics, Peabo Bryson, Regina Belle, original member of The Stylistics Russell Thompkins Jnr, Shanice and Fern Kinney.
And joining the parade of Stateside soul superstars is the UK's finest Daisy Dance.
Didn't I Blow Your Mind, A Whole New World, Betcha By Golly Wow, Tonight I Celebrate My Love for You, Ready Or Not, I Can Make You Feel Good, You Are Everything, Together We are Beautiful, I Love your Smile, Friends, I'm Stone in Love With You and, of course, A Night To Remember are just a few of the chart-toppers to be performed live.
Show promoter David Halford of Artistes International Management said: "What's extra-special is that all these legendary artists will be up close and personal with music fans. I often think that the intimacy soul music demands can be lost in arena shows.
"By directing performances to the cream of UK theatres, members of the audience will be able to experience each of the performers' captivating vocals as if they were singing to them alone. Ready or not, this is going to be a night to remember!
Having previously sold out UK theatre tours, Shalamar - Howard Hewitt, Jeffrey Daniel and Carolyn Griffey - return, but this time with an all-star accompaniment.
Jeffrey invented the Moon Walk, made famous by Michael Jackson, and the Shalamar songbook of solid-gold hits includes Take That to the Bank, I Owe You One, Make That Move, There it Is and Dead Giveaway as well as A Night to Remember, I Can Make You Feel Good and Friends.
The Delfonics' lead vocalist and founding member William Hart's lilting falsetto vocals took songs like La-La (Means I Love You), Didn't I (Blow Your Mind This Time) and Ready or Not Here I Come (Can't Hide From Love), to the top of the charts during the late Sixties and early Seventies. The songwriter and producer has continued the legacy, performing ceaselessly around the world, introducing new generations to the group's heritage of solid-gold soul hits.
Double Grammy Award-winning artist Peabo Bryson established himself as a chart-topping soul singer in The States, before becoming renowned internationally as a hit duet artist with the likes of Roberta Flack, Celine Dion and Regina Belle
With Celine he recorded the title track from the Disney movie Beauty and the Beast and with Regina, A Whole New World from Disney's Aladdin - which saw Belle and Bryson awarded a Grammy.
As well as her duets A Whole New World and Without You with Peabo Bryson Regina Belle is also known for breakthrough singles Make it Like it Was and Baby Come to Me.
Many of The Stylistics hits during the early Seventies were built upon Russell Thompkins' soaring high tenor vocals. And he brings that original sound to the stage today with the New Stylistics. Performing songs from a hit list that includes Betcha by Golly Wow, I Can't Give You Anything, I'm Stone in Love With You, You'll Never Get to Heaven (If You Break My Heart), Break Up to Make Up, You Make Me Feel Brand New, Sing Baby Sing, Can't Help Falling in Love, Na-Na is the Saddest Word and Star in a TV Show.
Shanice's single I Love Your Simile, released on Motown Records, reached the top 10 in 22 countries, launching a career that has seen her vocals feature on many hit movies including Disney's Pocahontas.
The pinnacle of the accomplished singer Fern Kinney's career is the single Together We are Beautiful, which hit the number one spot in the UK Singles Chart in 1980.
Completing the stellar line-up is UK's Daisy Dance. The singer-songwriter has appeared on TV's All Together Now and has performed at the O2, Wembley, Glastonbury and The Jazz Café.
More Hot Stories For You