TO KILL A MOCKINGBIRD Begins Previews at Festival Theatre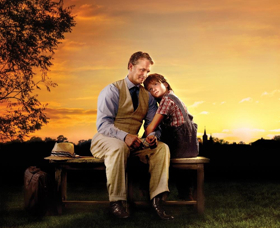 Harper Lee's Pulitzer Prize-winning novel comes to vivid life in Nigel Shawn Williams's production of To Kill a Mockingbird, on stage now at the Festival Theatre.
Justice is pitted against bigotry when white lawyer Atticus Finch defends a falsely accused black man, Tom Robinson - thereby inspiring in his young daughter, Scout, a passionate belief in necessity for moral courage and truth in a world of hatred and lies.
Using Christopher Sergel's dramatization, Mr. Williams begins his production in 1968, just after the assassination of Martin Luther King Jr. This event launches Jean Louise Finch back into her memories of growing up in the segregated South. As the play progresses, she is forced to consider her beloved childhood from a new perspective, examine her relationship to race, and witness the violence of her past.
"The strong theatricality of To Kill a Mockingbird and its honest portrayal of its characters have always made it a powerful play - one that demands that we look at it anew in the 21st century," says Mr. Williams. "It is a testament of how much work we still have to do as a human race in order to see each other as equals."
The cast is led by Jonathan Goad as Atticus Finch and Irene Poole as Jean Louise Finch, with Matthew G. Brown as Tom Robinson, Tim Campbell as Heck Tate, Jonelle Gunderson as Mayella Ewell, Randy Hughson as Bob Ewell, Sophia Walker as Calpurnia and Joseph Ziegler as Judge Taylor.
The creative team includes Designer Denyse Karn, Lighting Designer Michelle Ramsay, Composer Alessandro Juliani, Sound Designer Verne Good and Fight Director John Stead.
"To Kill a Mockingbird is a play that is critically important to be heard today, especially among our young," says Artistic Director Antoni Cimolino. "Following recent events, the story serves as a powerful reminder that there can be no freedom without justice. It is particularly meaningful to have Nigel Shawn Williams - a gifted storyteller - at its helm. His take on the story brings tremendous heart and emotional depth to the production."
To Kill a Mockingbird is a Schulich Youth Plays presentation.
The production opens on Saturday, June 2, and runs until November 4.
Support for the 2018 season of the Festival Theatre is generously provided by Daniel Bernstein and Claire Foerster.
To Kill a Mockingbird at the Forum
The Forum is a series of events, such as exclusive showcases, guest speakers, special meals, music and family fun, that offer theatregoers a unique opportunity to delve deeper into the ideas and issues raised by the 2018 playbill.
· THE INNER COURAGE
Wednesday, June 27
10:45 a.m. to noon
Many citizens agree with and support a cause but do not speak up. They shake their heads in disgust but do nothing. What would happen if this "silent majority" were to unlock their voices? Would it bring dramatic change to systemic social issues like racial injustice? In this conversation, veteran broadcaster and diversity speaker Jesse Wente, director Nigel Shawn Williams and company member Irene Poole discuss the potential political and social power of the "silent majority" with moderator Garvia Bailey of JAZZ.FM91.
· CONTEMPORARY PERSPECTIVES ON A CLASSIC: TO KILL A MOCKINGBIRD
July 14, August 25 and September 8
10:30 a.m. to noon
The family classic To Kill a Mockingbird continues to be debated. This inter-generational family workshop, for ages 10 and up, engages participants in discussion and theatre exercises to explore the play's timely themes and the difficult questions it raises. Led by Festival artists and Education staff.
· FORMATIVE YEARS
Wednesday, July 25
10:45 a.m. to noon
How is racism taught? Why do we go back to those formative, "springboard" memories? Kwame McKenzie, co-director of the Division of Equity Gender and Population in the Department of Psychiatry at the University of Toronto, Kang Lee, professor and Chief Science Officer of NuraLogix, and Rita Kohli, assistant professor at the University of California and the Humber College Graduate School of Education, discuss the social and psychological impact of early childhood experiences with moderator and educator Sarah Papoff.
The Stratford Perth Museum, in partnership with the Monroe County Museum, will present the Harper Lee: To Kill a Mockingbird exhibit from May 12 to November 30. This is the first travelling exhibit ever created by the museum in Monroeville, Alabama. For more information, please visit stratfordperthmuseum.ca.
The Festival is pleased to offer a unique mobile rush program with TodayTix, offering a limited number of $15 tickets for every performance of To Kill a Mockingbird exclusively through the TodayTix app for iOS and Android. Rush tickets can be purchased directly from a mobile device on a first-come, first-served basis, and picked up at the box office before the show. Tickets will go on sale at 12:01 a.m. EST the day of each performance.
"Through exclusive rush programs that offer affordable ticket prices to the audience member, theatre is made more accessible to everyone, which is at the core of TodayTix's mission," says Brian Fenty, CEO and Co-Founder of TodayTix. "We are ecstatic to be expanding our offering for this year's Stratford Festival season to include this second rush program, and to further support and celebrate great Canadian theatre through this partnership."
The Stratford Festival's 2018 season runs until November 4, featuring The Tempest, The Comedy of Errors, Coriolanus, Julius Caesar, The Music Man, The Rocky Horror Show, Long Day's Journey Into Night, An Ideal Husband, To Kill a Mockingbird, Napoli Milionaria!, Brontë: The World Without andParadise Lost. For tickets and more information, visit stratfordfestival.ca or call 1.800.567.1600.
Photo: Jonathan Goad, Beatrice McBoyle (model). 2018 Publicity Photography by Clay Stang - The Garden.

Related Articles View More Toronto

Stories

Shows
More Hot Stories For You