Photo Flash: 5-Star Theatricals Presents the Thousand Oaks Premiere of THE HUNCHBACK OF NOTRE DAME
5-STAR THEATRICALS (formerly Cabrillo Music Theatre) continues its 2017-2018 season with the Thousand Oaks premiere of THE HUNCHBACK OF NOTRE DAME, with music by Alan Menken, lyrics by Stephen Schwartz, book by Peter Parnell (based on the Victor Hugo Novel and songs from the Disney film), musical direction by Dan Redfeld, choreography by Michelle Elkin and directed by Misti B. Wills. THE HUNCHBACK OF NOTRE DAME opens on Friday, April 20, 2017 and runs through Sunday, April 29, 2018 at the 1,800-seat Kavli Theatre at the Thousand Oaks Civic Arts Plaza, 2100 Thousand Oaks Boulevard in Thousand Oaks.
Who is the monster and who is the man? For the first time ever on the Civic Arts Plaza stage, Victor Hugo's classic novel comes to life with dramatic spectacle and songs that soar! With music by Alan Menken and lyrics by Stephen Schwartz, the show is based on the Walt Disney Animation Studios film of the same name, and features popular songs such as "God Help the Outcasts." This is musical theatre at its best!
"We are thrilled to continue our season with the first of two Disney shows, THE HUNCHBACK OF NOTRE DAME followed by the incomparable Susan Egan starring as Belle in our upcoming production of BEAUTY AND THE BEAST," says Managing Director, Will North. "HUNCHBACK is a beautiful and timely story of acceptance and our season ticket holders and audiences are going to be spellbound by the extraordinary work of the sensational team that will bring this classic to our stage!"
ABOUT THE CREATIVE TEAM AND CAST
MISTI B. WILLS (Director) is thrilled to be returning to 5-Star after directing Sister Act last season. She also recently directed the NYC premiere of A Pound in Your Pocket (with music by Charles Strouse and Lee Adams) Select credits include: Off-Broadway: In Search of Euphoria (Fidelity Futurestage Program, New World Stages), Tempest (Assistant Director, La MaMa, ETC., NY Times Critics Pick), Twilight the Musical (Assistant Director, New World Stages, ) Off-Off Broadway: Floyd Collins, Ordinary Days, Shake the Earth (2015 NY Fringe Festival, Theater is Easy Best Bet, West Coast Tour 2016), The Drunken City (Jump for Joy Productions, NY Workshop Theatre), Afterlight (Cherry Lane, 2009 NY Fringe Festival), Songs for a New World, Twelfth Night (Shakespeare's Sister Company), The Pearl Merchant (Threads Theater Company). Regional: Elvira: The Immigration Play (Chicago and NYC ), My Fair Lady (Forestburgh Playhouse), and New York Water (Depot Theatre). Misti has been on the faculties of The NY Film Academy, The American Academy of Dramatic Arts, NY City College of Technology and Long Island University in Brooklyn. Member of Stage Directors and Choreographers Society. www.mistiwills.com
Michelle Elkin (Choreography) made her professional debut at the age of 8 in the movie musical "Annie." Since then, she continued to work in numerous film, television, commercial, and theater projects. Michelle most recently worked with Sutton Foster and Jonathon Groff for "Live At Lincoln Center for PBS" airing this Spring as well as the hit TV shows, "Young Sheldon" and "The Marvelous Mrs. Maisel." She also can be recently seen on Netflix as a co-star in Gilmore Girls "Winter". She has choreographed the TV show "Me and My Grandma" with Rhea Perlman, as well as a Southwest Airlines web spot and Sister Act: The Musical for Cabrillo Music Theater (Broadway World Awards Nominee, Scenie Award). Other credits include a promo for the TV Land show "Younger" as well as a piece for the NSO Pops Opening at Kennedy Center, a new production of the musical Children Of Eden (Broadway World Awards Nominee) and musical numbers featuring Tony Award winner Sutton Foster and special guest Joshua Henry for the National Symphony Orchestra at Kennedy Center, the New York Pops at Carnegie Hall and the Houston Symphony at Jones Hall.
She has also lent her choreographic talents to the hit ABC Family shows, "Baby Daddy," as well as the tap sequences in "Bunheads," a TNT pilot titled "Dawn" directed by Sam Raimi, a production of Little Shop Of Horrors in Tampa, FL, feature films "Wild Hogs" and "What Just Happened," as well as Emmy award winning television shows, "Boston Legal," "Weeds," Lifetime's reality show "Your Mama Don't Dance", "Warren The Ape" on MTV, "Marvin, Marvin" on Nickelodeon. Michelle served as Associate Choreographer on the premiere of Sister Act at Pasadena Playhouse, as well as the 58th Emmy Awards with Conan O' Brien, the 63rd Emmy Awards with Jane Lynch, 81st Academy Awards with Hugh Jackman and the Broadway show, Wonderland at the Marriott Marquis Theater. Current Faculty Member at The Performing Arts Center in Los Angeles and AMDA LA. www.michelleelkin.com
Dan Redfeld (Musical Director) received his training at New England Conservatory before transferring to UCLA, graduating with a degree in composition/conducting. In June 2016, "A Hopeful Place - A Song Cycle for Soprano & Chamber Orchestra," was released on Navona Records, with music by Redfeld and text by John Gabriel Koladziej featuring soprano Kristi Holden and the Hollywood Studio Symphony. Redfeld's Arioso premiered with the Santa Barbara Symphony under the direction of Maestro Nir Kabaretti and oboe soloist Lara Wickes in 2015. Recent works include January 15, 1947 for Solo Harp, Fantasy for Violin & Piano, Travels for Piano Quartet, Dance Sketches and Vineyards for Octet, In 2001, Little Women - An American Musical, with music by Redfeld, lyrics by Christina Harding and John Koladziej, and book by Steven Ganci and Ralph Lucas, was workshopped in Los Angeles and New York with Elaine Stritch and Deborah Gibson. Among Redfeld's twenty-five film scores are the AFI-produced "Cline E" and film noir "Moustache", which garnered him several national awards. Redfeld's studio work as an arranger/producer includes "I Once Was Told," "Music from the Twilight Saga," "Schindler's List: The Film Music of John Williams" and "Titanic: An Epic Musical Voyage," commemorating the 100th anniversary of the Titanic disaster and the re-release of James Cameron's Academy Award-winning film. For the stage, orchestrations Beaches: A New Musical, A Christmas Story (national tour, adapted from Larry Blank's original orchestrations), the Broadway Medley for the Los Angeles Music Center's 50th anniversary and shows in the West End and continental U.S. As music director/conductor, Redfeld has worked on forty-plus musicals including The Addams Family, The Who's Tommy (with Alice Ripley), Chess - the London Version (with Susan Egan and Matt Morrison), My Fair Lady (with Jonathan Pryce and Laura Michelle Kelly), Evita, Jesus Christ Superstar, Into the Woods and The Secret Garden. www.danredfeld.com.
Alan Menken (Music) Stage credits: Aladdin, Sister Act, Little Shop of Horrors, Beauty and the Beast, The Hunchback of Notre Dame, The Little Mermaid, A Christmas Carol, King David, God Bless You, Mr. Rosewater, Leap of Faith, A Bronx Tale, Real Life Funnies, The Apprenticeship of Duddy Kravits, and Weird Romance. Film credits: "The Little Mermaid," "Beauty and the Beast," "Aladdin," "Newsies," "Pocahontas," "The Hunchback of Notre Dame," "Hercules" and "Home on the Range." Other achievements: A Billboard #1 album ("Pocahontas") and #1 single ("A Whole New World"). Awards include eight Academy Awards, seven Golden Globes, 10 Grammys, the London Evening Standard Award, the Olivier, the New York Drama Critics Award, the Drama Desk and the Outer Critics Circle Award for Best Musical.
Stephen Schwartz (Lyrics) was born in New York City on March 6, 1948. He studied piano and composition at the Juilliard School of Music while in high school and graduated from Carnegie Mellon University in 1968 with a B.F.A. in Drama. Upon coming back to live in New York City, he went to work as a producer for RCA Records, but shortly thereafter began to work in the Broadway theatre. His first major credit was the title song for the play "Butterflies Are Free"; the song was eventually used in the movie version as well. In 1971, he wrote the music and new lyrics for Godspell, for which he won several awards including two Grammys. This was followed by the English texts, in collaboration with Leonard Bernstein, for Bernstein's MASS, which opened the Kennedy Center for the Performing Arts in Washington, D.C. The following year, he wrote the music and lyrics for Pippin and two years later, The Magic Show. At one point, Godspell, Pippin, and The Magic Show were all running on Broadway simultaneously. He next wrote the music and lyrics for The Baker's Wife, followed by a musical version of Studs Terkel's Working, to which he contributed four songs, and which he also adapted and directed, winning the Drama Desk Award as best director. He also co-directed the television production, which was presented as part of the PBS "American Playhouse" series. Next came songs for a one-act musical for children, Captain Louie, and a children's book, "The Perfect Peach." He then wrote music for three of the songs in the Off-Broadway revue, Personals, lyrics to Charles Strouse's music for Rags, and music and lyrics for Children of Eden. He then began working in film, collaborating with composer Alan Menken on the scores for the Disney animated features "Pocahontas," for which he received two Academy Awards and another Grammy, and "The Hunchback of Notre Dame." He also provided songs for DreamWorks' first animated feature, "The Prince of Egypt," for which he won another Academy Award for the song, "When You Believe." He most recently collaborated with Alan Menken on the songs for Disney's "Enchanted." Mr. Schwartz provided music and lyrics for the original television musical, "Gepetto," seen on The Wonderful World of Disney and recently adapted for the stage as "Gepetto & Son."
He has released two CDs on which he sings new songs, entitled "Reluctant Pilgrim" and "Uncharted Territory." Mr. Schwartz's most recent musical, Wicked, opened in the fall of 2003 and is currently running on Broadway and in several other productions around the United States and the world. In 2008, Wicked reached its 1900th performance on Broadway, making Mr. Schwartz the only songwriter in Broadway history ever to have three shows run more than 1900 performances. A book about his career, "Defying Gravity," has recently been released by Applause Books. Under the auspices of the ASCAP Foundation, he runs musical theatre workshops in New York and Los Angeles, and serves on the ASCAP Board; he is also currently the President of the Dramatists' Guild.
Peter Parnell (Book) most recently wrote the new book for the Broadway revival of Lerner and Lane's On A Clear Day You Can See Forever, starring Harry Connick, Jr. and Jessie Mueller. His plays include Trumpery (Atlantic Theatre Company), QED starring Alan Alda (Mark Taper Forum, Vivian Beaumont, LCT), a two-part stage adaptation of John Irving's The Cider House Rules (Seattle Rep, Taper, Atlantic, American Theatre Critics Association Award). His other plays, Sorrows of Stephen, The Rise and Rise of Daniel Rocket, Romance Language, Hyde in Hollywood, Flaubert's Latest, and An Imaginary Life, were first produced by The Public Theater and at Playwrights Horizons. For television, Parnell was a co-producer for "The West Wing" (two EMMY Award citations), and a producer for "The Guardian," "Inconceivable," and "Six Degrees." His children's book And Tango Makes Three, co-authored with Justin Richardson, was an American Library Association Notable Book, a Henry Bergh Award winner, and has either headed or been on the ALA'S Top Ten List of Most Banned Books from 2006-2012. Parnell has served on the Literary Award Committee of PEN, and has taught writing at Dartmouth, the New School, Columbia, the Yale School of Drama, and currently at NYU. He proudly serves as Vice-President of The Dramatists Guild.
The Cast for THE HUNCHBACK OF NOTRE DAME features Will North as Quasimodo, Cassandra Murphy as Esmeralda, Justin Michael Wilcox as Clopin, Gregory North as Frollo, Adam Hollick as Phoebus and the ensemble features (in alphabetical order): Elizabeth Adabale, James Beardsley, Daniel Berlin, Emma Carlborg, William Carmichael, Zyheem Downey, Andrew Garcia, Veronica Gutierrez, Tom Hall, Katie Hume, Evin Johnson, Mitchell Johnson, Sarah Marie, Miyuki Miyagi, Kat Monzon, Alstair Murden, Naomi Murden, Andrew Perez, Jimmy Saiz, Elizabeth Sheck, Trevor Shor, Marie Spieldenner, Tyler Watkins, Laurence Wells and Terry Woodall.
The Design Team of THE HUNCHBACK OF NOTRE DAME will feature: Lighting Design by Jose Santiago, Sound Design by Jonathan Burke, Costume Design by Beth Glasner, Props Design by Alex Choate, and Wigs by Danny Robles. The Production Stage Manager is Talia Krispel.
ABOUT THE PRICING AND SCHEDULE
THE HUNCHBACK OF NOTRE DAME will open on Friday, April 20, 2018 and run through Sunday, April 29, 2018. Performances are Thursday at 7:30pm, Fridays and Saturdays at 8:00pm, and Saturdays and Sunday at 2:00pm.
A signed performance for the deaf and hard-of-hearing will take place on Saturday, April 21 at 2:00pm, followed by a post-show discussion with cast, staff and audience.
Tickets are on sale now and may be purchased at the Thousand Oaks Civic Arts Plaza Box Office located at 2100 Thousand Oaks Boulevard in Thousand Oaks, or through www.5startheatricals.com, or by phone at (800) 745-3000. For groups of 10 or more, please call Group Sales, 5-STAR THEATRICALS at (805) 497-8613 x 6.
Ticket prices range from $35-$83. For ticket and theatre information, call (805) 449-ARTS (2787). THE HUNCHBACK OF NOTRE DAME performs exclusively at the Kavli Theatre, Thousand Oaks Civic Arts Plaza, Bank of America Performing Arts Center, at 2100 Thousand Oaks Boulevard in Thousand Oaks.
5-STAR THEATRICALS' 2017-2018 Season will continue with THE HUNCHBACK OF NOTRE DAME (Spring 2018) and BEAUTY AND THE BEAST (Summer 2018) in the 1,800 seat Kavli Theatre. For membership and ticket information, call 805-497-8613 x 6 or visit www.5startheatricals.com.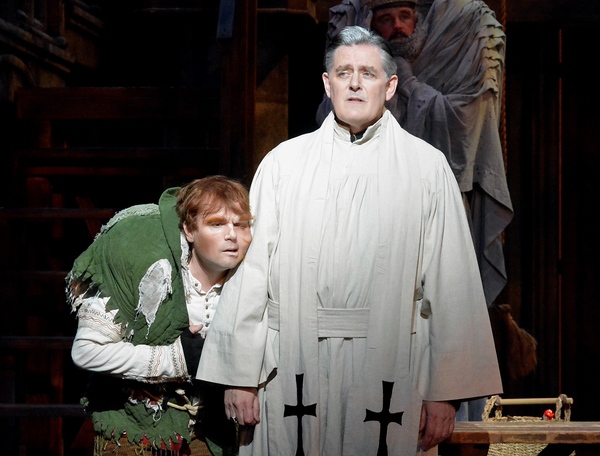 Will North and Greg North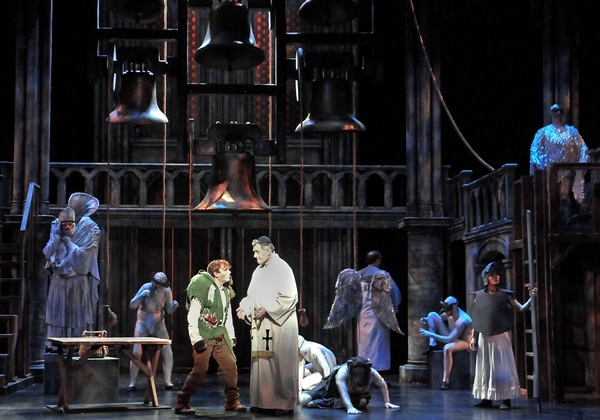 Will North and Greg North (with the company)

Justin Michael Wilcox (center) with the company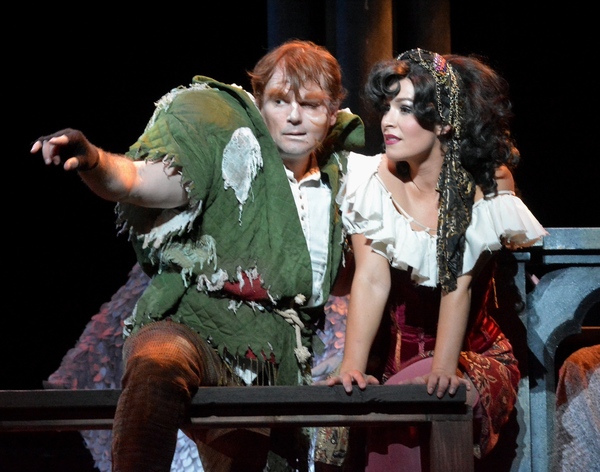 Will North and Cassandra Marie Murphy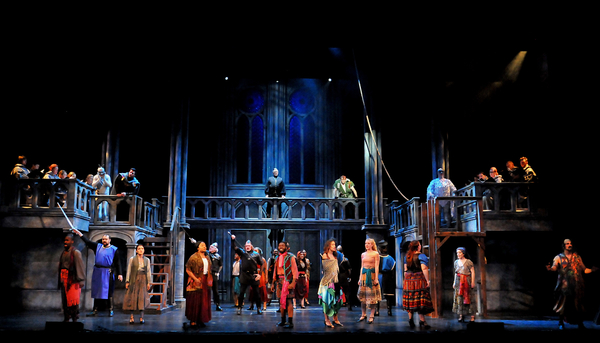 The company of the 5-STAR THEATRICALS production of "THE HUNCHBACK OF NOTRE DAME"

Adam Hollick, Cassandra Marie Murphy and Will North