BWW Review: SATURDAY NIGHT FEVER at China Teatern
The production runs till 26th of March 2022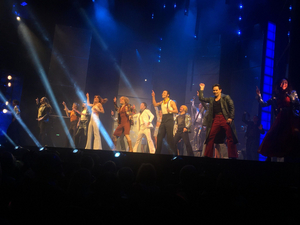 On Stockholm's stages, there has been a lot of nostalgia this autumn and also the China Theater has chosen a musical that I have many memories from now when it sets up Saturday Night Fever. Saturday Night Fever was which started John Travoltas career. I was 10 years old when the film opened in Sweden and at the school dances we danced to the music of, among others, the Bee Gees with the now classic dance steps. Now it is time for David Lindgren to take on the role as Tony Manero and his wife Kristina Lindgren plays Stephanie Mangano. Tony works in a paint shop, lives at home, is the family's black sheep and not at all as nice as his brother who is a Catholic priest. But in the evenings he comes to life when he and his friends take over the town's disco, where he is king! One night he sees Stephanie on the dance floor and falls helplessly. She is quite difficult to flirt with but agrees to dance with him in the dance competition. But it's not just disco and dance for Tony and his gang, there is also blackness with quarrels with rival gangs, broken hearts and the Catholic Church's strong impact on their lives. The church's ban on abortions makes up for it for Tony's friend Bobby C (Rikard Björk) and leads him to take his own life one evening.
Saturday Night Fever was played in 2005 at the Oscars Theater with Andreas Lundstedt as Tony and in this set has the role of DJ Monty. Glad he's back, he's the uncrowned king of disco in Sweden, so I think he would have been worth a better wig than the clown-like one he got.
Saturday Night Fever is a cavalcade of hit songs like Staying Alive, Night Fever, More Than a Woman, Disco Inferno and How deep is your love, but for the musical version in London a new one was written by Bee Gees, Immortality, which is one of my favorites . Just like at the Oscars, they have chosen to perform the songs in English and have the lines in Swedish, which works because you know all the songs, but the numbers and the lines do not go together completely sleeplessly. It feels more like a show with many really good song and dance numbers with fantastic performances by the whole ensemble. The choreography by Jennie Widegren and Zain Odestål is cool and delicious, glittery disco that spreads dance joy and energy. I was really impressed by Rikard Björk's Tragedy which was painful and straight to the heart.
This is a wonderful disco nostalgia that you are really entertained by when you watch it.
Tickets are on sale at:
https://showtic.se/forestallningar/saturdaynightfever/
It is scheduled to run until the 26th of March 2022.