R-S Theatrics Adds Performance to Sold Out Run of IN THE HEIGHTS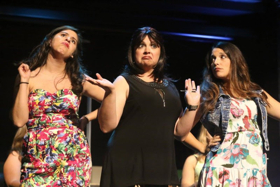 R-S Theatrics is excited to announce it has sold out its initial performance dates of "In the Heights." Due to high ticket demand, we have added a performance on Thursday, August 24, 2017 at 8:00 pm. Performances will continue at the .Zack Building, 3224 Locust Street, Saint Louis, MO. Patrons may try for the "In the Heights" waitlist. Patrons may arrive at 7:00 pm and sig-up, any unclaimed or returned tickets will be sold 10 minutes before the performance in the order names appear on the list.
In the Heights is set in New York City's vibrant Washington Heights, where the coffee from the corner shop is light and sweet, the windows are always open, and the breeze carries the rhythm of three generations of music. It's a community on the brink of change, full of hopes and dreams, where the biggest struggles can be deciding which traditions you take with you, and which ones you leave behind. The groundbreaking music and lyrics by
Lin-Manuel Miranda
and book by Quiara Alegría Hudes tell the universal story of chasing your dreams and finding your true home In December 2017, R-S Theatrics will premier The Flick, a play by
Annie Baker
. Winner of the 2014 Pulitzer Prize, The Flick welcomes you to a rundown movie theatre in Worcester County, MA, where Sam, Avery and Rose are navigating lives as sticky as the soda under the seats. The movies on the big screen are no match for the tiny battles and not?so?tiny heartbreaks that play out in the empty aisles.
In the Heights
Zack Building
3224 Locust Street Saint Louis, MO
ADDED PERFORMANCE
8/24 @ 8 pm
Tickets: $25 Gen Ad; $20 students and older adults (with valid ID); $15 educators (with valid ID) 8/19, 8/20, 8/25, 8/26, 8/27, 9/1, 9/2, & 9/3
Fridays & Saturdays at 8pm
Sundays at 7pm.
Tickets: $25 Gen Ad; $20 students and older adults (with valid ID); $15 educators (with valid ID)
Production Team
Directed by:
Christina Rios
Musical Direction by: Leah Luciano
Choreography by: Cecily King
Cast: Jesse Muñoz (Usnavi), Cassandra Lopez (Nina) Marshall Jennings (Benny), Maritza Gonzlez (Camila), Kevin Corpuz (Sonny), Natasha Toro (Vanessa), Carmen Garcia (Abuela Claudia), Anna Skidis Vargas (Daniela), Gabriela Diaz (Carla), Karl Hawkins (Graffiti Pete), Kelvin Urday (Piraguero), Jamie Zayas (Kevin), and an Ensemble of Sara Rae Womack, Grace Langford, Mara Bollini, Melissa Felps, and Ethan Isaac
The Flick
PRESS OPENING 12/7 at 8:00pm
12/8, 12/9, 12/10, 12/15, 12/16, 12/17, 12/22, & 12/23
Fridays & Saturdays at 8pm
Sundays at 7pm
Directed by Joe Hanrahan,
Tickets: $25 Gen Ad; $20 students and older adults (with valid ID); $15 educators (with valid ID)
Photo: Maritza Gonzlez (Camila), Anna Skidis Vargas (Daniela), and Natasha Toro (Vanessa)

Related Articles View More St. Louis

Stories

Shows
More Hot Stories For You