Photo Flash: That Uppity Theatre Company and R-S Theatrics to Commemorate Pulse Shooting with AFTER ORLANDO
As we head towards the one-year anniversary of the Pulse Nightclub shooting in Orlando, the largest episode of civilian gun violence in the history of the US, we turn to art to help us commemorate the occasion through After Orlando.
On Friday, June 16, 2017, at 7:30 pm at the Contemporary Art Museum in Grand Center, That Uppity Theatre Company and R-S Theatrics, in association with Pride St. Louis, St. Charles Pride Festival, Missing Bolts Productions Inc., and NoPassport Theatre Alliance, will present several excerpts from After Orlando, a collection of short plays. These plays were specifically written and curated in response to the massacre at the Pulse Nightclub in Orlando, Florida, on June 12, 2016, that took the lives of 49 LGBTQ and allied people. The plays are roughly three to eight minutes in length.
After Orlando is an international playwright-driven theatre action created by Blair Baker and Zac Kline of Missing Bolts Productions Inc. and Caridad Svich of NoPassport Theatre Alliance. This past fall, After Orlando was read across the country and in the UK at over 75 venues, featuring work from playwrights from the United States, Canada, the United Kingdom, and Africa.
Previous locations and productions include professional theatres, community centers, podcasts, classroom settings, and more. Some of the partner venues for After Orlando have included The Finborough Theatre (London, England), Rattlestick Playwrights Theatre and the LGBT Center (New York City, NY), Round House Theatre and Olney Theatre Center (Washington D.C.), The Inge Center (Independence, KS), Shot Gun Players (Berkeley, CA), Boston Court Theatre and the University of Southern California (Los Angeles, CA), Miami New Drama (Miami, FL).
This event is free, but reservations are suggested. Attendees can reserve their tickets through Eventbrite. The galleries at the contemporary are open until 8 pm, and the current exhibitions are Urban Planning: Art and the City 1967-2017, and KAWS: Far Far Down. A cash bar will be available.
https://www.eventbrite.com/e/that-uppity-theatre-company-r-s-theatrics- present-after-orlando-tickets-34543451393?ref=estw
Collaborating directors for this one night only event including Kathryn Bentley, Adam Flores, Sarah Holt, Fannie Belle Lebby, Joan Lipkin, Christina Rios, John Wolbers and Blake Willoughby.
An interactive post-show conversation will follow the readings.
Missing Bolts artistic directors Blair Baker and Zac Kline note that "On the one- year anniversary, we are reminded of our drive when we began this theatre action: to galvanize the theatre community, to create work that commemorated the lives lost at Pulse, to tackle the many issues surrounding the shooting including homophobia, Islamophobia, the Latinx community's place in America, and gun control. We also recognize the need to redefine and challenge the narrative by making room for many voices to respond," Kline said.
That Uppity Theatre Company in conjunction with the St. Lou Fringe, first produced After Orlando in St. Louis at the Kranzberg Arts Center last November. According to Joan Lipkin, the readings and audience response were so powerful that she felt a need to reprise and broaden the event so that more people can participate.
"There's something urgent and necessary about reading and staging these plays and that may be why there has been such response internationally to the material. To perform and to watch is to enter the experience of the other. It is a crucial gateway to empathy and one more way to encourage appreciation of diversity," said Lipkin, Producing Artistic Director of That Uppity Theatre Company.
Artistic Director of R-S Theatrics, Christina Rios said, "We have the opportunity to come together as a community to celebrate not only art and hope, but also to honor and remember those that were lost to a hateful act. R-S is proud to join with other theatre companies and organizations to be a small part of continuing a much larger, badly needed, conversation."
Award winning playwright and publisher of NoPassport Theatre Alliance, Caridad Svich said, "It is easy to forget, some say. We live in a culture of forgetting, after all. But one of art's goals is to record and remember. How many ways can we remember those felled by hatred and rage, and those, too, that live with the memories of tragedy as they go about their lives? After Orlando theatre action began, in part, as a memorial project - one written by over 70 playwrights from multiple perspectives. An action to remember, honor, grieve with, celebrate the lives of, and hold hands figuratively and metaphorically with those still standing. Pulsamos/We pulse. And offer our voices of faith and love as we remember."
Photos courtesy of That Uppity Theatre Company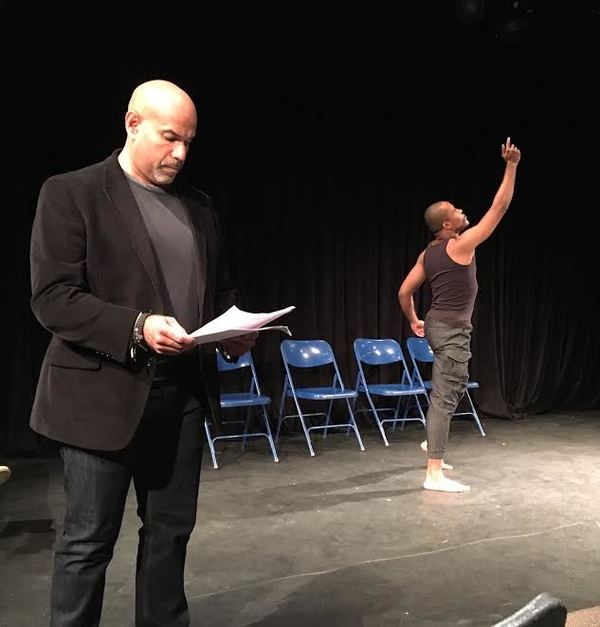 Gilberto Pinela and Tony Marr
Jen Sinnen
Kenneth Hardcastle, Glynis Brooks and
Rae Davis
Alan Knoll
, Rachel Fenton and Laurie McConnell