Ozark Actors Theatre Announces The Strong Women Of Their Season Of Strong Women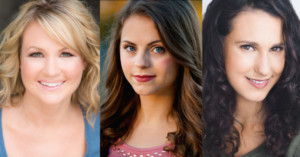 Ozark Actors Theatre Artistic Director A.S. Freeman is thrilled to announce the "strong women" that will take the lead in each summer production of OAT's Season of Strong Women. "This season we embarked on a national search to find the right women to lead our acting companies this year," said Freeman, "and I couldn't be prouder that these three women will be performing on our stage this season. They, and the incredible acting companies they'll be leading, are bound to blow the doors off the Cedar Street Playhouse with the power of their performances."
Sarah Kleeman, a California based Equity actress will take on the title role of Dolly Levi in the season opening production of Hello, Dolly!, which is sponsored by Phelps County Bank. Kleeman comes to OAT after working on stages across the country, including off-Broadway, the Arden in Philadelphia, and on the Broadway National Tour of Spring Awakening. In addition to being an accomplished actress, Sarah Kleeman is an Opera singer who has sung with the San Francisco Opera, Los Angeles Opera, Seattle Opera, and Pittsburgh Opera in addition to performances throughout Europe.
In July, OAT Favorite Hollyn Gayle will take on the title role of Violet. OAT audiences will remember Gayle from last season's Footloose and 2016's Annie Get Your Gun. This year, in addition to her role in Violet, she'll be playing Minnie Fay in Hello, Dolly! and Celia in As You Like It. Hollyn Gayle is returning to OAT from New York City. Originally from Illinois, she holds a BFA in Musical Theatre from Western Illinois University. Violet is sponsored by A Slice of Pie and Forum Dental.
Rounding out the season, Katharine Nedder will take on the role of Rosalind in August's production of As You Like It, sponsored by Brewer Science. Nedder comes to Ozark Actors Theatre from New York City, where she is an artistic associate of the new theater company Something from a Broad. She has performed on stages throughout the city, including in the off-off Broadway World Premier of When Johnny Comes Marching Home, which was written and directed by OAT Artistic Director, A.S. Freeman.
Season Subscriptions are available at www.OzarkActorsTheatre.org or by calling (573) 264-9523. Individual show tickets go on sale May 1.