Click Here for More Articles on THE MUNY
BWW Review: SINGIN' IN THE RAIN is a Splashy Summer Hit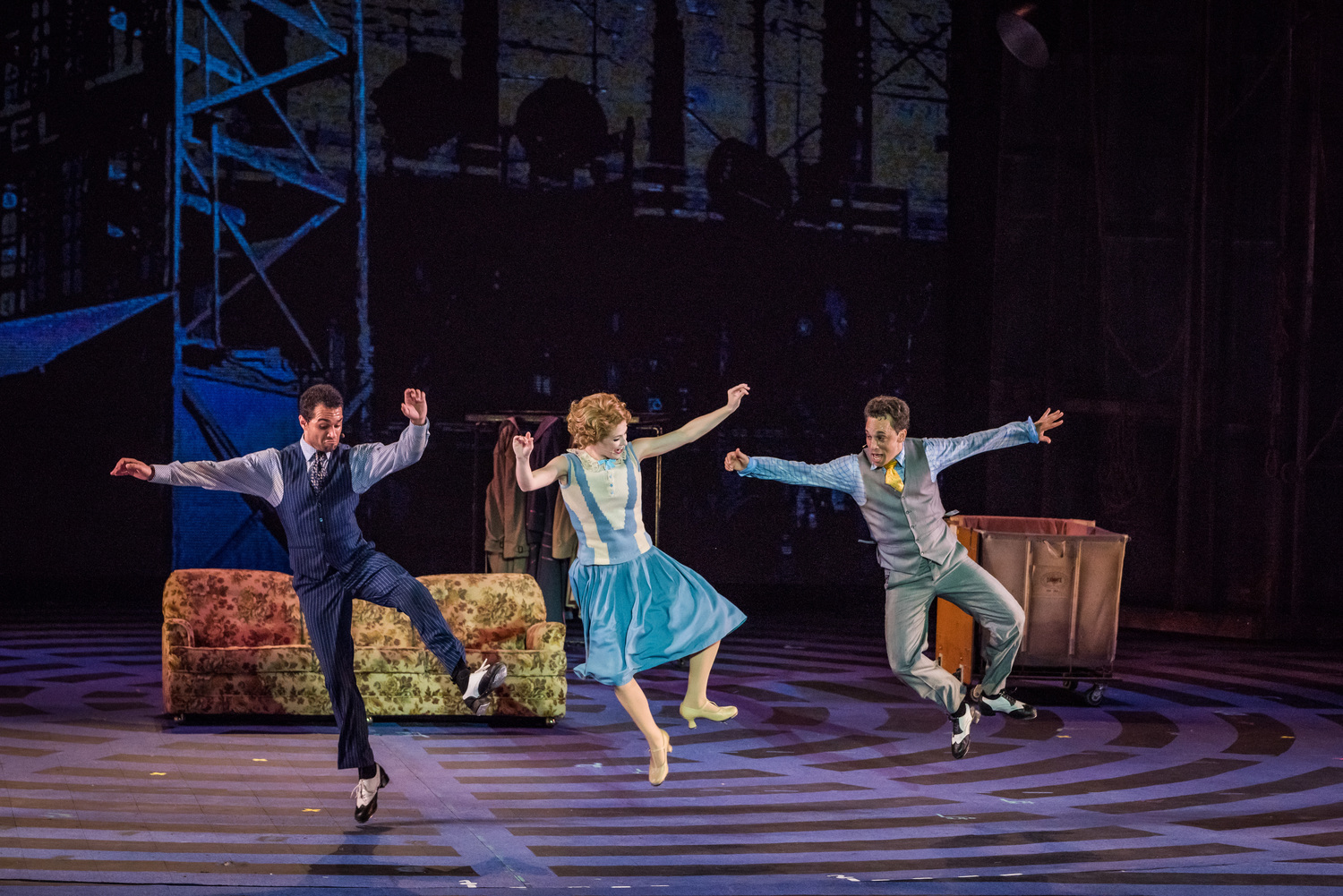 Now that the weather has finally cleared up in St. Louis, you'll want to go celebrate The Muny in its 100th year at Singin' in the Rain. Celebrated as one of the most iconic musicals of all time-and perhaps as relatable today in some ways as ever, while we move through the digital revolution-Singin' in the Rain, a comedy set in the Golden Age of Hollywood, tells an amusing story about what can happen when technology changes everything.
When the first talking film, The Jazz Singer, is released, silent film star Don Lockwood must figure out how to stay current. Unfortunately for Don, his barely bearable long-time co-star, Lina Lamont, has a shrill, unrefined voice that (putting it kindly) is less-than-ideal for talkies. What's worse, she's convinced that their on-screen romance is the real deal. So, when R.F. Simpson, their producer at Monumental Pictures, decides to make the latest Lockwood/Lamont picture into a talkie and then into a musical, the result is one comical catastrophe after the next. Fortunately for all, Don's long-time best friend Cosmo Brown gets the idea to dub over Lina's voice with the velvety voice of an up-and-coming ingénue, Kathy Selden, until Lina does everything in her power to destroy not only Kathy's career but also Kathy's budding love affair with Don.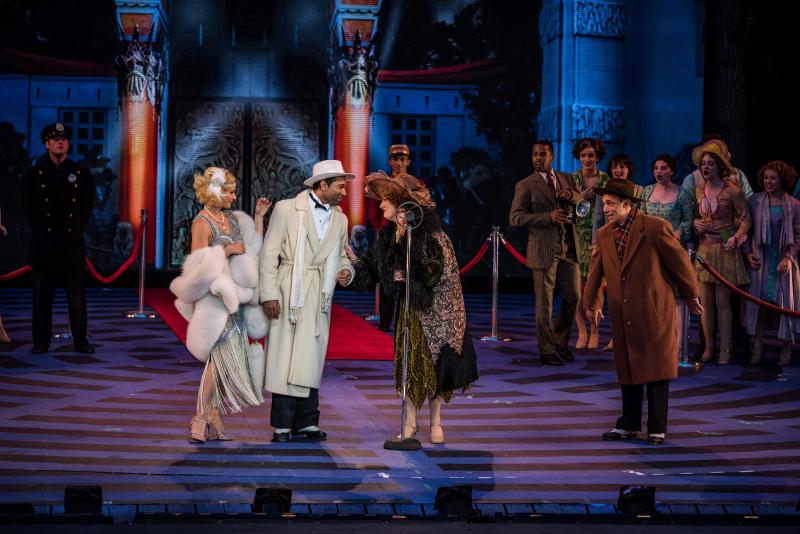 This classic production opens with its cheerful, familiar overture to a Hollywood Hills backdrop. We are then transported to 1927 at the end of the silent film era outside the Grauman's Chinese Theater for the premier of silent film, The Royal Rascal, where we soon meet Don Lockwood, Lina Lamont, and Cosmo Brown. It is here on the red carpet that we are treated to the first of many of Tristan Raines' lavish, lively costumes. There's plenty of sparkle and shine in this show, especially during the number "Beautiful Girl." All of Raines' costumes, however, deserve a favorable nod, as do the performers who look so elegant wearing them in the scorching St. Louis heat. One notable set piece is the vast projection screen, which not only features the silent films and hilarious first attempts at talkies that are central to the musical's plot, but also grounds us in place and time, giving depth and understated movement to the set.
Hollywood and Broadway star Corbin Bleu (Disney's High School Musical, among many others) performs pleasingly as Don Lockwood, his dancing energetic, and his voice smooth and pure. The audience appreciated his performance especially in "Broadway Rhythm," for which the applause was abundant. Bleu is an indisputable triple threat, and his adroit, umbrella-twirling version of "Singin' in the Rain" left everyone smiling and cheery at intermission. After all, it's what we all came to see.
Berklea Going, who grew up in St. Louis performing as a Muny Kid and then as a Muny Teen, was graceful in the leading lady role as Kathy Selden. Going's voice is elegant and full, especially during "You Are My Lucky Star," for which her big finish deserved Don Lockwood's accolade, "Bravo!" Bleu and Going were believable enough as a couple, although they were strongest in their solos.
Jeffrey Schecter (with multiple Broadway and tv/film credits) as Cosmo, though, simply effervesces as the good-humored, funny sidekick. His version of "Make 'Em Laugh" is as entertaining as any I've ever seen. All of Choreographer Rommy Sandhu's tap numbers, in fact, are outstanding, and especially during the high-energy number "Good Morning" did the Bleu, Going, and Schecter trio look as if they were having great fun.
Megan Sikora (with her many Broadway and Off-Broadway credits) in the role of Lina Lamont garnered countless laughs, almost every time she spoke in fact, but particularly during her solo song "What's Wrong With Me?" Never has a cringy off-key diva been so completely lovable.
This production also features a capable R.F. Simpson (Jeff McCarthy, best known for his Broadway roles, as well as many for tv and film) and a talented ensemble as well.
There were a couple of issues with the opening night performance, unfortunately. The microphones cut in and out throughout the production, and there were moments when the cast had to deal with fickle props, but their ability to humorously improvise even a delayed entrance was met with knowing giggles from a forgiving audience. As Cosmo says, "The show must go on!"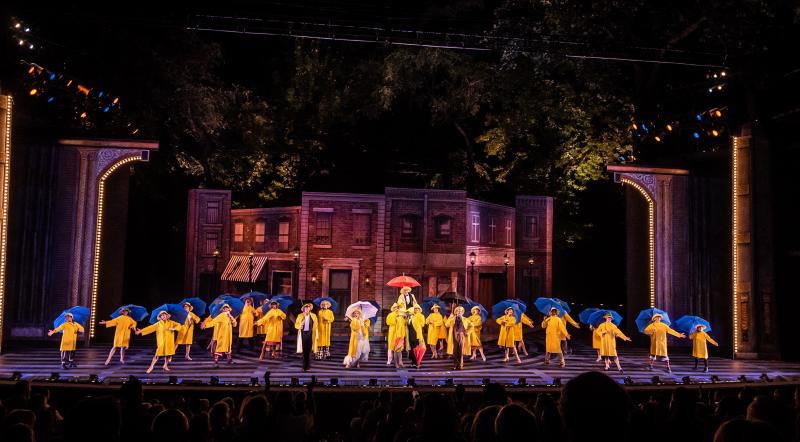 Whether this will be your first time, or you've seen Singin' in the Rain many times, you'll want to see this production at The Muny in its centennial season, directed by Marc Bruni with music direction by Ben Whiteley, playing now through July 3.
Related Articles