BWW Review: AVENUE Q is Cheeky, Naughty Puppet Fun
Avenue Q, winner of the 2004 Tony awards for Best Book, Best Musical, and Best Score, makes its Playhouse at Westport Plaza debut, and, although I've seen other fine productions of this musical, Westport is the perfect venue-intimate and cozy-for this beloved brazen show.
If you are looking to have your funny bone tickled, you'll definitely get it with this Sesame Street*-esque adult comedy, where a cast of people and puppets alike are friends and neighbors on Avenue Q, which although more affordable, is several streets down from the much more desirable Avenue A. In many loosely connected short scenes and songs (similar in structure to Sesame Street*), people and puppets each complete their own interesting and funny story arcs, although we most closely follow Princeton, a puppet who has moved to NYC in search of his "purpose" upon earning a BA in English.
Andrew Keeler plays a brilliant Princeton and a tormented Rod that will make your heart ache a little bit. Brett Ambler plays an endearing Brian. Kevin O'Brien is a hoot as Nicky, Trekkie Monster, Bear, and others. Grace Langord is sassy and smart as Christmas Eve. April Strelinger is thoroughly entertaining as Mrs. T, Bear, and others. And Illeana Kirven is the best Gary Coleman (yes, Gary-What-You-Talkin'-About-Willis-Coleman) ever. Jennifer Theby-Quinn is particularly wonderful as Kate Monster, Lucy, and others, and at times I didn't know whether to watch her puppet or this incredibly capable actor, as she is so expressive and has such a lovely speaking and singing voice. Under the direction of Lee Anne Mathews, this is an exceptionally strong cast, and while those who play puppets are plenty skilled with fully developed voices and mannerisms for each, those who play people also do a very fine job of playing opposite a puppet.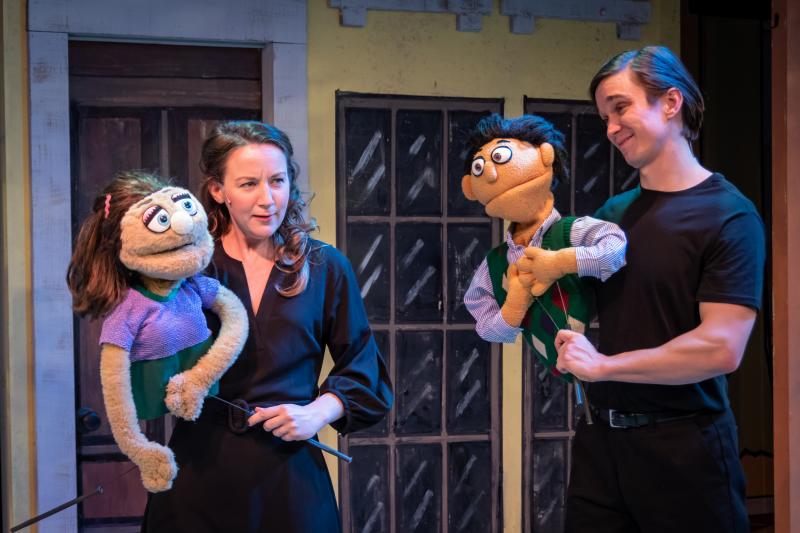 Ryan Morrow's sound engineering is creative and efficient, with ambient city sounds playing prior to the show. Dunsi Dai's set design is colorful with NYC apartment buildings and sliding panels that take us into a layered set revealing the insides of individual apartments. Screens on either side of the stage guide the audience through several illustrative Sesame-Street*-like lessons as well, all which lend a playful and clever bit of dramatic irony to the plot.
This is one of the few shows I tell people who "don't like musicals" that they'll not only enjoy, but probably revere, and every time-every time-I am thanked for having introduced them to what they didn't imagine existed in the canon of musical theatre. This, friends, is one of the rambunctious rebels of musical theatre, and I dare you to try to sit there without a silly grin on your face for two straight hours. Even if you've seen it before, grab your Valentine (or someone who's not your Valentine - why not?), and succumb to the irreverence of this saucy little show.
Music and lyrics by Robert Lopez and Jeff Marx, and a book by Jeff Whitty, based on the original concept by Robert Lopez and Jeff Marx, Avenue Q plays through March 3 at the Playhouse at Westport Plaza. For more information and tickets, visit www.PlayhouseAtWestport.com
*Avenue Q has not been authorized or approved by the Jim Henson Company or Sesame Workshop, which have no responsibility for its content. This show is not for children.