Review: 2017 Tony Winner OSLO Appears at The Rep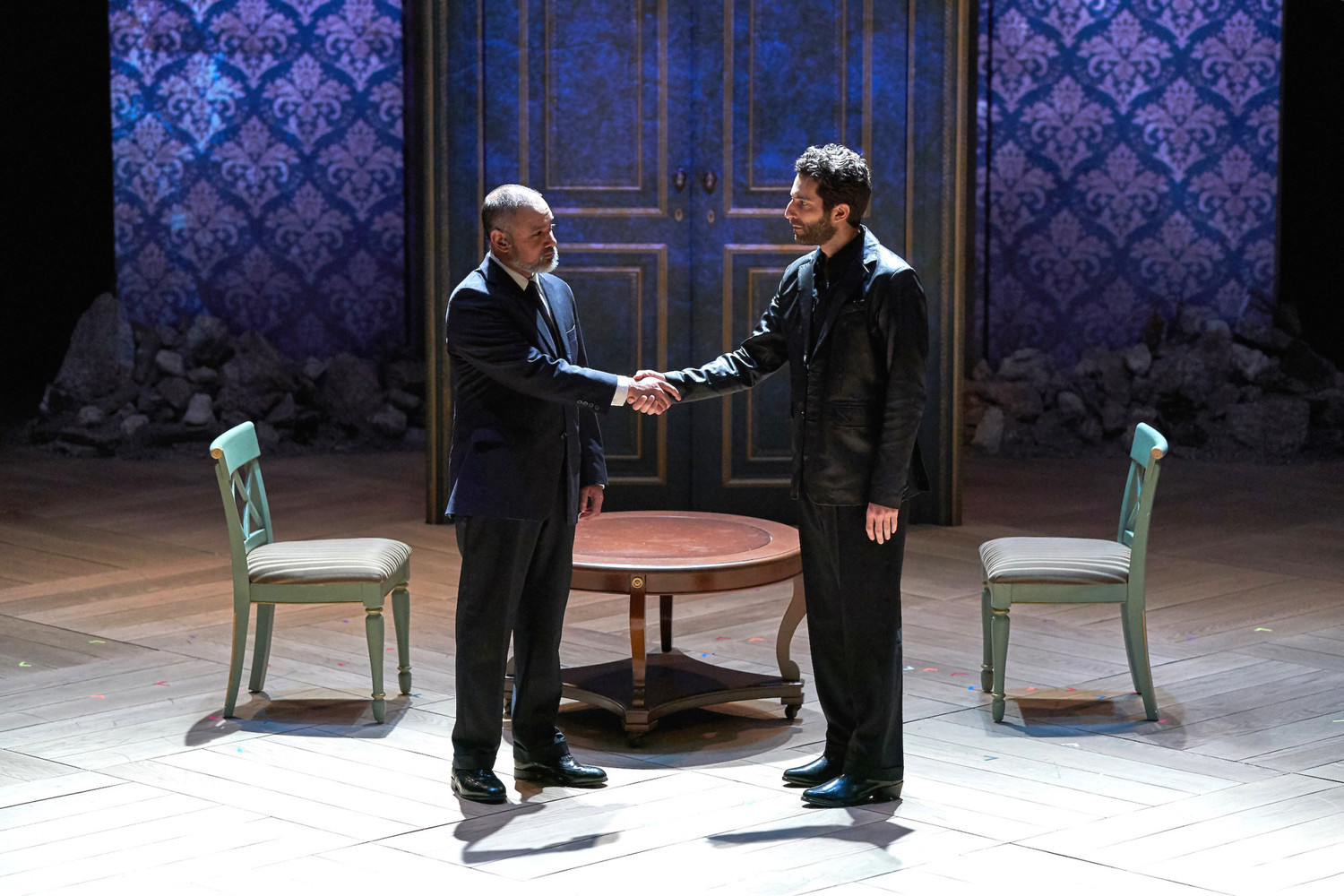 2017 Tony Award winner for Best Play, Oslo, by J.T. Rogers, is Repertory Theatre St. Louis' artistic director Steven Woolf's final directing project before his retirement begins. It is the story of the Norwegian couple-an academic and social scientist, Terje, who has developed a new approach to conflict resolution, and his clever wife, Mona, who is a dignitary in the office of the Foreign Ministry-who together initiated and facilitated clandestine peace talks between the Israelis and the Palestinian Liberation Organization in 1992 and 1993; talks that would highlight the past and decide the futures of two peoples, each having reasonable grievances, though each striving to find resolution.
While I found The Rep's production itself to be quite satisfactory, I think perhaps this is just one of those plays that doesn't engage me completely. Although it moves quickly with short scenes that dissolve one into the next, this play is (and feels) long - right at three hours including two fifteen-minute intermissions - and the dramatic arc falls a bit flat, as the scenes are somewhat repetitive. The leaders come together; they almost reach a resolution; someone erupts; repeat. Except that several of these almost-resolutions take place behind closed doors, so we as an audience are kept at an arm's length regarding the deep-seated, long-held issues at the core of the conflict. There are some touching moments, such as the one when both sides discover they have daughters named Maya. And there are some charming moments such as when they come together over a shared appreciation of waffles and cream.
Although we are supposed to be following the efforts of the couple to initiate and then keep the meetings on track, there is very little subplot and what seems to me a glaring missed opportunity to examine the more tender side of how these talks-which cause perceptible rifts between them-affect their marriage. The play is also very... what's the word... talky. I suppose verbosity in an epic play about peace talks is to be expected, but it misses out on some of the relationship work that could more deeply engage and inspire a bit more empathy. Also, while these reimagined talks raise logistical concerns, they only scrape the surface of the many obvious religious implications, which are at the very heart of the conflict. The tone seems slightly off, as the dignitaries themselves seem a bit less elevated in speech and manner than they surely must be, too. There are some hilariously funny lines, and those are most welcome, given the serious subject matter, but I also find it to be a mostly male-centric political drama, with just three stock female characters who serve mostly as accessories to the men. Even Mona, the female half of the couple on which the play wants to focus, who narrates much of the action, who was clearly a chief driving force behind the negotiations, and who was a respected official in the Norwegian Foreign Ministry, is diminished (more than once by more than one of the males) to a stereotypical object of desire. She is appreciated mostly, it seems, for her hips and her "beautiful, powerful Rolodex." And that, while perhaps realistic, is not so comfortable or funny.
That said, the performance itself was strong, with Jim Poulos as Terje Rød-Larsen and Kathleen Wise as Mona Juul, the married Norwegian diplomats at the heart of the negotiations. Ben Graney plays Uri Savir, Jerry Vogel plays Yossi Beilin, Jim Shankman plays Joel Singer, and John Rensenhouse plays Shimon Peres and Yair Hirshfeld on the Israeli side of the table. On the Palestenian Liberation Organization side, Rajesh Bose as Ahmed Qurie and Amro Salama as Hassan Asfour make their Rep debuts. Rounding out the cast are Michael James Reed, Jonathan Gillard Daly, Michelle Hand, Jeffrey Cummings, Chaunery Kingsford Tanguay, Jack Theiling, and Tom Wethington.
A minimalist scenic design by Michael Ganio is clean and accessible and lighting by Rob Denton, sound design by Fitz Patton, and stunning multimedia projections by Nathan W. Scheuer all work together beautifully to evoke various locations and encounters.
As the play tells us, this is about creating a process without a road map. And perhaps peacemaking is just messy and difficult to follow and uncomfortable all the way around. It is entertaining watching the leaders see-saw from volatility to companionship and back, and it does bring the conflict back to a place of hope in the end, as we are reminded that even though peace hasn't been achieved just yet, at the very least "they began."
One only needs a cursory familiarity with the subject matter to follow the action of the play but do take time to read "Notes on Oslo" by Warren Rosenblum inside the program, which offers an excellent scholarly overview into the history of the Israeli-Palestinian conflict.
Oslo plays until March 3 at The Repertory Theatre St. Louis. For more information and tickets, visit http://www.repstl.org/events/detail/oslo.
Tanya Seale (she/her) is a member critic of The St. Louis Theatre Circle. In addition to theatre reviews, she writes plays and fiction, and is a member of the Association of Writers and Writing Pro... (read more about this author)