THE OPERA LOCOS llegan al Teatre Poliorama de Barcelona
Del 25 de enero al 13 de marzo la comedia de Yllana aterriza en la Ciudad Condal.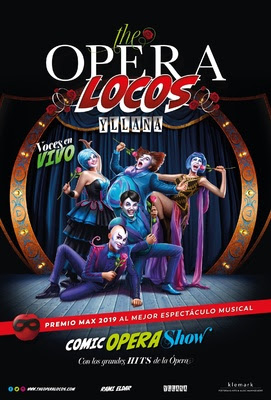 El próximo 25 de enero llega al Teatre Poliorama de Barcelona el espectáculo ganador del Premio Max a Mejor Espectáculo Musical THE ÓPERA LOCOS, que estará en cartel hasta el 13 de marzo.
Esta producción de la compañía Yllana, realizada junto a Klemark y Rami Eldar, busca acercar los grandes éxitos de la ópera al gran público, de una manera original y llena de humor: cinco de los más prestigiosos cantantes líricos del momento se juntan para dar un recital, pero pronto salen a relucir sentimientos y pasiones ocultas que convertirán el escenario en un auténtico campo de batalla, con consecuencias disparatadas e impredecibles. Una divertida guerra de egos en la que la ópera se fusiona con otros estilos musicales para crear una experiencia diferente en torno al género.
THE OPERA LOCOS está protagonizado por Toni Comas / Jesús Álvarez, María Rey-Joly / Irene Palazón, Jesús García-Gallera / Alberto Frías, Mayca Teba / María Macia y Enrique Sánchez Gómez / Jose Julián Frontal. El show cuenta con dirección artísitca de David Ottone y Joe O'Curneen y dirección musical de Marc Álvarez y Manuel Coves.