CASTING CALL: SCHOOL OF ROCK abre audiciones para niños
La nueva producción busca su reparto más joven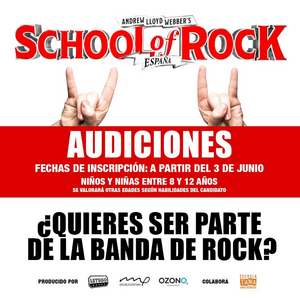 Letsgo Entertainment ha abierto hoy 3 de junio el período de inscripción para las audiciones infantiles de su nueva producción SCHOOL OF ROCK, que tiene previsto su estreno la próxima temporada.
Se buscan niños y niñas con edades comprendidas entre los 8 y 12 años, aunque se valorarán otras edades dependiendo de las actividades del candidato o candidata.
Si te interesa inscribirte, puedes hacerlo a través de este enlace. Quienes pasen la selección recibirán formación personalizada y profesional en canto, baile e instrumento en la escuela JANA de artes escénicas.
SCHOOL OF ROCK un musical de Andrew Lloyd Webber basado en la película homónima estrenado en Broadway en 2015, donde se mantuvo en cartel hasta 2019 con gran éxito y producciones tanto en Londres como en gira por Estados Unidos. Cuenta la historia de Dewey Finn, un guitarrista de una banda de rock que consigue transformar una clase de niños de colegio privado en estrellas del rock.