N-Tong's Kids Concert Comes to the National Theater of Korea This Month
Performances run through May 5.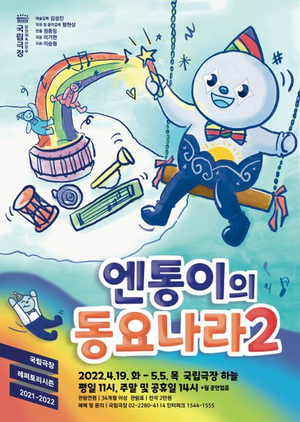 N-Tong's Kids Concert is a concert for children that recorded 96% of seat occupancy despite the pandemic at its 2021 premiere. Joyfully accompanied by 16 children's songs, a 6-year-old child named Kyo-jin, who finds it hard to express his feelings, travels around the Land of Instruments with 'instrument friend' N-Tong and discovers his own ways of expressing emotions.
The concert features original songs such as "Don't Pluck the Flowers" and "Awesome Ways to Be Friends" and also a Korean traditional version of "Banana Chacha," a kids pop from the animation . Above all, the performance is advised by child counselors and experts in theater for children to ensure its quality and reliability by properly angling it towards children. The set design, costumes, and video also make a visually pleasant and exciting experience.
Crew
Composer & Music Director: Ham Hyoun-sang
Director: Jung Jong-im
Playwright: Lee Ga-hyun
Performances run through May 5.
Learn more at https://www.ntok.go.kr/en/Ticket/Performance/Details?performanceId=265972.