ONT(POP) Comes to The Drama Factory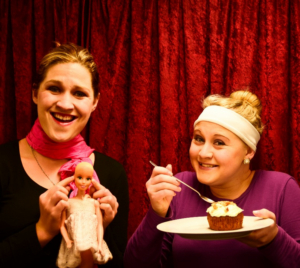 In die kaberet loer ons na die vrou deur die wêreld se oë. Hier sien ons die beeld van die vrou waar sy gaan van 'n "lappop", 'n ma wat haar droom deur haar dogter wil leef, 'n vrou wat n idee van haarself in haar kop skep, tot 'n ma wat se liefde nooit eindig nie. Ons sorg vir behoorlike skaterlag, maar as die realitiet jou slaan, los dit jou met 'n traan in die oog en bring jou tot beseffing wat die vrou in die lewe regtig beteken.

Die universele vrou kan baie vorme aanneem, maar wat het hulle almal in gemeen? Hulle almal is deel van een groot gejaagte wêreld en die misleidende prentjie wat die wêreld skep van hoe 'n vrou moet wees : mooi, maer, slim, aktief, 'n besigheids vrou, terselfde tyd 'n huis vrou, 'n ma, ouma, vriendin, suster, niggie, tannie en tog wil sy net vrou wees. Ons vat die donker wolk wat op die vrou se skouers lê en sit 'n silwer rantjie om - jy het die reg om 'n vrou te wees en te lag daaroor!
Suenel & Sjanel het altwee uitvoerende kunste studeer, waar hulle ontdek het dat hulle drama-sielsgenote is. Beide was al in vele verhoog pruduksies en het ook al onderrig in die uitvoerende kunste gegee. Suenel was al te sien by die Kalfiefees, Stellenbosch Woordfees, in vele kinderteater - en industriële teater produksies. Sjanel het ook al haar verskyning gemaak by die Stellenbosch Woordfees, in kinderteater produksies, en sy is tans deel van Mike McCully and the Harmonix tribute to ABBA groep. Suenel & Sjanel stap ook in 2015 weg met die "Beste Nuweling" prys by die Woordfees in Stellnbosch.
Book securely online with a credit card for any show at The Drama Factory by visiting www.thedramafactory.co.za. The direct booking page for this particular show is www.thedramafactory.co.za/show/sue19.
Related Articles View More South Africa

Stories

Shows
More Hot Stories For You