Alexander Upstairs Presents NASTY WOMXN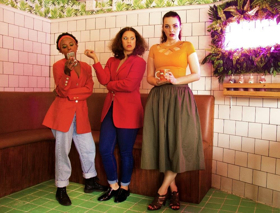 If you really love Greek mythology, the old Divas of WWE or trashing other womxn then this is probably not the play for you. But if you love the Kardashians, candid CNN interviews, gold (everywhere), spelling womxn with an "x" and smashing the patriarchy one rape-culture-drenched mythological origin story at a time then this might just be your cup of tea. Drawing from the Greek mythologies of Persephone, Medusa and other not so well-known characters, Nasty Womxn is a collection of sketches about contemporary womxn just trying to get from day to day.
Dara Beth is first and foremost an angry, Jewish feminist. Secondly, she is one half of the cabaret duo "Plumsong", which she has been performing as since 2011 with mom and fellow performer, Sharyn Seidel. Dara completed UCT's Theatre and Performance programme this January (for which she received the class medal for theatre-making, the Ruth Peffer's Prize and distinctions in Drama). Since graduating, Dara has written and performed in "Just a Song and a Dance" with co-performer Sharyn at the Alexander Bar and National Arts Festival in Grahamstown. Dara has also worked as a stage manager on Wessel Pretorius's "Klara Maas Se Hart Is Gebreek" (2017) and "Die Ontelbare 48" (2017), Ameera Conrad's "Reparation" (2017) and Jon Keevy's "The Underground Library" for ASSITEJ's Cradle of Creativity (2017). During her studies, Dara also directed her class's production of "Figs" (2016) for the National Arts Festival's Student Festival at which she was nominated for Best Student Director. Dara also makes up one third of The Furies, a womxn-centric artistic co-op with whose help she will be staging her first second original production of 2017, "Nasty Womxn".
Kathleen Stephens graduated from the University of Cape Town with a degree in Theatre and Performance, specializing in theatre-making, in 2014 and has not stopped working since. As a performer, Kathleen's most recent credits include Plumsong's "Just a Song and a Dance" (2017), Jon Keevy's "Underground Library" for ASSITEJ's Cradle of Creativity (2017), Jon Keevy's "Single-Minded" (2016) and Wessel Pretorius's "I love you, Sally Field" (2016). Kathleen Stephens makes up one third of the creative team The Furies, a collective dedicated to making work for and by womxn with a particular focus on giving to space to narratives of colour. An incorporator of Hungry Minds Productions (NPC), Kathleen has also been heavily involved in the devising, staging, designing and performing of productions such as "People Beneath Our Feet" (2016) and Athol Fugard's "People are Living There"(2015). Kathleen is also a contracted director for Arepp: Theatre for Life where she directs educational theatre productions which have toured across the provinces of South Africa.
Ameera Conrad graduated with distinction from UCT's Drama Department in 2015 as a Theatre Maker (Honours). Ameera has performed in "Dr. Godenstein's Man" (2016), written by Callum Tilbury and directed by Byron Bure; Nadia David's "What Remains", directed by Jay Pather; Kiroshan Naidoo and Katya Mendelson's "People Beneath Our Feet", directed by Blythe Stuart Linger. Ameera was one of the recipients of the 2016 Theatre Arts Admin Collective's Emerging Theatre Director's Bursary, where she directed her self-written piece "Reparation" - which has subsequently been performed at the Grahamstown National Arts Festival on the Arena Programme. Ameera is also an alumnus of the Lincoln Center Theater Directors' Lab. She is a co-curator, co-writer and performer in "The Fall" which recently toured to the Edinburgh International Fringe Festival, where it received a Scotsman Fringe First Award for Writing, The Stage's Ensemble Award for Acting, and was shortlisted for the Amnesty International Award for Human Rights. Ameera is a twice-published playwright; The Fall is currently in its second print, and Reparation will be released at the end of 2017.
Maria Vos had her big break straight out of acting school, when she got to eat artfully arranged food of questionable nutritional value in an advertisement for a well-known American tomato sauce brand. Since then, she's donned a rather unflattering bonnet in National Geographic Channel's scripted series "Saints & Strangers", played a hard-as-nails journalist in Bryan Buckley's feature film "Dabka", and inhabited the world of a very drunk tourist opposite a German heartthrob in "Der Geilste Tag". She's never quite managed to garner the same kind of critical adoration she earned for that first condiment-drenched appearance, however. Maria completed a BA Humanities and an MA in Linguistics at Stellenbosch University, after which she studied performance at ACT Cape Town. She's been living in the Mother City ever since, and she now proudly considers a ten-minute drive 'too far' to travel for a social gathering, unless there's been a firm offer of free food.
Masali Baduza is an actress based in Cape Town. She studied at the New York Film Academy in Los Angeles. Since her graduation, she's found adulting to be both stimulating and toilsome. Thankfully, she has two babies (read: dogs) who make her very happy. Even though she's passionately in love with theatre and film, she has big dreams of one day starting a
Production Company
so she can become empowered with the tools to tell the stories of the voiceless and under-represented. Also, Issa Rae is one of the greatest examples in achieving the previously mentioned mission.
Schedule
Date and TimePay on CollectionOnline Pre-Paid
Mon 15th Jan 9pmR110.00R90.00
Tue 16th Jan 9pmR110.00R90.00
Wed 17th Jan 9pmR110.00R90.00
Thu 18th Jan 9pmR110.00R90.00
Fri 19th Jan 9pmR110.00R90.00
Sat 20th Jan 9pmR110.00R90.00
Booking and Venue Information
Book securely online with a credit card for any show at Alexander Upstairs by visiting shows.alexanderbar.co.za or reserve your ticket without paying (but miss out on the discount)
The direct booking page for this particular show is alexanderbar.co.za/show/nastywomxn
You can also purchase tickets in person at the bar anytime during our regular opening hours (Mon - Sat 11am to 1am, Sun 3pm - midnight)
For telephone inquiries: 021.300.1652
Alexander Bar & Café, 76 Strand Street (Corner Loop), Cape Town CBD, 8001
Under 18s must be accompanied by a parent or legal guardian.
Open 7 days a week: Mon-Sat: 11am - 1am, Sun: 3pm - 12am.
Sandwiches, light meals, cheese boards and snacks served til midnight. Menu available here
Facebook: facebook.com/AlexanderBarCT Twitter: @AlexanderBarCT
Related Articles View More South Africa

Stories

Shows
More Hot Stories For You