The History Boys - 2006 - Broadway Tickets, News, Info & More
Alan Bennett's brilliantly witty, perceptive tale of an unruly handful of senior schoolboys, preparing for coveted places at either Oxford or Cambridge under the tutelage of their somewhat "old-school" history teacher. An unusual approach to their studies is questioned when a new, young, history teacher joins the staff with strong views of his own. The History Boys is a compelling exploration of both the anarchy of adolescence and the very purpose of education itself, but it's also a wonderful feel-good evening, shot through with Alan Bennett's masterful wit and abundant humanity – quite simply a must-see.
Video preview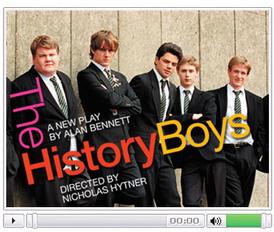 Schedule
Running Time: Two hours and 45 minutes with one intermission
(New York, NY)
235 W. 44th St.