Network - 2018 - Broadway Tickets, News, Info & More
Tony, Olivier, Emmy and Golden Globe winner Bryan Cranston ("Breaking Bad," All the Way) makes his "electrifying" (The New York Times) return to Broadway in the National Theatre's critically acclaimed production of Network, now a New York Times Critic's Pick.
In Lee Hall's adaptation of Paddy Chayefsky's Academy Award-winning film, anchorman Howard Beale (Cranston) unravels live on-screen. But when the ratings soar, the network seizes on its newfound prophet, and Howard becomes the biggest thing on TV.
"You owe yourself the thrill of watching Bryan Cranston in Network," raves Ben Brantley of The New York Times. Tony and Olivier winner Ivo van Hove (A View From the Bridge) directs this unique, immersive multimedia spectacle, also starring Tony Goldwyn ("Scandal") and Emmy Award winner Tatiana Maslany ("Orphan Black").
Catch the must-see theatrical event of the season, now through June 8.
Video preview
Photo preview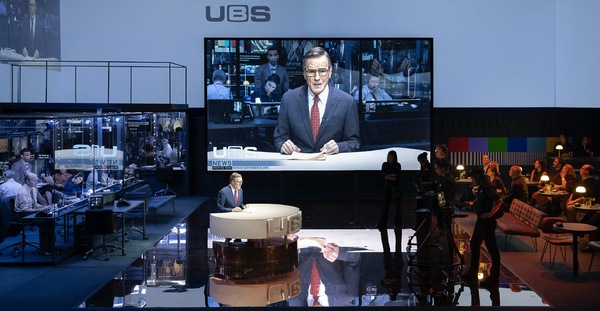 Schedule
Running Time: Two hours, with no intermission
Featured Reviews For Network
'Network' Broadway Review: Bryan Cranston Conjures a Burnt-Out Bill O'Reilly - The Wrap
Say what you want about the power of live performance, audiences will inevitably gravitate to the big jumbotron image over the real and tiny thing every time. Van Hove's direction, Jan Versweyveld's lighting and sets, and Tal Yarden's videos not only acknowledge that audience preference, they turn it into an addiction and make it central to what this "Network" is all about.
Network - TimeOut NY
With its continual sensory overload and its darkly vague intimations about populism and corporate power, this Network certainly looks cool. But it's beyond cool: It's icy. We seem intended to nod our heads and think about how prescient it all was—the mob appeal of anger, a mention of Saudi Arabia—but then to think no more. Network isn't galvanizing, it's numbing: emptily flashy in its condemnation of empty flash, inhuman in its wan defense of humanity. It has a superb TV star and a killer catch phrase, but behind the sound and fury is only a shadow of significance.