Network - 2018 - Broadway
Tony, Olivier, Emmy and Golden Globe winner Bryan Cranston ("Breaking Bad," All the Way) makes his "electrifying" (The New York Times) return to Broadway in the National Theatre's critically acclaimed production of Network, now a New York Times Critic's Pick.
In Lee Hall's adaptation of Paddy Chayefsky's Academy Award-winning film, anchorman Howard Beale (Cranston) unravels live on-screen. But when the ratings soar, the network seizes on its newfound prophet, and Howard becomes the biggest thing on TV.
"You owe yourself the thrill of watching Bryan Cranston in Network," raves Ben Brantley of The New York Times. Tony and Olivier winner Ivo van Hove (A View From the Bridge) directs this unique, immersive multimedia spectacle, also starring Tony Goldwyn ("Scandal") and Emmy Award winner Tatiana Maslany ("Orphan Black").
Catch the must-see theatrical event of the season, now through June 8.
Video preview
Photo preview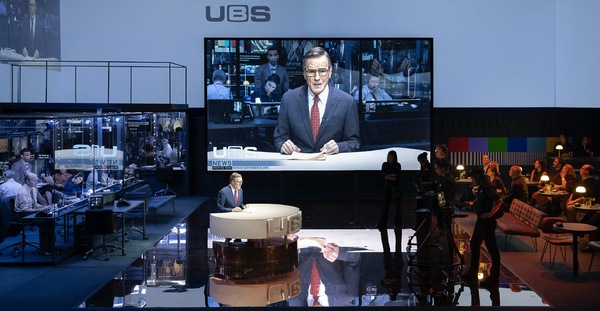 Schedule
Running Time: Two hours, with no intermission
Featured Reviews For Network
'Network' Broadway Review: Bryan Cranston Goes Suitably Mad - Deadline
The adaptation by Lee Hall (Billy Elliot) sticks close to Chayefsky's original script, with mixed results. References to, say, The Mary Tyler Moore Show once gave Network a startling contemporaneity, but now seem a tad camp. And hearing, with fresh ears, that melodramatic monologue that won Beatrice Straight an Oscar does little but suggest just how good Straight was. That's no slight against Alyssa Bresnahan, who plays the role on stage, but lightning can't strike twice.
'Network' starring Bryan Cranston review: A knockout take on the classic movie - NJ.com
Yet even if this "Network" doesn't entirely hang together, it's still a fabulous piece of entertainment, directed and performed with verve and showmanship. Just about every directorial choice here - the clocks that count down to Beale's news broadcasts; the applause signs demanding the audience's interaction; a final scene magic trick straight out of "Harry Potter and the Cursed Child" - manages to be audacious without feeling show-offy. If you're going to transfer a movie to the stage, this is exactly how to do it, by respecting both forms and then taking a sledgehammer to them. Let the pieces land thrillingly where they may.