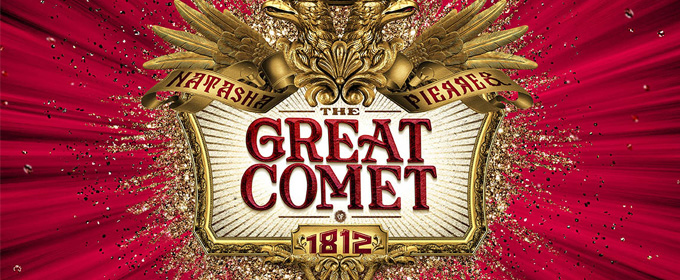 Click Here for More Articles on NATASHA, PIERRE AND THE GREAT COMET OF 1812
BWW Retrospective: And What About Pierre? Looking Back at GREAT COMET's Four Pierres
Throughout THE GREAT COMET's run on Broadway, which ends today, four Pierres have taken the stage - Josh Groban, the original Broadway Pierre; Scott Stangland, the alternate throughout the entire run; Dave Malloy, the original Pierre and creator of the show; and Okieriete Onadowan, one of the original stars of HAMILTON. All four actors played their roles with talent and skill, each bringing their own unique performance to the stage.
However, when one sees the show multiple times, it's easy to think of the differences between actors, and realize where each actor truly shines in the role.
I've been fortunate to see all four of the Pierres, and have picked up on some different character and performance choices that each has made throughout his time in the role.
---
Seen on Nov. 18, 2016, with on-stage seats.
(Note: Actors are listed in the order they were most recently seen.)
Scott Stangland played the role of Pierre at the American Repertory Theater (ART) during THE GREAT COMET's run there from December 1, 2015 to January 2016. Taking over from Dave Malloy, the performance won him an IRNE award, and when the show finally transferred to Broadway, he came along, serving as the Pierre alternate and understudy for star Josh Groban.
When I saw Stangland's performance, it was the very first time I had ever seed the show. I had on-stage seats for Pierre's salon, right in front of where Stangland spent most of the show, so I was able to see his performance up-close and personally - and what a performance it was!
Stangland truly embodied the role of Pierre; his familiarity with the role obviously helped. While many of the audience attendees exchanged their tickets for a performance that Josh Groban would be present for, they lost out on a sublime theatrical experience.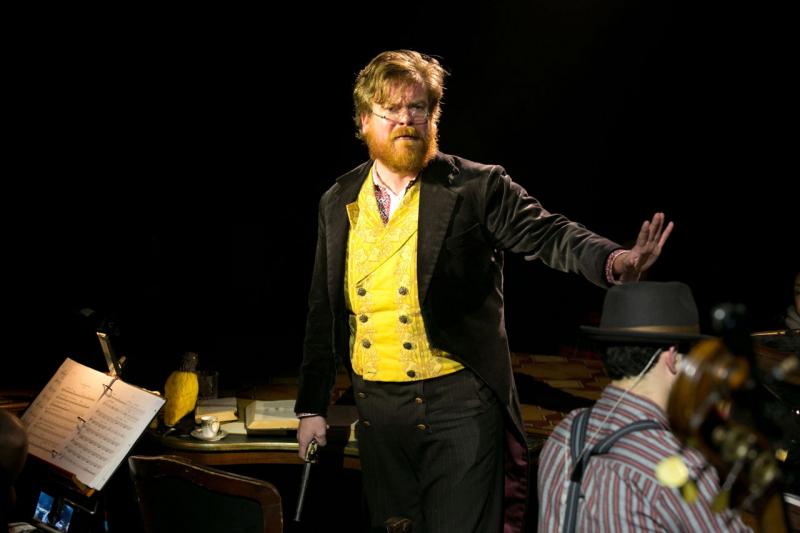 While Stangland knocked the entire performance out of the park - this was my first visit to the show, and I truly had no idea what to expect - he really brought the song "Pierre" to life.
As the ensemble mocks him and he wrestles with the pointless nature of his existence, Pierre's first song is almost an "I want" number, and Stangland delivers.
He creates a Pierre full of restlessness and longing, defining one of Tolstoy's complex characters in just four minutes. While the rest of his performance is of a stunningly high caliber, Stangland's "Pierre" truly is a highlight, and a brilliant start to a wonderful show.
---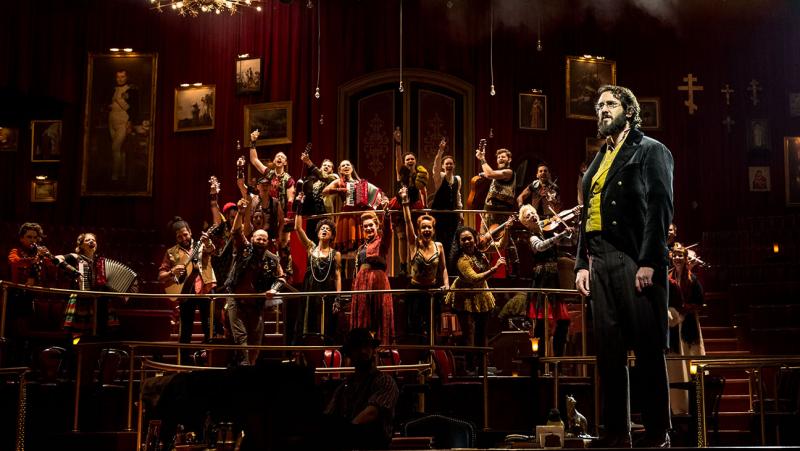 Seen on Jan. 17, 2017, with partial-view seats on the right-hand side of the theater.
I admit that I had some trepidation when I saw Josh Groban announced as Pierre - as far as I knew, he was a singer more than an actor, and I felt that the final set of songs required someone with acting chops that I wasn't sure Groban had.
While positive word-of-mouth and reviews surrounded his performance, I was still worried, even as articles about his effort, talent, and commitment appeared. It was a fluke that I saw his show, having gotten day-of partial view seats on a whim, and to this day, I am glad I did, because his performance shattered every expectation.
Groban was perfect in the role, and likely one of the main reasons that the show made it to Broadway in the first place. While reports of the fat suit he was put in had made me wary, he physically embodied Pierre perfectly, and his voice, much smoother than Stangland and Malloy's, fit the score perfectly. While he performed, he blended flawlessly into the character, practically becoming Pierre.
Groban's real-life physical transformation - such as growing out his hair and beard, and learning how to adjust his voice, mannerisms, and walk to better suit Pierre's character - also helped.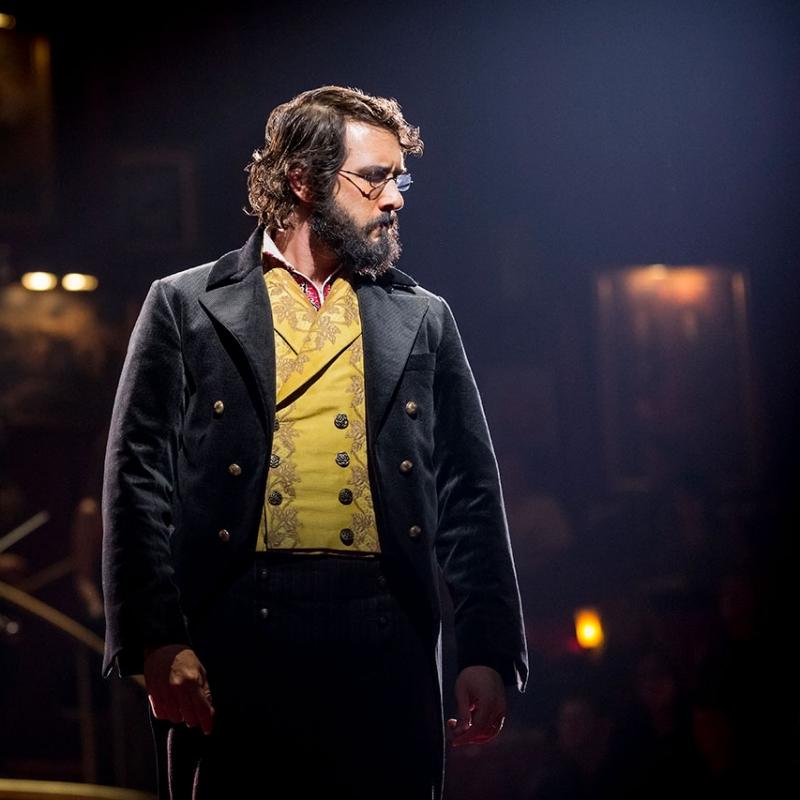 While I wasn't as close as I had been the first time that I saw the show, the partial-view box seats still allowed an unimpeded view into Pierre's salon. He played all his instruments live and with skill; his acting was subtle and nuanced, yet drew the necessary attention even when the focus wasn't on him - and during "The Great Comet of 1812", he was completely entrancing and entirely believable. While his overall performance was amazing, Groban absolutely blew the audience away with "Dust and Ashes."
With the song written specifically for Groban by Malloy, I knew he would perform it well (I made a point of not listening to the recorded version, so all I knew was the performance I had heard by Scott Stangland the month before).
And yet, I was still shocked by how well Groban performed the song - again, he truly embodied the character of Pierre, and his performance was so strong and powerful that it could have served as an Act One finale. Against the angelic-sounding choir formed by the ensemble, his vocals soared, making this song the absolute standout of his performance.
---
OKIERETE ONADOWAN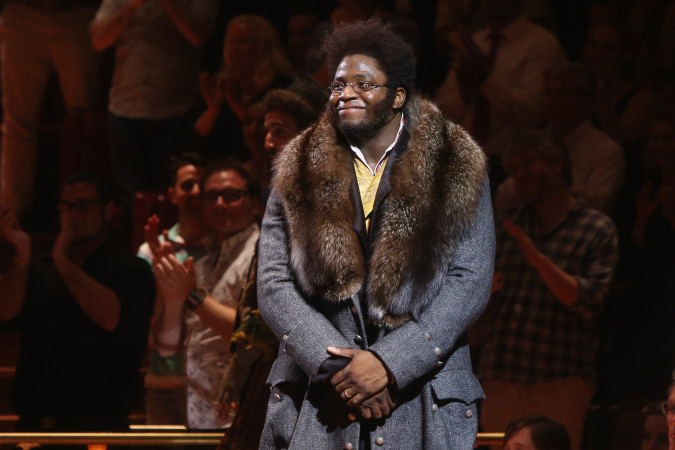 Seen on August 8, 2017, from rear mezzanine seats on the right side of the theater.
Since the moment that he was announced, I had wanted to see Onadowan in the role, and he did not disappoint! While some of his instrument-playing was shifted to the musicians, that took nothing away from the character - if I hadn't seen the show before, I wouldn't have even noticed the change.
Fresh off his breakout roles in HAMILTON, Pierre was a change of pace from Mulligan and Madison, and Onadowan seemed to relish the challenge. He played Pierre very differently than Stangland and Groban had, making him almost always restless and far more irritable; he really did seem to be a crotchety old man, in the midst of an existential crisis, annoyed by the frivolity and shallowness of his companions.
While every Pierre incorporated this attitude into their performance a bit, Onadowan seemed to make it a more central part of his performance, adding new levels to the character.
As a result, he really shone in some of the later songs in the show, as Pierre confronts Anatole for his attempt to elope with Natasha. When he holds the paperweight inches from Anatole's head, there's a moment where the audience almost believes he might actually hit him with it; his anger seems palpable, even in the back rows of the mezzanine.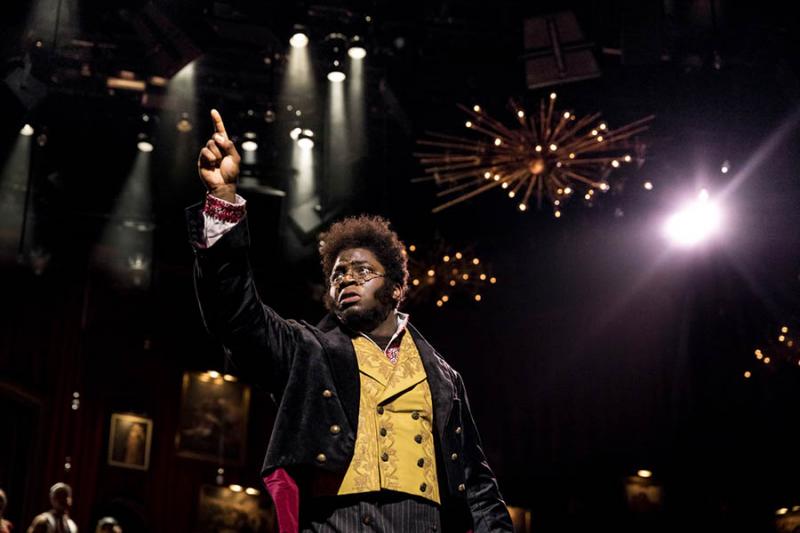 His "Find Anatole" is rushed and urgent; during "A Call to Pierre" he goes from mildly irritated to genuinely concerned and angry in the space of a few moments.
As a result of all this, his resignation to allow Anatole to leave Moscow, mostly unpunished, seems even more legitimate.
Onadowan played Pierre in a truly unique and original way, and that really became evident during the latter half of the show.
---
Seen on June 27, 2017 from the left side of the rear mezzanine; on July 5 , 2017 from the center rear mezz-anine; and on August 26, 2017
from the on-stage banquettes.
Dave Malloy was the only Pierre I was lucky enough to see multiple times, over the course of three visits. As the first Pierre I ever heard on the Off-Broadway cast recording, I was immediately biased in favor of his performance - I was thrilled when he kept announcing more dates in the show, and when I was finally able to swing tickets for on-stage seats to one of his performance, I was more excited to see the show than I had ever been before (even though I was also upset about the closing).
While every other actor was amazing in the role, Malloy stood out for me. Having written the show and played Pierre in GREAT COMET's initial productions, he embodied the role in a way that no other actor could; the way that one can only do when they have spent years working on a character (such as John Cameron Mitchell in HEDWIG AND THE ANGRY INCH or Lin-Manuel Miranda in HAMILTON, another two performances I was lucky to see).
While his voice is very different from the other Pierres, he still shone in the role, and it is clear that he knows every facet of the character.
However, the place where Malloy really shows the depth of his talent are the final numbers of the show, especially "Pierre and Natasha" and "The Great Comet of 1812".
With absolutely breathtaking acting and vocals so gentle they're almost a whisper, he gives hope to both the heartbroken Natasha and himself; his performance of the final song is transcendent, especially when the ensemble joins in for a beautiful chorus. Throughout the show, Malloy proves himself to be one of the best actors working on Broadway right now, but it's at the end that he truly shows all his talent.
Related Articles