Sunday Update: THE GREAT COMET's Azudi Onyejekwe Addresses Casting Controversy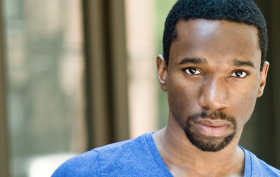 Talk of the last week's casting controversy continues this weekend in Broadway circles, discussing what happened and what comes next for both THE GREAT COMET and the future of diversity in casting at large.
On Twitter, GREAT COMET cast member Azudi Onyejekwe has weighed in with his take on the situation and it's a must-read. Prior to THE GREAT COMET's Broadway debut, he was also seen on Broadway in VIOLET and Off-Broadway in Central Avenue Breakdown (NYMF), Broken Bride (Cutting Room). NYC Workshops: NYTW, Playwrights Horizons, Ars Nova, York Theatre.
I'd be remiss to not address the events of the past we days surrounding Great Comet. Productive, open dialogue is encouraged.

Love -Zudi pic.twitter.com/JqL4Okk32r

— Azudi Onyejekwe (@iamazudi) July 29, 2017
July 29, 2017
July 29, 2017
July 29, 2017
Following public outcry, Broadway legend Mandy Patinkin has withdrawn from his scheduled run in Natasha, Pierre, and the Great Comet of 1812. In a statement e-mailed to the New York Times Thursday evening, Patinkin addressed the controversy, statting:
"My understanding of the show's request that I step into the show is not as it has been portrayed and I would never accept a role knowing it would harm another actor," Mr. Patinkin said. "I hear what members of the community have said and I agree with them. I am a huge fan of Oak and I will, therefore, not be appearing in the show."
As BroadwayWorld reported earlier this week, Tony and Emmy Award winner Mandy Patinkin was scheduled to make his long-awaited return to Broadway in NATASHA, PIERRE & THE GREAT COMET OF 1812, starring as 'Pierre' from August 15 - September 3 only. Okieriete "Oak" Onaodowan, currently playing the role, will play his final performance as 'Pierre' on August 13.
Producer Howard Kagan explained Okieriete Onaodowan's departure earlier this week: "This continues our show's remarkable history of having great actors and singers see the show as audience members, only to tell us they are inspired to join the cast! Whenever possible we will accommodate them as we did here with Mandy and his Homeland TV schedule. Oak, who was scheduled to appear as Pierre for this period graciously agreed to make room for Mandy, and we sincerely hope that Oak will return to us in the fall or winter. He is a terrific Pierre."
The show's composer, Dave Malloy, took to Twitter to explain some of the reasoning behind this.
He writes that "The show was in desperate shape; sales after Ingrid leaving Aug 13 were catastrophically low."
He also revealed that Mandy Patinkin was unaware that Okieriete Onaodowan was being asked to leave the production early. Patinkin was asked to step in ASAP as the show was on the brink of closing.
He concluded with "I am not sure that the show has a future now."