Update - Broadway Shutdown Extends To September 6 - Click Here
Leap of Faith - Broadway
$47 - $137 ($27 Student Tickets Available in person at St. James Box Office. Limited to two tickets per valid student I.D. Subject to availability; payable by cash only)
When his traveling ministry breaks down in a small Kansas town, part-time reverend and full-time con artist Jonas Nightingale (Raul Esparza) quickly pitches a tent and invites the locals to a revival. The town sheriff, Marla Humes (Jessica Phillips) is determined to stop him from separating the townspeople from their money.
Video preview
Photo preview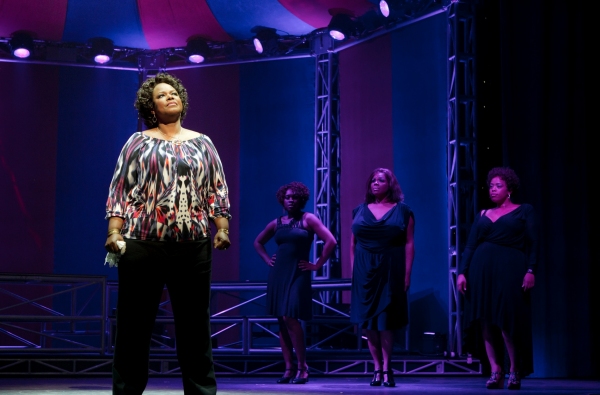 Featured Reviews For Leap of Faith
STAGE REVIEW Leap of Faith - Entertainment Weekly
Competently directed by Christopher Ashley with some lively choreography by Sergio Trujillo, the show occasionally grapples with an interesting question: Can a seriously flawed man still be a vessel for God's will, even for the miraculous? But while Esparza has a confident, commanding stage presence, he doesn't seem oily enough in his early scenes to make his second-act moment of reckoning pay off...The show does brush on a thin veneer of documentary-style exposé — we see how a sham healer gathers telling details about his congregation to exploit during his revival service — but otherwise the story never strays from its highly conventional path. And for Broadway veterans, that path should seem especially familiar. Leap of Faith is The Music Man meets 110 in the Shade, with an overly pat ending that undercut's the plot's refreshing ambivalence about the path to salvation.
NY Review: 'Leap of Faith' - Backstage
You know you're in trouble at "Leap of Faith" even before the show starts, when actors pretending to be revivalists distribute what are supposed to be dollar bills to the audience, so we will have something to put in the collection basket when it's passed. How many phony preachers distribute money to the audiences they plan to fleece? It makes about as much sense as this ersatz musical does, which, like its cinematic source, is a compendium of formulaic characters and clichéd situations all too obviously cribbed from better and more original works. Bathed in composer Alan Menken and lyricist Glenn Slater's generic score and driven to an artificial frenzy by Christopher Ashley's desperately meta direction and Sergio Trujillo's repetitive choreography, the show is busy, empty, and, worst of all, boring.
Leap of Faith Broadway Cast