Leap of Faith - 2012 - Broadway
$47 - $137 ($27 Student Tickets Available in person at St. James Box Office. Limited to two tickets per valid student I.D. Subject to availability; payable by cash only)
When his traveling ministry breaks down in a small Kansas town, part-time reverend and full-time con artist Jonas Nightingale (Raul Esparza) quickly pitches a tent and invites the locals to a revival. The town sheriff, Marla Humes (Jessica Phillips) is determined to stop him from separating the townspeople from their money.
Video preview
Photo preview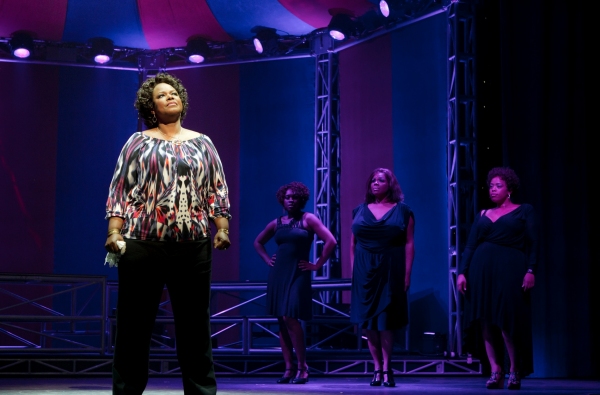 Featured Reviews For Leap of Faith
Leap of Faith: Theater Review - Hollywood Reporter
The stage musical improves on the original simply by settling on a point of view. But despite Raul Esparza's hard-working lead performance and some rousing Gospel numbers from Alan Menken and Glenn Slater, the story remains stubbornly unappealing. Opening on Broadway the same week as the slavish screen-to-stage transplant of Ghost, the musical Leap of Faith earns points by at least rethinking its source for another medium, often in smart ways, too. Adapting her screenplay, Janus Cercone has collaborated with playwright Warren Leight (a Tony winner for Side Man, and showrunner on Law & Order: SVU) to clarify plot themes, redefining some characters while inventing or excising others. The resulting show has more heart than the movie, but still not enough.
Theater review: 'Leap of Faith' - NY Daily News
Jeez, even the climactic thunderstorm is a letdown in "Leap of Faith." You can see the water jets — where's the fun in that? Sorry if that's a spoiler, but nothing happens in this frustrating and manipulative new Broadway musical based on a 1992 Steve Martin movie you don't see coming a mile away. What is surprising is how infrequently songs by Alan Menken (music) and Glenn Slater (lyrics) make you sit up and take notice.
Leap of Faith Broadway Cast