Leap of Faith - 2012 - Broadway Tickets, News, Info & More
$47 - $137 ($27 Student Tickets Available in person at St. James Box Office. Limited to two tickets per valid student I.D. Subject to availability; payable by cash only)
When his traveling ministry breaks down in a small Kansas town, part-time reverend and full-time con artist Jonas Nightingale (Raul Esparza) quickly pitches a tent and invites the locals to a revival. The town sheriff, Marla Humes (Jessica Phillips) is determined to stop him from separating the townspeople from their money.
Video preview
Photo preview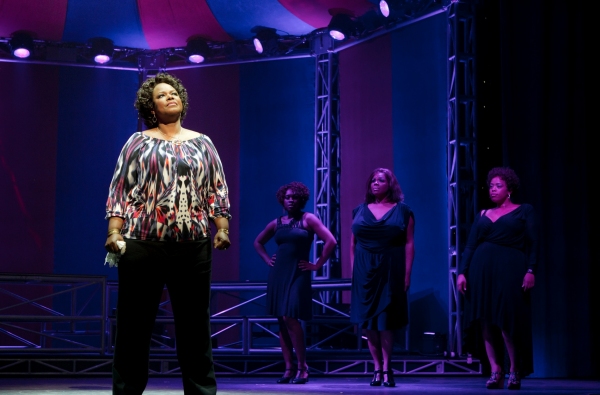 Featured Reviews For Leap of Faith
Sneaky Preacher, Without a Prayer - New York Times
Praise the Lord, and pass the amphetamines. "Leap of Faith," which opened on Thursday night at the St. James Theater, uses the religious revival meeting as both its subject and its form. Yet reviving (or revivifying or inspiriting) is hardly the right adjective for it. Starring Raúl Esparza and based on the 1992 movie of the same title, "Leap of Faith" is this season's black hole of musical comedy, sucking the energy out of anyone who gets near it.
Leap of Faith Review: Unbelievable on Broadway - Faster Times
Does anybody believe that "Leap of Faith" is trying to convert all of us atheists and Jews in the audience? It's an ersatz experience, emotionally and musically. Menken's 17 appealing songs (Including three show-stoppers, "Step Into the Light," "Are You on the Bus?" and "Leap of Faith") are mostly good, ersatz gospel music. Sergio Trujillo's choreography is mostly energetic swaying in gospel robes, which mimic the movements of an actual gospel choir. (The set, mostly a rotating revival tent, is as fake as the story.)...Should lovers of gospel music pay $100+ to see "Leap of Faith?" Why not? But they could have the authentic gospel experience at one of the many churches in New York City with gospel choirs. And if they are not comfortable going to church, they can attend one of the city's many gospel brunches.
Leap of Faith Broadway Cast