La Cage aux Folles - 2010 - Broadway
Five-time Emmy Award® winner Kelsey Grammer makes his Broadway musical debut alongside Olivier winner Douglas Hodge in this funny and touching tale of one family's struggle to stay together... stay fabulous... and above all else, stay true to themselves. La Cage aux Folles, the splashy, high-kicking musical comedy, comes to Broadway this spring in a gloriously reconceived production that took London by storm. La Cage features Jerry Herman's Tony Award-winning score, with such fabulous songs as "I Am What I Am," "The Best of Times" and "Song on the Sand," and a Tony Award-winning book by Harvey Fierstein.
Video preview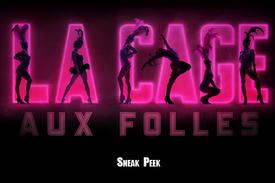 Schedule
Running Time: 2 hours and 40 minutes, with one intermission
Featured Reviews For La Cage aux Folles
La Cage Aux Folles - nytheatre.com
Despite the potentially edgy subject matter, this is an old-school musical comedy in style. Matthew Wright's sparkling, feathered, luscious costumes, Richard Mawbey's colorful wig and makeup design, and Tim Shortall's scenic design all ensure that La Cage is as glitzy and showy as possible. Director Terry Johnson has found a few moments of subtle genuineness that are quite heartwarming: Albin's reluctance to let Georges hold his hand in public and an overdue kiss as the curtain comes down.
Promenade Glimmered Briefly; La Cage aux Folles and Million Dollar Quartet Just Glare - Village Voice
I was even sorrier while sitting through the shoddy revival of La Cage aux Folles (Longacre Theatre), Jerry Herman and Harvey Fierstein's 1983 musical, in which a drag nightclub star and his club-owner hubby battle each other but unite to confront the right-wing parents of hubby's son's fiancée. The original production made the gay couple's Côte d'Azur nightclub the goofily glamorous place Herman's lyrics salute. Terry Johnson's new production, with misplaced Anglocentric cultural memory, reduces it to a tatty, skimpy pier-end revue where drag equals stereotype plus ineptitude. The familiar gestures pall almost instantly, the songs get trampled into incoherence, and Douglas Hodge's simpering, ad-libbing cliché of a drag diva shoots down any glimpse of emotional truth. Amazingly, in the midst of this rag heap, Kelsey Grammer pulls off a genuine star turn, investing the role of Hodge's spouse with easy charm and projecting his ballads with graceful feeling. He should keep classier company artistically.
La Cage aux Folles Broadway Cast