La Cage aux Folles - Broadway
Five-time Emmy Award® winner Kelsey Grammer makes his Broadway musical debut alongside Olivier winner Douglas Hodge in this funny and touching tale of one family's struggle to stay together... stay fabulous... and above all else, stay true to themselves. La Cage aux Folles, the splashy, high-kicking musical comedy, comes to Broadway this spring in a gloriously reconceived production that took London by storm. La Cage features Jerry Herman's Tony Award-winning score, with such fabulous songs as "I Am What I Am," "The Best of Times" and "Song on the Sand," and a Tony Award-winning book by Harvey Fierstein.
Video preview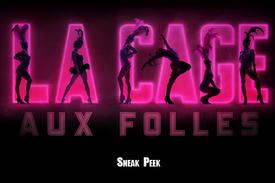 Schedule
Running Time: 2 hours and 40 minutes, with one intermission
Featured Reviews For La Cage aux Folles
La Cage aux Folles - Back Stage
Despite scaled-down production values and a smaller cast and orchestra—a trademark of the tiny Menier Chocolate Factory, where this edition started—Johnson creates a credible and entertaining drag show presented by Georges, the owner of the titular Riviera establishment, and headlined by his lover, Albin. (Set designer Tim Shortall even extends the showroom atmosphere into the audience by replacing the first few rows of seats with cabaret tables and chairs.) You could take the onstage numbers out, plunk them down in any gay-themed nightclub, and rake in the cash. There are only six Cagelles this time out, but each is a gorgeous vision and expert dancer, performing Lynne Page's campy choreography with abandon and pizzazz. Kudos to Matthew Wright's dazzling costumes and Richard Mawbey's wig and makeup design.
La Cage aux Folles - Entertainment Weekly
But the show, newly revived on Broadway under the thoughtful direction of Terry Johnson, proves to be surprisingly sturdy — despite the three-inch pumps donned by the cross-dressing Cagelles at the Saint-Tropez nightclub that Georges and Albin call home. Herman's score is studded with melodic winners, including the gay-rights anthem 'I Am What I Am,' which closes the first act on a stirring and deeply moving note. Delivering that show-stopper is Douglas Hodge, a transplant from Johnson's 2008 London revival of La Cage. Hodge is practically perfect as the fey Albin, a tricky role in which an actor could easily slip into caricature or sentimentality. Hodge manages a careful balance, delivering a performance that is both hilarious and heartfelt; his character is admittedly over the top, but he always feels real. As his partner, the La Cage manager Georges, Kelsey Grammer proves to be an equal partner in carrying the show. Grammer has a surprisingly strong singing voice (better than his rendition of the 'Frasier' theme song might suggest), and he never makes you doubt his commitment to Albin or his son; you feel the anguish as he seeks to reconcile the conflicting desires of his two loves.
La Cage aux Folles Broadway Cast