La Cage aux Folles - 2010 - Broadway
Five-time Emmy Award® winner Kelsey Grammer makes his Broadway musical debut alongside Olivier winner Douglas Hodge in this funny and touching tale of one family's struggle to stay together... stay fabulous... and above all else, stay true to themselves. La Cage aux Folles, the splashy, high-kicking musical comedy, comes to Broadway this spring in a gloriously reconceived production that took London by storm. La Cage features Jerry Herman's Tony Award-winning score, with such fabulous songs as "I Am What I Am," "The Best of Times" and "Song on the Sand," and a Tony Award-winning book by Harvey Fierstein.
Video preview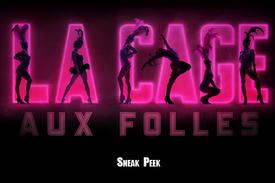 Schedule
Running Time: 2 hours and 40 minutes, with one intermission
Featured Reviews For La Cage aux Folles
La Cage Aux Folles - NY1
Just when you think you know a show inside and out, along comes a revival that opens a new window and suddenly a gust of fresh air turns the whole experience into an unexpected joy. I've seen "La Cage Aux Folles" several times, but this streamlined production beautifully integrates the dramatic elements with the music and the result is as inviting as an April in Paris, or rather, San Tropez.
'American Idiot': It's Not Easy Being Green Day (scroll down for La Cage aux Folles) - New York Observer
But what Harvey Fierstein's Tony-winning book lacks in structure, it more than makes up for in humor and warmth. Jerry Herman's score, also a Tony winner, contains several stirring anthems: "I Am What I Am," "The Best of Times," the lovely "Look Over There." And director Terry Johnson's production, which transforms the big Longacre into a très intime night at the titular club, is simply gorgeous, beautifully designed (by Tim Shortall), costumed (by Matthew Wright) and, especially, choreographed (by Lynne Page).
La Cage aux Folles Broadway Cast