Escape to Margaritaville - 2018 - Broadway
From last year's Tony Award-winning director CHRISTOPHER ASHLEY and music's favorite storyteller JIMMY BUFFETT comes "the feel-good musical that finds the joy of living in the moment" (Chicago Sun-Times).
ESCAPE TO MARGARITAVILLE is the musical comedy featuring both original songs and your most-loved JIMMY BUFFETT classics, including "Fins," "Volcano," "Cheeseburger in Paradise" and many more. With a book by Emmy Award winner GREG GARCIA ("My Name is Earl," "Raising Hope") and Emmy nominee MIKE O'MALLEY ("Survivor's Remorse," "Shameless"), this electrifying new production is choreographed by Tony Award nominee KELLY DEVINE (Come From Away, Rock of Ages) and directed by Tony Award winner CHRISTOPHER ASHLEY (Come From Away, Memphis).
Welcome to Margaritaville, where people come to get away from it all - and stay to find something they never expected. Get ready for the hilarious and heartwarming new show The Los Angeles Times calls "Pure escapism! Filled with brilliant songwriting." Come join us in a tropical paradise. Get your tickets today!
Video preview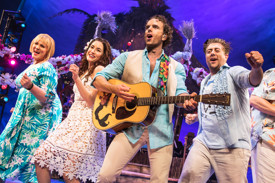 Photo preview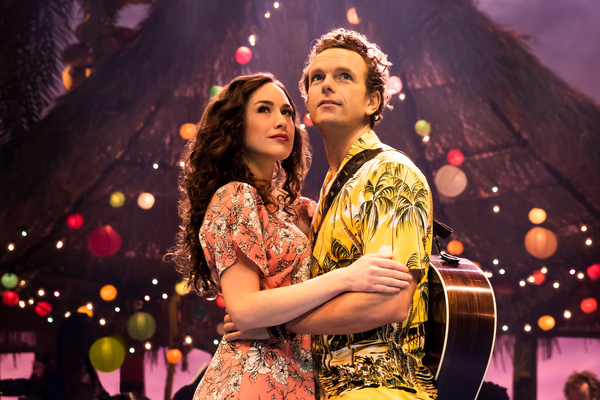 Schedule
Running Time: Two hours and 20 minutes, with one intermission
Featured Reviews For Escape to Margaritaville
'Escape to Margaritaville' Broadway Review: Jimmy Buffett Kicks Back a Few Too Many - The Wrap
Jimmy Buffett has written a musical for theatergoers who want to feel good about getting drunk and overeating. "Escape to Margaritaville" opened Thursday at Broadway's Marquis Theatre, and the Buffett songs and the original book by Greg Garcia and Mike O'Malley offer a "Bachelor in Paradise" view of romance.
Wasting Away at 'Margaritaville' Review: Drinking Game - Wall Street Journal
The jukebox musical, in which the back catalog of a songwriter and/or pop star is repurposed as the score to a stage show, is one of Broadway's staple items. Rarely are such shows any good, but some have been hits, and hope springs eternal in the cash-hungry hearts of theatrical producers and superannuated rockers. That's why "Escape to Margaritaville," whose score consists of 26 songs by Jimmy Buffet t, has arrived on Broadway after preliminary runs in La Jolla, Calif., and Chicago, Houston and New Orleans. Even though the 71-year-old Mr. Buffett is very old news-"Margaritaville," his first and biggest hit single, was released four decades ago-a group of hard-nosed businessmen is betting that his amiable brand of what he calls "drunken Caribbean rock 'n' roll" is still popular enough to rope in a slice of the tourists who couldn't wangle tickets to " Hamilton. "
Escape to Margaritaville Broadway Cast