Escape to Margaritaville - 2018 - Broadway
From last year's Tony Award-winning director CHRISTOPHER ASHLEY and music's favorite storyteller JIMMY BUFFETT comes "the feel-good musical that finds the joy of living in the moment" (Chicago Sun-Times).
ESCAPE TO MARGARITAVILLE is the musical comedy featuring both original songs and your most-loved JIMMY BUFFETT classics, including "Fins," "Volcano," "Cheeseburger in Paradise" and many more. With a book by Emmy Award winner GREG GARCIA ("My Name is Earl," "Raising Hope") and Emmy nominee MIKE O'MALLEY ("Survivor's Remorse," "Shameless"), this electrifying new production is choreographed by Tony Award nominee KELLY DEVINE (Come From Away, Rock of Ages) and directed by Tony Award winner CHRISTOPHER ASHLEY (Come From Away, Memphis).
Welcome to Margaritaville, where people come to get away from it all - and stay to find something they never expected. Get ready for the hilarious and heartwarming new show The Los Angeles Times calls "Pure escapism! Filled with brilliant songwriting." Come join us in a tropical paradise. Get your tickets today!
Video preview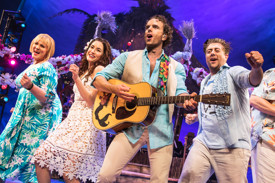 Photo preview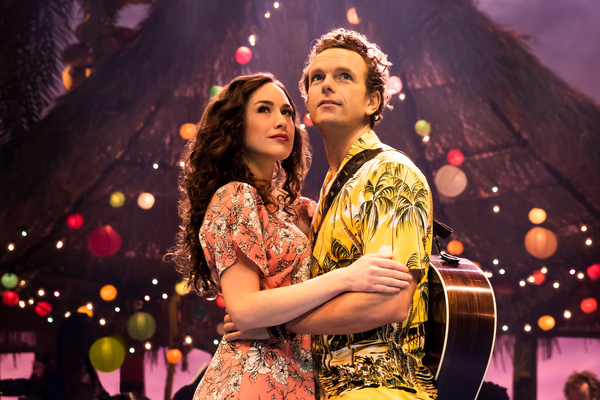 Schedule
Running Time: Two hours and 20 minutes, with one intermission
Featured Reviews For Escape to Margaritaville
'Margaritaville' musical is a paradise for parrot heads — and no one else - New York Post
Directed by Christopher Ashley, hot off a Tony for "Come From Away," "Escape to Margaritaville" meanders along, pleasantly enough. Its appeal may last only as long as there are Parrotheads around to see it, but it helps that the show's so well cast and sung.
Escape to Margaritaville Review: Even a Shaker of Salt Can't Save This One - Bloomberg
For the show's investors, it may not matter that Escape to Margaritaville isn't very good. It blends the greatest hits of Jimmy Buffett, a set of cheery cardboard characters, and a simple-if occasionally demented-plot into a concoction syrupy enough to taste sort of like a Broadway show. But like the worst versions of its namesake beverage, it's too watered-down to be much fun.
Escape to Margaritaville Broadway Cast