Click Here for More Articles on Podcasts
Design-Focused 'in 1: the podcast' Welcomes ESCAPE TO MARGARITAVILLE Scenic Designer Walt Spangler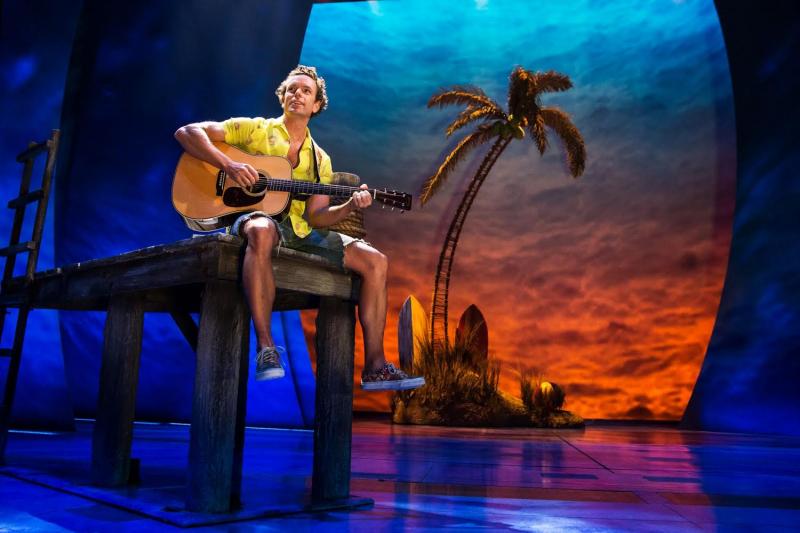 Bake some spongecake, pull out your six string and spend a balmy summer weekend with "Escape to Margaritaville" Scenic Designer Walt Spangler! On this week's new episode, Walt is telling us about the genesis of his tropical design that included a research trip to Key West, an actual Jimmy Buffet concert, and how the design changed over time from it's La Jolla premier and it's multi-city tour leading up to Broadway.
Cory and Walt also talk about his design for the whimsical "Tuck Everlasting" and how his iconic set for 'Desire Under the Elms' came to be with giant boulders and a house floating over the stage. Walt takes us through his design process through script sketches, model and sculptural work, and recounts presenting his first ideas to directors like Casey Nicholaw and Robert Falls.
And hear the true life story of how a new piece of scenery was conceived, built, painted, and installed over the weekend of Margaritaville's final previews. Grab something cold and fruity and let the sound of this week's chat fill your private cabana. (you did reserve a cabana right??)
Listen to the episode here:
---
Walt Spangler's Broadway design credits include Escape to Margaritaville, Tuck Everlasting, A Christmas Story, Scandalous, Desire Under the Elms and Hollywood Arms. His numerous Off-Broadway credits include Our Lady of 121st St, Linda, Between Riverside and Crazy, The Jacksonian, Medieval Play, Unnatural Acts, Addicted, Dream a Little Dream, Boston Marriage, and Reefer Madness. He has designed at many of the top regional theaters in the country including the Goodman, Arena Stage, Old Globe, Steppenwolf, Goodspeed, Kennedy Center, Signature Theatre, Williamstown Theatre Festival, ALLIANCE THEATRE, 5th Avenue, Ahmanson and Shakespeare Theatre.
His natinoal tour designs include Fame (also Shanghai), Ring of Fire, Me and My Girl (UK Tour), Disney on Ice (also Japan), Happy Days and Smokey Joes Cafe. His Opera and Dance designs include work at Lyric Opera Chicago, San Francisco Opera, Kansas City Ballet, Boston Ballet, and Lithuanian National Opera.
He has been nominated for a Drama Desk award, two Outer Critics Circle Awards, a Lucille Lortel Award, two Henry Hewes Awards and two Helen Hayes Awards.
---
About 'in 1: the podcast':
You know those conversations you have at the bar after a long day of tech?...The moments where you sit with your friends and colleagues and discuss what you love about being a designer, but also what drives you mad? Imagine getting to listen in on those conversations with some of the most fascinating, celebrated, and sought after theatrical designers working today. That is what in 1: the podcast strives to be. A long-form, uncensored, candid chat with designers of all walks of life talking about their lives in the theatre. No topic is off limits. From life on the road to life in a Broadway theatre. From trying to get noticed in New York to making a splash in regional theatre. You'll never know what to expect from each episode. You might learn about a designer's latest inspiration, or how they got started, their most embarrassing moment, or their favorite collaborator. Hosted by real life (we think) designer Cory Pattak, in 1: the podcast offers unprecedented access into the world of theatrical design, direct from the industry's most interesting movers and shakers. All the world's a stage, so draw back the curtain and come meet the magic MAKERS who bring those worlds to life.
Website: in1podcast.com
Facebook: in1podcast
Twitter: @in1podcast
Related Articles