Click Here for More Articles on ESCAPE TO MARGARITAVILLE
It's Five O'Clock Everywhere! ESCAPE TO MARGARITAVILLE to Hit the Road in 2019!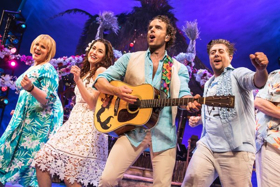 Parrotheads across the U.S., man your blenders! The producer of Jimmy Buffett's big Broadway musical Escape to Margaritaville announced on Twitter tonight that the tropical tuner will be heading out on a national tour, set to kick off October 2019 at the Providence Center in Rhode Island.
According to the Tweet more cities are set to be announced in the coming months!
Imagine a place where the sun is hot, the water's warm, and the drinks are as cold as they are plentiful. Welcome to Margaritaville, the island paradise where city folk get away from it all, and the locals get into the kind of trouble you can almost always sweet talk your way out of. Take a nice long break from your troubles, make some new friends at the bar, and kick back to the soothing sounds of the kettledrum. It doesn't get much better than this.
Escape to Margaritaville is the musical comedy getaway featuring both original songs and your most-loved Jimmy Buffett classics, including "Fins," "Volcano," "Cheeseburger in Paradise," and many more. With a book by Emmy® Award winner Greg Garcia and Emmy nominee Mike O'Malley, this rousing and refreshing new production is choreographed by Tony Award® nominee Kelly Devine and directed by Tony Award® Winner and La Jolla Playhouse Artistic Director Christopher Ashley.
Escape to Margaritaville had its world premiere steps from the ocean at the La Jolla Playhouse, where it broke all records.