Cornelia Street - Off-Broadway Tickets, News, Info & More
In a back street in the West Village, Jacob Towney tries to save the restaurant that has been his home for longer than he can remember and release his daughter to the life he dreams she can have. His place is a home for the odd ghosts of the Village. It is out of place and out of time and running out of luck.
History:
Original Production
Run Type:
Limited Run
Market:
Off-Broadway
Previews:
January 20, 2023
Closing:
February 26, 2023

Address:
330 West 16th Street
New York,NY10011
Cornelia Street Off-Broadway Cast
by Chloe Rabinowitz - January 31, 2023
Get a first look at production photos of Atlantic Theater Company's world premiere production of Cornelia Street, a new musical!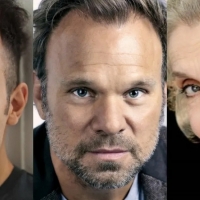 by Blair Ingenthron - January 18, 2023
Atlantic Theater Company (Neil Pepe, Artistic Director; Jeffory Lawson, Managing Director) has announced an extension for the world premiere musical Cornelia Street. The production, which will begin performances this Friday, January 20th and open on Tuesday, February 14th, will now play through Sunday, March 5th, Off-Broadway at Atlantic Stage 2.
Cornelia Street Frequently Asked Questions
What productions of Cornelia Street have there been?
Cornelia Street has had 1 productions including Off-Broadway which opened in 2023.
How long has Cornelia Street been running on Broadway?
Cornelia Street opened at the Atlantic Stage 2 on Tuesday Feb 14, 2023 and has now been running for 0 month.
What theatre is Cornelia Street playing on Broadway?
Cornelia Street is playing at the Atlantic Stage 2, which is located at 330 West 16th Street New York.
Twitter Watch