Bandstand - Broadway
Set in 1945, Bandstand tells the story of musician Donny Novitski who is about to take on the mission of his life: leading his band of fellow veterans into competition for America's next swing band sensation. However, complicated relationships, the demands of the competition and the challenging after-effects of war may break these musicians.
The original score is strongly influenced by authentic 1940s swing music, much of which is played onstage by the characters and band members. When Donny meets a beautiful, young singer named Julia, he finds the perfect harmony in words and music that could take this band of brothers all the way to the live radio broadcast finale in New York City. But to succeed, it will require every ounce of talent, stamina and raw nerve that these musicians possess.
Video preview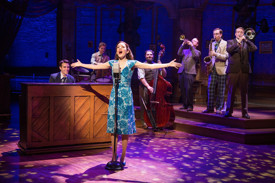 Photo preview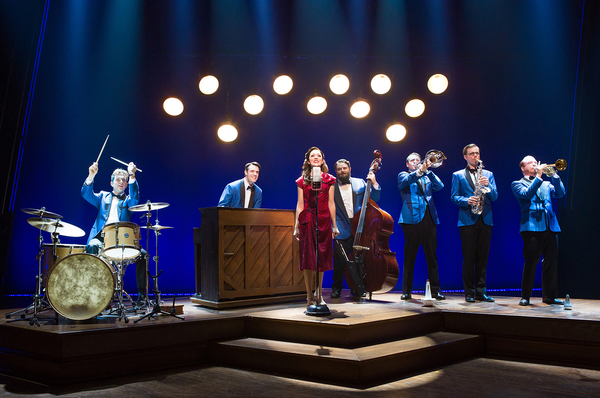 Schedule
Running Time: Two hours and 30 minutes, with one intermission
Featured Reviews For Bandstand
Review: Singing and Dancing the Postwar Blues in 'Bandstand' - New York Times
"Bandstand," an openhearted, indecisive new musical, wants you clapping your hands and clenching your fists, tapping your toes and blinking back tears. It is both a peppy celebration of can-do spirit and a more somber exploration of what American servicemen experienced when they marched home from World War II. Directed and choreographed by Andy Blankenbuehler, the Tony Award-winning choreographer of "Hamilton," with book and lyrics by the Broadway newcomers Richard Oberacker and Rob Taylor, and a 1940s pastiche score by Mr. Oberacker, "Bandstand" is an undercooked slice of apple pie, served with a dollop of anguish.
Broadway Review: Swing Musical 'Bandstand' - Variety
There's a different "band of brothers" on stage in "Bandstand," the earnest and often-entertaining musical that, set immediately following WWII, never quite achieves its noble ambitions. Despite the fluid staging and evocative choreography by Andy Blankenbuehler ("Hamilton"), an uneven book, undistinguished dialogue and only-serviceable tunes keep the show from meeting its deeper, darker and good-intentioned aspirations.