Bandstand - 2017 - Broadway
Set in 1945, Bandstand tells the story of musician Donny Novitski who is about to take on the mission of his life: leading his band of fellow veterans into competition for America's next swing band sensation. However, complicated relationships, the demands of the competition and the challenging after-effects of war may break these musicians.
The original score is strongly influenced by authentic 1940s swing music, much of which is played onstage by the characters and band members. When Donny meets a beautiful, young singer named Julia, he finds the perfect harmony in words and music that could take this band of brothers all the way to the live radio broadcast finale in New York City. But to succeed, it will require every ounce of talent, stamina and raw nerve that these musicians possess.
Video preview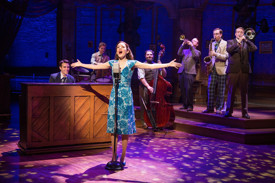 Photo preview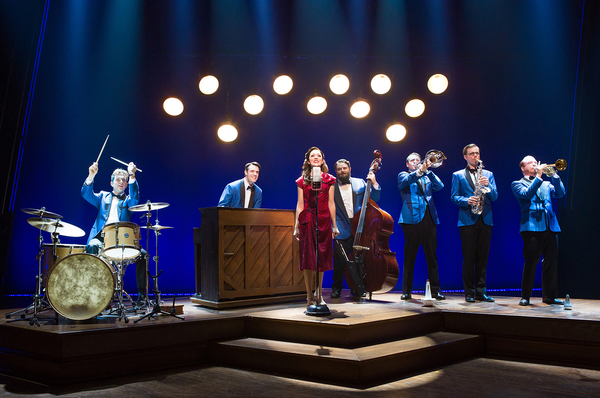 Schedule
Running Time: Two hours and 30 minutes, with one intermission
Featured Reviews For Bandstand
Review: Bandstand - NJ.com
Wonderful story and performances notwithstanding, much of "Bandstand's" dazzle finds root in Andy Blankenbuehler's direction and choreography. The Tony-winning choreographer of "Hamilton" takes on double duty here, allowing the dancing and progression of the show to work in seamless tandem. Simple changes in David Korins's nimble set and Paloma Young's inventive costumes signal important scene changes, while the company fills the stage with high-voltage dance backed by the live band's energy. The spectacle is busy, yet precise, and a whole lot of fun to watch.
"Bandstand" Boasts an Upbeat Downbeat - Huffington Post
Bandstand is being promoted as "a swing musical," and that's what it joyfully is, as director-choreographer Andy (Hamilton) Blankenbuehler deploys a cast headed by the sparkling and tough Laura Osnes and Corey Cott and boasting some of the most spectacular dancers on Broadway this minute. The brilliant Blankenbuehler keeps his stageful of remarkable performers moving just about constantly in ways that make spectators watch what each of them is doing individually and what all of them are doing as a lithe, athletic team. For that, abundant bravos.