A Doll's House, Part 2 - 2017 - Broadway
Directed by Tony-winner Sam Gold, a wildly inventive new American play that picks up after Henrik Ibsen's most cherished work concludes, A Doll's House, Part 2 will boast an all-star cast that features three-time Emmy Award-winner and three-time Tony Award-nominee Laurie Metcalf, Academy Award-winner Chris Cooper, Tony Award-winner Jayne Houdyshell and two-time Tony Award-nominee Condola Rashad.
In the final scene of Ibsen's 1879 ground-breaking masterwork, Nora Helmer makes the shocking decision to leave her husband and children, and begin a life on her own. This climactic event - when Nora slams the door on everything in her life - instantly propelled world drama into the modern age. In A Doll's House, Part 2, many years have passed since Nora's exit. Now, there's a knock on that same door. Nora has returned. But why? And what will it mean for those she left behind?
Photo preview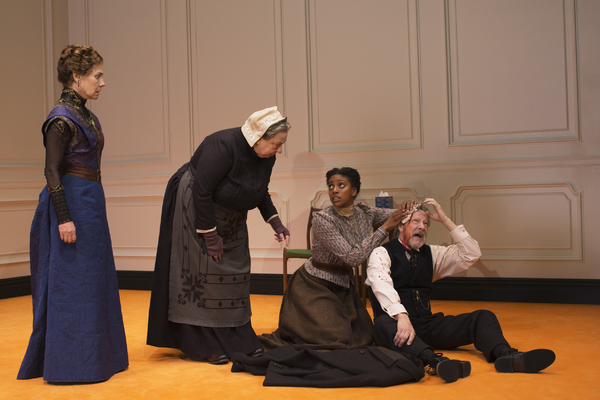 Schedule
Running Time: One hour and 30 minutes, with no intermission
Featured Reviews For A Doll's House, Part 2
Laurie Metcalf Leads a Masterful Broadway Sequel in 'A Doll's House, Part 2' - Daily Beast
What is ultimately striking about A Doll's House, Part 2 is that it is a work of equality in a play that wrestles with that very concept. It has an encompassing generosity: Every character on stage, as written by the masterful Hnath, is conceivably right, which isn't to say that their faults aren't also clearly shown too. We believe all of their emotional truths, and all their self-delusions.
Theater Review: Reopening That Door With A Doll's House, Part 2 - Vulture
I have suppressed the impulse to interrogate the logic of the story too carefully; though it makes an unusually strong case for the road it takes, surely there are potholes. But this is not the point. Hnath is not using the preexisting characters and their backstory (let alone the real woman - a friend - on whom Ibsen based the tale) as ways of avoiding having to create something original; rather, they are springboards to something very new indeed. The march of progress, halting as it is, has allowed a male playwright in 2017 to write a work that the inhabitants of A Doll's House (Part 1) in 1879 could never have imagined: a great feminist comedy. By that I mean a stand-alone work that glories in the self-interest and correctability of all women - and all men.
A Doll's House, Part 2 Broadway Cast