SEVEN THINGS I'VE LEARNED: AN EVENING WITH IRA GLASS Comes to Seattle's Benaroya Hall in May
The event is on May 20, 2023.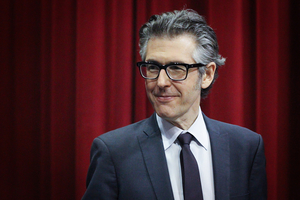 Tickets for Ira Glass's May 20, 2023 show at Benaroya Hall go on sale Wednesday January 25, at 10:00 a.m. at www.benaroyahall.org. With more than six years since his last sold-out Seattle appearance, the star of This American Life returns with a new iteration of his Seven Things show, sharing new lessons from his life and career in storytelling. Using audio clips, music, and video, he shares his creative inspirations, the things that drive his passion, and how his many failures and successes have informed his decisions.
Did he not want to wait a bit longer so he could learn more and round it up to 10? "I feel like with 10, you feel the audience ticking them off," he says, hyperconscious as always about the interplay between story structure and the listeners' interest levels. With the live content, however, he's more relaxed: "The seven things change depending on my mood. So it's a mix of some things that took me a long time to figure out, like how to tell a story on the radio, and then some things that just seem like fun things to tell an audience."
Northwest Associated Arts (NWAA), KNKX (88.5 FM) and The Stranger present Seven Things I've Learned: An Evening with Ira Glass. Tickets are $37 - $65 and are available through the Benaroya Hall Box Office, at 206.215.4747 or online at www.benaroyahall.org.
Ira Glass is the host and creator of the public radio program This American Life. The show is heard each week by over 5 million listeners on public radio stations and podcast. Glass began his career as an intern at National Public Radio's network headquarters in Washington, DC in 1978, when he was 19 years old. He put This American Life on the air in 1995. He also served as an editor for the groundbreaking podcasts Serial, S-Town and Nice White Parents. Under Glass's editorial direction, This American Life has won the highest honors for broadcasting and journalistic excellence, including seven Peabody awards and the first Pulitzer Prize ever awarded for audio journalism in 2021. This American Life episode 'The Giant Pool of Money' was inducted into the Library of Congress's National Recording Registry, the first podcast ever so honored.