Review Roundup: PRIDE AND PREJUDICE at Seattle Repertory Theatre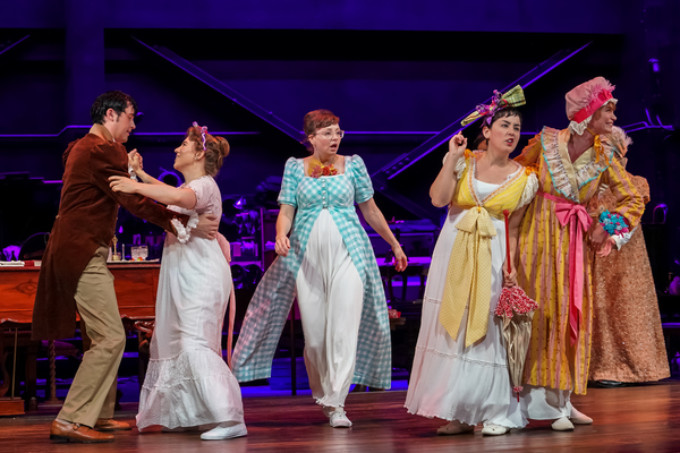 PRIDE AND PREJUDICE runs through October 29 at Seattle Repertory Theatre.
The show was adapted by Kate Hamill from the novel by Jane Austen. Hamill imbues hilarious new life into this classic love story with a decidedly progressive take on the trials and travails of Elizabeth Bennet, Mr. Darcy, and, of course the delightful Bennet clan! But not to worry, empire waists and lavish Regency-era attire still abound in this familiar yet surprising premiere adaptation.
The cast stars Kjerstine Anderson as Lizzy, Kenajuan Bentley as Mr. Darcy, Cheyenne Casebier as Mrs. Bennet, Emily Chisholm as Jane/Miss de Bourgh, Trick Danneker as Mr. Bingley/Mary, Hana Lass as Lydia/Lady Catherine, Brandon O'Neill as Wickham/Miss Bingley/Mr. Collins, and Rajeev Varma as Mr. Bennet/Charlotte Lucas.
PRIDE AND PREJUDICE is directed by Amanda Dehnert, with set design by John McDermott, costume design by Tracy Christensen, and lighting design by Robert J. Aguilar.
Let's see what the critics had to say!
Dusty Somers, The Seattle Times: Directed by Amanda Dehnert, Seattle Rep's production is overtly theatrical, with props and costume racks sitting visibly on John McDermott's elegant set design. Outside the perimeter of the play's stage-within-a-stage, actors will often sit at their vanities, many of them openly laughing at the show's jokes... But in this "Pride and Prejudice," every scenario has been reconfigured for maximum farcical potential. To call Hamill's take broad would be to underestimate her ability to escalate nearly every scene to earsplitting levels of boisterous activity. The show is incessant in its rib-poking, goading you to laugh, laugh, laugh!
Elisabeth Kramer, The Parent Map: And that's what makes the Rep's "Pride and Prejudice" perfect for your budding Austen buff. The two hour, 25 minute performance distills a book written more than 200 years ago down to the elements that make it timeless. In doing so, those who already love it find new fodder for their fandom. And those who are not as familiar will realize that this Jane Austen lady? She really knew her stuff.
Jay Irwin, BroadwayWorld: And then there's that infectious ensemble. I've said it before and I'll say it again. Put Cheyenne Casebier in more comedies! She is nothing short of hysterical from her first wail to her last. Anderson and Bentley make for perfect lovers who don't want to be lovers and sell the arc of their relationship quite well. Chisholm and Danneker could not be more adorkable as Jane and Bingley with her inability to show any kind of emotion around him and him basically turning into a puppy at the thought of her. And Danneker's sickly and overlooked Mary is worth the price of admission... Simply put, the show is a delight and you all NEED to catch it!
Photo: Alan Albastro
Featured This Week on Stage Door
Shoutouts, Classes, and More from Your Favorite Broadway Stars

More Hot Stories For You