BWW Review: The Infectious Bliss of Seattle Rep's PRIDE AND PREJUDICE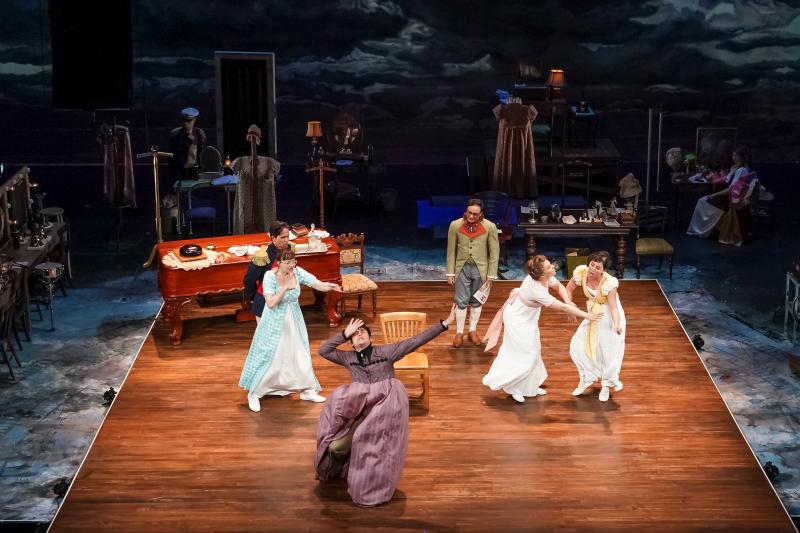 There's a general rule of thumb in any theatrical production that if the cast is enjoying what they are doing then that will translate into audience connection and enjoyment. Of course, good source material like Jane Austen's classic "Pride and Prejudice" doesn't hurt the issue nor does a wonderfully quirky adaptation by Kate Hamill. But it's those two elements combined with the fact that the kick-ass ensemble cast, currently performing the piece at Seattle Repertory Theatre, appears to be big kids having two and a half hours of play-time on stage every night and having the times of their lives that makes this a winner. And that energy is certainly infectious creating uproarious laughter from the audience (and even sometimes from their fellow cast members as well).
Not to worry, we're still in Austen-land where Mrs. Bennet (Cheyenne Casebier) is determined to marry off her four daughters much to the dismay of Mr. Bennet (Rajeev Varma). There's the beautiful Jane (Emily Chisholm), the quick-witted Lizzy (Kjerstine Anderson), the giddy Lydia (Hana Lass), and the woeful Mary (Trick Danneker). Enter into their little country village the wealthy and amiable Mr. Bingley (also played by Danneker) and his posh sister Miss Bingley (Brandon O'Neill) who have moved into town and brought along with them their even more well off and cynical friend Mr. Darcy (Kenajuan Bentley). Bingley and Jane fall for each other but are torn apart. Lizzy and Darcy fall for each other but can't admit it. Lizzy also falls for the dashing soldier Wickham (also played by O'Neill) but he's hiding a secret. And I haven't even mentioned the family's extremely awkward cousin Mr. Collins (also played by O'Neill) who's out to marry whichever cousin he can or Lizzy and Jane's not so well-off friend Charlotte Lucas (also played by Varma) who could sneak in and steal one of the men if the Bennet's aren't careful.
Hamill and director Amanda Dehnert beautifully insinuate modern day movement, language, and music into this iconic piece without once detracting from the core story they are attempting to convey. Austen's pieces already have that winking air of whimsy and Hamill and Dehnert are simply updating that air and amping it up to 11. And everything from John McDermott's sparse yet perfectly practical set to Tracy Christensen's quickly changeable costumes to Matt Starritt's music of the 50's and 60's teen love to the insanely fun choreography from Ellenore Scott that brings new meaning to the adage "dance like no one is watching" makes the evening an absolute joy ride of Austen bliss.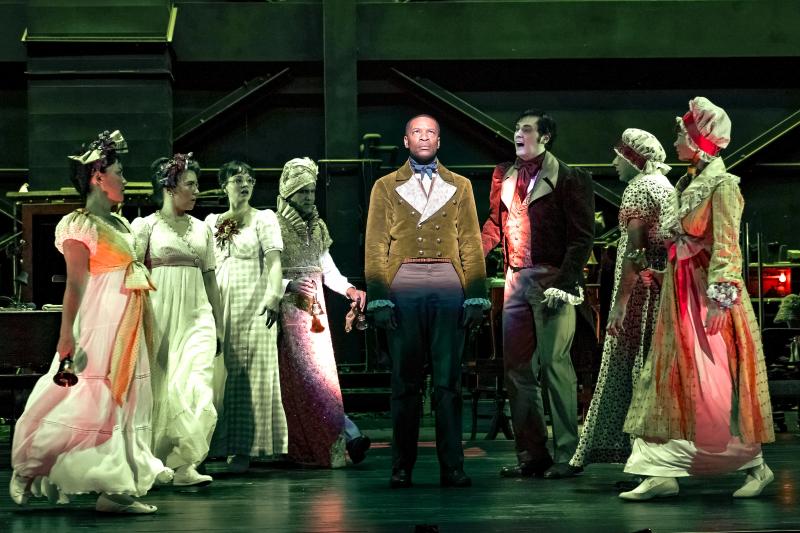 And then there's that infectious ensemble. I've said it before and I'll say it again. Put Cheyenne Casebier in more comedies! She is nothing short of hysterical from her first wail to her last. Anderson and Bentley make for perfect lovers who don't want to be lovers and sell the arc of their relationship quite well. Chisholm and Danneker could not be more adorkable as Jane and Bingley with her inability to show any kind of emotion around him and him basically turning into a puppy at the thought of her. And Danneker's sickly and overlooked Mary is worth the price of admission. Lass goes from snickering twit to snooty vile windbag with a total distinction between the two. O'Neill is a delight as every incarnation he plays whether the swoon worthy Wickham, the strutting Miss Bingley or the simpering Mr. Collins he puts a smile on your face that you just cannot lose. And I must mention Varma who could teach a master class in the art of deadpan comedy whether it be from his indifferent Mr. Bennet or his beleaguered Charlotte.
Simply put, the show is a delight and you all NEED to catch it! Which is why, with my three-letter rating system, I'm giving my highest rating, the WOW to Seattle Rep's "Pride and Prejudice". I'm honestly surprised this much joy is legal.
"Pride and Prejudice" performs at the Seattle Rep through October 29th. For tickets or information contact the Seattle Rep box office at 206-443-2222 or visit them online at www.seattlerep.org.
Featured This Week on Stage Door
Shoutouts, Classes, and More from Your Favorite Broadway Stars