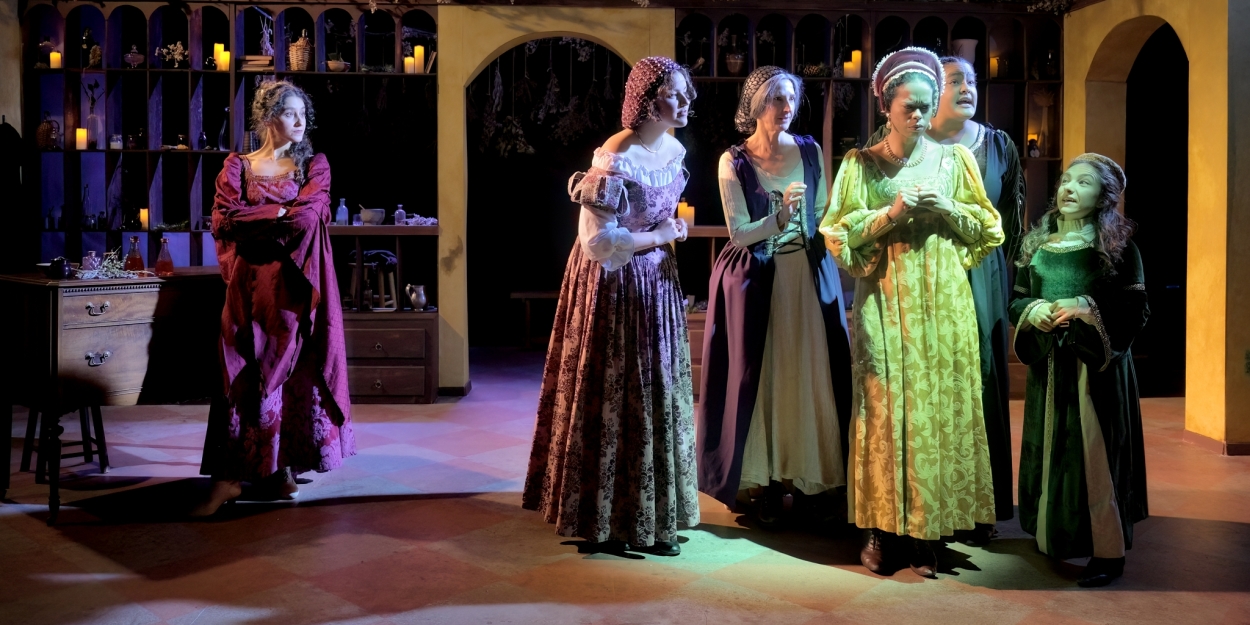 Review: LA TOFANA'S POISON EMPORIUM at Macha Theatre Works
A killer world premiere.
A world premiere play, set in the 1650's, that resonates so much with today? That's what we currently have from Macha Theatre Works with their production of "La Tofana's Poison Emporium". While this piece presents an actual murderess/savior from history, it also, deftly correlates to the woes of today and presents them with humor and heart.
Giulia Tofana (Bianca Raso), an average apothecary (except for the fact that she's a woman), has the cures for what ails you. Joint pain, she can handle that. Love potions, she's got you covered. Cheating, abusive husbands? Yeah, she's got something for that too, although it's fairly drastic as that one requires a potion with a pinch of arsenic that will stop your husband from doing you wrong but will also stop him from doing anything. She teaches her teenage daughter Carmela (Ilze Riekstiņš), who's new to the family business, how to make it and that they only prescribe it sparingly. But when Giulia is out one day, Carmela offers it up to the wrong person, opening up a bubbling bottle of trouble that they might not be able to put a stopper in.
Author Joy McCullough has tapped into the real world accounts of Tofana for her inspiration but fills in the story with her own poetic license. And that license seems to have granted her the ability to create a crisp and engaging story filled with a penchant for the hilariously absurd. Her ladies speak of their husbands with 17th century sensibilities but also gossip like 21st century ones, and who know the value of a well placed TV ad. And she manages it to delightful effect with the aid of director Amy Poisson and a killer ensemble (pun intended). And it's that "women aiding women" ideal that's at the heart of this story and what makes it so enjoyable even amidst the abuses and murders. It doesn't hurt that it resonates so much with issues of today like unwanted pregnancies and how many women are trapped in horrible relationships. I'd like to say those topics are a thing of the past but, sadly, they are not.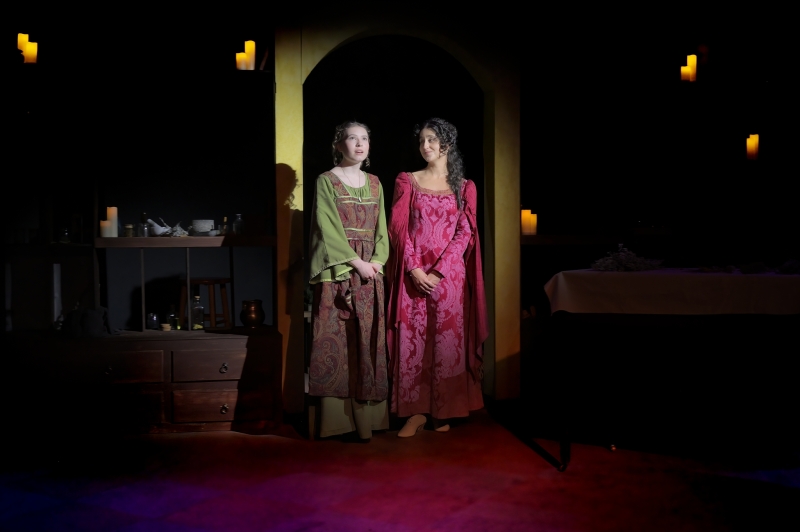 But the ladies of Tofana's Apothecary are here to help. And with this awesome cast, you almost feel like they could solve the issues of today. Raso has incredible stage presence, that you cannot help but hang on her every word. With the swagger and confidence of a pro, she brings the sense of authority to the role that it requires. Which is passed onto Riekstiņš as her daughter who grabs onto the role and gives her a fantastic arc as she goes from petulant teen to wisened businesswoman. Also with a fantastic arc is Melodie Gorow as Violetta, Carmela's childhood rival who's now in need of Tofana's aid. Both of these young ladies tackle these arcs beautifully. And speaking of beautiful, Raso and Riekstiņš break out into a bit of a hymn late in the show to stunning effect. Not sure I understood why they did it but glad they did. Just some incredible voices.
But the entire ensemble brings in some fabulous performances. Lisa Every and Amy Van Mechelen as shop assistants Maria and Laura were both a delight as they continue to throw a little snark on the proceedings. And Alba Davenport and Sydney Maltese manage multiple characters with strength and commitment. Especially Davenport who has a couple of heartbreaking moments as an abused wife.
With a fantastic set and lights from Parmida Ziaei and Dani Norberg and some excellent pacing from Poisson, the show manages to hit on several levels. I will say the ending seems to peter out a bit but it's nothing compared to what comes before. And so, with my three-letter rating system, I give "La Tofana's Poison Emporium" a thoughtful and delighted YAY-. Proving that sometimes it's the smaller theaters that bring in some of the most wonderful new stuff.
"La Tofana's Poison Emporium" from Macha Theatre Works performs at West of Lenin through October 29th. For tickets or information, visit them online at www.machatheatreworks.com.
From This Author - Jay Irwin
         Born and raised in Seattle, WA, Jay has been a theater geek for years.  He attends as many shows as he can around the country and loves taking in new exciting... (read more about this author)
Review: MR. DICKENS AND HIS CAROL at The Seattle Rep

December 1, 2022

Charles Dickens' "A Christmas Carol" is an enduring classic. We all know this. It's never been out of publication since its first publishing in 1843. It has spawned numerous movie, TV, and stage adaptations from the serious to the Muppets. Now the Seattle Rep has come along with a World Premiere of Samantha Silva's "Mr. Dickens and His Carol", based on her book of the same name. Taking a supposed look at the creation of this classic tale, this historical fiction is heavy on the fiction and light on the history, cutting a wide swath with its poetic license about the author and turning him into a pompous buffoon in a story and a production in desperate need of an editor.
---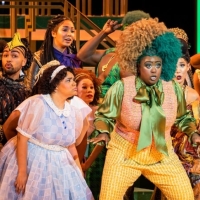 Review: THE WIZ at The 5th Avenue Theatre

November 28, 2022

L. Frank Baum's classic fantasy "The Wonderful Wizard of Oz" is the gift that just keeps on giving. From its 1901 origins to the 1939 iconic film to any number of sequels, movies, and even a Broadway musical or two, we always seem to want to hear more and more about the magical land of Oz. And no small part of those tales is the fabulous William F. Brown and Charlie Smalls, Tony Award winning musical, "The Wiz" from 1974. And now the 5th Avenue Theatre has brought this green gem to vivid life with their current delightful production.
---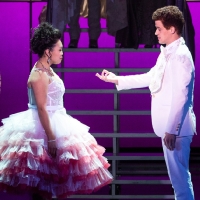 Review: RODGERS AND HAMMERSTEIN'S CINDERELLA at Village Theatre

November 19, 2022

"Rodgers and Hammerstein's Cinderella" is an enduring classic for a reason. Sure, it's family friendly and has a worldwide recognizable name, but in addition to it's wonderful songs, it's shown to be amazingly adaptable based on the production.
---
Review: NOT / OUR TOWN from Pony World Theatre

November 12, 2022

Dear Readers, there's an interesting an innovative new work based on an old classic playing in Capitol Hill with Pony World Theatre's "Not / Our Town". Even as I arrived at the theater, the pre-show activities the audience must partake in were filled with promise. Unfortunately, that promise quickly waned as this "NOT / Our Town" ended up mostly being "Our Town Highlights" mixed with one of my pet peeves, someone else's therapy on stage.
---
Review: THE AMEN CORNER at The Williams Project And Langston

November 10, 2022

Dear Readers, if you're at all familiar with The Williams Project, then you know of their hard-hitting shows. Their "Blues for Mister Charlie" from 2016 was just one of their outstanding works. Now they're back to take on another piece from James Baldwin, his "The Amen Corner", and once again they show they know how to drive a story home.
---