CORIOLANUS: FIGHT LIKE A BITCH Announces Cast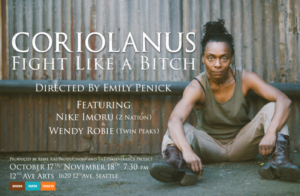 To live like a legend... sometimes you have to fight like a bitch. The country is at war, and the Senate cannot keep the peace within its own walls--- let alone on the battlefield. Enter Coriolanus: the country's most famous badass warrior. She returns home to face the greatest battle yet: to win the love of the people & run for office--- or face the dangerous consequences of defying society's expectations. CORIOLANUS, the rarely produced play by William Shakespeare about politics, power, and pride, is packed with daring physical combat and deliciously vicious language.
Starring an All Female Cast:
Nike Imoru: Coriolanus
Nike Imoru's international acting credits range from The Royal National Theatre Studios in London to the Getty Museum in LA, from BBC Radio 4 to Public Radio; from her seminal one-woman performance of MEDEA in Delphi, Greece; to her recent critically-acclaimed dance theatre ODE: A STAGE SONG. Prior to that she played Warwick in Upstart Crow's HENRY VI (part 1 & 2). She received the Seattle Times Footlight Award for her role as Aaron The Moor in Upstart Crow's TITUS ANDRONICUS. Nike has an array of credits in the entertainment industry covering thirty years and twenty-one countries. As a casting director, she has cast a multitude of films, commercials and theatre in the PNW. She has cast 4 seasons of SyFy Channel's Z NATION and is a member of the CSA.
Wendy Robie: Volumnia
Wendy Robie is currently appearing on the small screen in David Lynch's TWIN PEAKS: THE RETURN on Showtime, reprising her role as "Nadine Hurley." Regional Stage credits include DANGEROUS LIAISONS (ACT Theatre) CYRANO DE BERGERAC, PRIVATE LIVES, RICHARD III, HAMLET, and HECUBA (Chicago Shakespeare Theatre); MOTHER COURAGE AND HER CHILDREN (Steppenwolf Theatre); KING LEAR dir. By BrIan Bedford - Stratford Festival Theatre (Stratford, ON, Canada) and the role of Andromache in an adaptation of Seneca's TROJAN WOMEN. Film credits include Wes Craven's THE PEOPLE UNDER THE STAIRS, VAMPIRE IN BROOKLYN, and THE ATTIC EXPEDITIONS. Robie received the Chicago After Dark Award for Outstanding Season for 2005.
Kate Witt: Menenius
Kate has worked with many Seattle-area theatres including Arouet, ArtsWest, Wooden O, SecondStory Repertory, New Century Theatre Company, 14/48, and Seattle Shakespeare Company. Favorite roles include Worcestor (Henry 4 Part 1), Mistress Quickly, (Henry 4 Part 1), Elizabeth McKellen (The Long Road), Nancy Gorden (Third), Emilie (Emilie: La Marquise Du Châtelet Defends Her Life Tonight), Feste (Twelfth Night), Casca (Julius Caesar) and Lisa Kron (Well). Film/TV: Nurse Ratched (Z Nation), Julia (Julia's Farm), Diana (The Noise Made By People), Nurse Pat (Two Pictures). She holds an MFA in Theatre from the University of Mississippi. Kate lives in Magnolia with her husband, Steve, and their daughter, Molly.
Judith Shahn: Cominius
Judith Shahn is best known in Seattle theaters as a vocal and dialect coach and has been working at Seattle Rep, ACT, Intiman, Seattle Children's Theatre and others for over 30 years. She recently retired as Senior Lecturer Emerita from The University of Washington's Professional Actor Training Program after 26 years. At The University of Washington, she performed in Mephisto, The Last Witch and most recently The Cradle Will Rock. ACT: A Christmas Carol and Red Noses. She won The Best of the Director's Festival for her solo show, Molly Bloom and locally, she's performed in other productions such as Ella in Ella's Secret, after moving here from her native New York City, where she performed off-Broadway. Judith has her own business, Vibrant Speaking, where she coaches business people, lawyers, physicians, tech staff, and anyone who needs to do public speaking. She is thrilled to be doing Shakespeare with this phenomenal group of women!
Colleen Carey: Aufidius
Colleen has performed in over thirty Seattle-based productions, including Seattle Times Footlight Award winners: EDMOND and CAFE NORDO. Recent theater credits include: Romeo & Juliet (dir. By Emily Penick) and STORYVILLE RISING (Brassy Award - Square, Inc). Recent Film credits include: "Different Drummers" (Winner: Grand Remington, WorldFest Houston Film Fest.), "The Boy Who Lived Before" (Riverside Film Fest., NWFF Local Sightings Film Fest.). Currently, Colleen can be seen in THE SCOTTISH PLAY (Amazon Instant Video) and in THE SON THE FATHER (Winner: Best Screenplay, Hollywood Short Film Fest. Nom.- Best Actor, Best Film: Sept 2017 Austin Revolution Film Fest.)
Yadira Duarte: Brutus
Recent stage credits; Lydia (Strawberry Workshop Theater), Bring Down the House (Seattle Shakespeare Company) Medea (Seattle Shakespeare Company), R.& J. and The Tempest in Seattle Shakespeare Company's statewide tour.
Katherine Jett: Sicinius & Dramaturg
Katherine is super jazzed to be working on an all-female production of any Shakespeare play, but she finds Coriolanus especially exciting. Mostly an actor-playwright, her recent Seattle credits include Stella in When Love Speaks (Thalia's Umbrella), Imogen in Cymbeline (Greenstage), and Juliet in Romeo and Juliet (Seattle Immersive Theater). Her original musical, Squatch! The Musical received its inaugural production earlier this year. She will appear next in Book-It Theatre's new musical adaptation of Howl's Moving Castle.
Amanda Rae: Lieutenant
Amanda is a local theater artist whose skills range from theatre management to technical and venue operations, as well as artistic design, education, and performance. Her work has most recently been seen onstage in Athol Fugard's Statements After An Arrest Under the Immorality Act at Theater Schmeater, and in the Technical Direction of Greensward by R. Hamilton Wright with MAP Theatre. Amanda's passion for theater manifests in introducing and collaborating with artists as, developing systems for institutional growth, and reaching a new generation of theatre-goers and theatrical supporters. Companies in freelance and residency include ACT Theatre, Seattle Shakespeare Company, Seattle Public Theater, Youth Theatre Northwest, Cafe Nordo, West of Lenin, Annex Theatre, and many more.
Melissa Topscher: Titus Lartius
Melissa Topscher is thrilled to return to the stage with such a brilliant team of women. You may have recently seen her work at the Seattle Immersive Theatre as Tybalt in the Gregory Award winning, Romeo & Juliet, Officer Grant in Listening Glass, or as, original character, Professor Nightmare PhD. in The Moriarty Society- where she claimed the title of Supervillain. She was featured as Melody in the indy film Forced Orphans, as Kankake, an original character, in Beyond Therapy, and hosted Break This House for Trulia's real estate app. You can also hear her voice promoting local home brew company Pico Brew. Melissa is a company member at Seattle Comedy Sportz in Fremont and was featured at the Seattle Festival of Improv Theatre with the group Toast and Seattle Sketch Festival with Lake Party. Melissa has a B.A. in Theater Arts from George Mason University and has studied with The Second City Chicago, Improv Olympic, and Shakespeare & Company. When she is not acting she works as a personal trainer and practices martial arts.
Simone Fraser: Virgilia
Simone Bruyere Fraser began her artistic work as a ballet dancer for ten years in a company in New York. She branched into acting and dramatic work, and received her Bachelor's double degree in drama and dance from the University of Washington. She expanded into writing and multimedia arts in her master's degree in Communications from Ithaca College, and Cornell University. She has been in numerous theatrical productions both for dance and acting, commercials, television, film, voice over, print work, and music videos in Los Angeles, New York, and Washington state. She was most recently seen in "ODE - a stage song" alongside the brilliant Nike Imoru and directed by John Britton. She is thrilled and honored to work with the incredible ensemble team that has come together to create Coriolanus.
Ayo Tushinde: Citizen 1
Ayo graduated from Savannah College of Art & Design before moving to Seattle in 2011. She has enjoyed working with a number of local theatres, including Seattle Shakespeare Company, Live Girls! Theater, Theater Schmeater, Book-It Repertory Theatre, Mirror Stage, Cafe Nordo, Sound Theatre Company, Washington Ensemble Theatre, Seattle Repertory Theatre, and The Seagull Project. Ayo has a passion for Shakespeare as well as reinventing the way in which women are portrayed on stage.
Corrine Magine: Citizen
Corinne Magin is originally from Rochester, NY. Since moving to Seattle, she has performed in Do It for Umma (Annex), Scary Mary and the Nightmares Nine (Annex), Hotel Nordo (Cafe Nordo), Squatch! The Musical (Centerstage), and American Archipelago (Pony World Theatre). Corinne is also a costume designer and producer with Forward Flux.
Kyle Boatwright: Citizen 3
Kyle Boatwright is an actor, musician, and writer based in Amherst, MA. She received her B.A. in music and theatre from Amherst College in 2009, and is very excited to be making her stage debut in Seattle with this wonderful crew! Regional theater (Massachusetts): Mr. Burns (Mrs. Krabappel); Seminar (Izzy); Our Lady of Kibeho (Marie-Claire); RENT (Mimi); The 25th Annual Putnam County Spelling Bee (Logainne Schwartzandgrubenierre). Regional theater (Las Vegas): Bloody Bloody Andrew Jackson (Music Director); Divorce Party!: The Musical (Sheila); The Chalk Boy (Composer and Music Designer.)
Emily Penick has received acclaim for her work in theaters both nationally and internationally. Regional directing credits include: WORSE THAN TIGERS - World Premiere (RED STAGE, ACTLab), Gregory Award winning Romeo & Juliet (Seattle Immersive Theatre) and PILGRIMS (Forward Flux Productions). This winter, Emily will direct A CHRISTMAS CAROL at ACT Theatre. Regional choreography credits include: UMO Ensemble's RESISTANCE CABARET, A CHRISTMAS CAROL (ACT Theatre), SLAUGHTERHOUSE FIVE (Book-It Repertory) and DON NORDO DEL NORTHWEST (Cafe Nordo). Emily is the Literary & Artistic Manager at ACT Theatre and the founding Artistic Director of RED STAGE.
Sharath was raised between Appalachia and India while spending the following years studying across Europe and New England. Before arriving in the Pacific Northwest, he spent nearly a decade as a lead sound designer in New York City. Recent design highlights include As You Like It (CalShakes-­?Oakland); The Royale, The Crucible (ACT Theatre-­?Seattle); Free Outgoing (East West Players-­?Los Angeles); Grand Concourse (Artists Rep). Regional/International credits include designs in New York City, D.C., Boston, Norfolk, Raleigh, Aspen, India, France, England, Germany, and Romania. Sharath recently completed a year long Visiting Assistant Professorship at Reed College and co-­?led the Light and Sound Training Program in Vietnam in conjunction with the U.S. Department of State, U.S. Consulate, and World Learning Inc. He has previously served as a lead designer, guest artist, instructor, or lecturer at Yale, Fordham, Columbia, Willamette, Ohio, Portland State, and Butler Universities. Sharath holds a MFA in Sound Design from the Yale School of Drama and currently is a Resident Artist at Artists Repertory Theatre.www.sharathpatel.com
Julia Hayes Welch (Scenic Design) has loved Shakespeare for almost as long as she can remember and she is thrilled to be part of the team bringing this all-female Coriolanus to life. Recent credits: Alex and Aris (ACT Theatre); Grounded (Seattle Public Theatre); Barbecue, Bootycandy (Intiman); The Things Are Against Us (Washington Ensemble Theatre - Footlight Award, Gypsy Rose Lee Award); Peter and the Starcatcher, Really Really (ArtsWest); Free Boy (5th Avenue Educational Tour); Twister Beach (Café Nordo); The Noteworthy Life of Howard Barnes (Village Theatre); Trojan Women (Civic Rep); Pride and Prejudice (Theatreworks UCCS); Through the Looking Glass; Land of the Sweets (House of Verlaine); Julius Caesar, The Abdication, Vitriol (Handwritten Productions); Twelfth Night, Cold Empty Terrible
Related Articles View More Seattle

Stories

Shows
More Hot Stories For You