Latest News on Yadira Duarte
Yadira Duarte News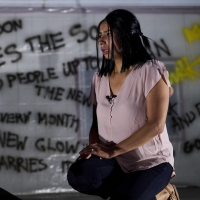 BWW Review: MARISOL from The Williams Project
by Jay Irwin - Aug 16, 2021
There's a pandemic raging across the world, the streets are filled with Nazis, thugs, and the mentally unstable out for blood, and big corporations want to take away your livelihood and cast you out for not being able to pay your bills. No, I'm not talking about the reports from last night's 11 o'clock news but an all too familiar set of circumstances from a 1994 play, "Marisol" by José Rivera, currently being offered from The Williams Project. And while the circumstances of the play, as well as our own world, seem bleak, this outstanding production from the always amazing Williams Project can give us a little hope.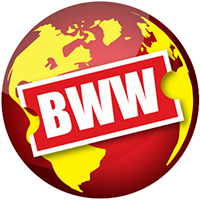 US Premiere Of EUROPE By David Greig Comes to Thalia's Umbrella
by Stephi Wild - Feb 15, 2020
The best play about BREXIT was written in Scotland in 1994. (It's also about a few other places.) In a time when words and ideas are divisive, come join the feast that is David Greig's powerful play about two refugees who change a small town. The town is already reeling from layoffs at the local factory, and because the trains that link all of Europe no longer stop in the town's station. Everyone in town, old and new, must decide where home is and what they will do to find, make, or keep it. Come see the terror and triumph of worlds colliding in a play that Arts Desk called a?oeTimely, tender, brutal, and brilliant.a??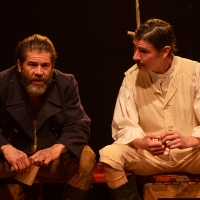 BWW Review: OUR COUNTRY'S GOOD from Strawberry Theatre Workshop - A Bit Long but Worth the Wait
by Jay Irwin - Jan 29, 2020
In Timberlake Wertenbaker's play a?oeOur Country's Gooda??, currently being offered from Strawberry Theatre Workshop, they say theatergoers should have three things. They should pay attention. How could you not with some of these incredible performances happening from the ensemble? They should be able to use their imaginations. Yes, you will need that as the ensemble of 11 play 22 roles, but with their commitment to their characters, it's not difficult to see who's speaking. And they should have patience. This is where I felt I faltered a bit last night. The show, which clocks in at 2 hours and 45 minutes including the intermission, drags on a bit at times, especially in Act One as things are getting set up.
The Gypsy Rose Lee Awards Announce 2017 Winners
by Stephi Wild - Feb 1, 2018
The winners of the 2017 Gypsy Rose Lee Awards are announced by the Seattle critics circle, Seattle Theater Writers!
Announcing The Nominees For The 2017 GYPSY ROSE LEE AWARDS By The Seattle Theater Writers
by A.A. Cristi - Jan 24, 2018
Seattle's critics announce the Nominees of Excellence in Seattle theatrical productions. Spanning dozens of theater companies and productions, from large and prominent to small and humble, the Gypsy Rose Lee Awards honor the excellence found in as much professional theater as we reviewers can attend in a year. Named in honor of the famed theater entrepreneur and Seattle native, Gypsy Rose Lee, and in a nod to the vast numbers or theater practitioners forced to travel the country to earn their living, the Gypsys seek to acknowledge the excellence of the Seattle theater community.
BWW Review: All-Women CORIOLANUS: FIGHT LIKE A BITCH at 12th Ave Arts Kicks Ass
by Amelia Reynolds - Oct 24, 2017
Rebel Kat did such a good job with the adaptation of 'Coriolanus' (one of Shakespeare's rarely performed later works) that it does not feel like an adaptation at all. Nay, director Emily Penick improves upon the original with a fierce cast consisting entirely of women. What's more, 'Coriolanus: Fight Like a Bitch' has all of the pronouns switched so that the actors performing in the show get to play female characters. Unlike Shakespeare's 'Coriolanus', which, ultimately, is a play about high-ranking men clawing and back-stabbing their way to attain political power (boring!), 'Coriolanus: Fight Like a Bitch' flips the script on a gendered political system. Finally, women get to be power-hungry monsters!

CORIOLANUS: FIGHT LIKE A BITCH Announces Cast
by A.A. Cristi - Aug 10, 2017
To live like a legend... sometimes you have to fight like a bitch. The country is at war, and the Senate cannot keep the peace within its own walls--- let alone on the battlefield. Enter Coriolanus: the country's most famous badass warrior. She returns home to face the greatest battle yet: to win the love of the people & run for office--- or face the dangerous consequences of defying society's expectations. CORIOLANUS, the rarely produced play by William Shakespeare about politics, power, and pride, is packed with daring physical combat and deliciously vicious language.
Photo Flash: BRING DOWN THE HOUSE at Seattle Shakespeare Company
by A.A. Cristi - Jan 27, 2017
From chaos springs opportunity. No one knows this better than the scheming noble families in the houses of York and Lancaster. The power struggle for the crown of England thunders onstage with an all-female ensemble. From battlefield betrayals to court deceptions, the collapse of a kingdom gets re-imagined in this epic premiere adaptation of Shakespeare's Henry VI trilogy.
BWW Review: Seattle Shake's MEDEA â€" A Shining Performance Disrupted by Gimmicks
by Jay Irwin - Oct 27, 2016
Euripides' tragic title character in 'Medea' is one of those parts that actresses give their eye teeth (or even sacrifice their children) to play. She's a strong and committed woman with a wildly emotional arc. So with a role such as this where it's really all up to the lead, for the rest of the production I find it best to follow the rule of KISS (Keep It Simple Stupid). Unfortunately director Kelly Kitchens and the folks at Seattle Shakespeare Company had other ideas with their current production as it was so laden down with their storytelling gimmicks that the story and the stunning lead performance became diluted.
Mirror Stage's 11th Season of Feed Your Mind Continues with THE PENELOPIAD
by Tyler Peterson - Jan 12, 2016
Sponsored in part by 4Culture, the 2015-16 season of Mirror Stage's popular Feed Your Mind staged reading series continues with The Penelopiad by Margaret Atwood, on February 6 & 7, 2016 at the Ethnic Cultural Theatre in Seattle's University District. Directed by Suzanne M. Cohen, Feed Your Mind: The Penelopiad features a multicultural cast of 13 women: Miski Ali, Angie Bolton, Ana Maria Campoy, Christi Cruz, Yadira Duarte, Alyssa Keene, Stephanie Kim-Bryan, Sneha Krishnan, Duygu Erdo?an Monson, Meenakshi Rishi, Meg Savlov, Naho Shioya, and Amber Wolfe.