BWW Review: Paramount Gets You ON YOUR FEET! with Gloria and Emilio Estefan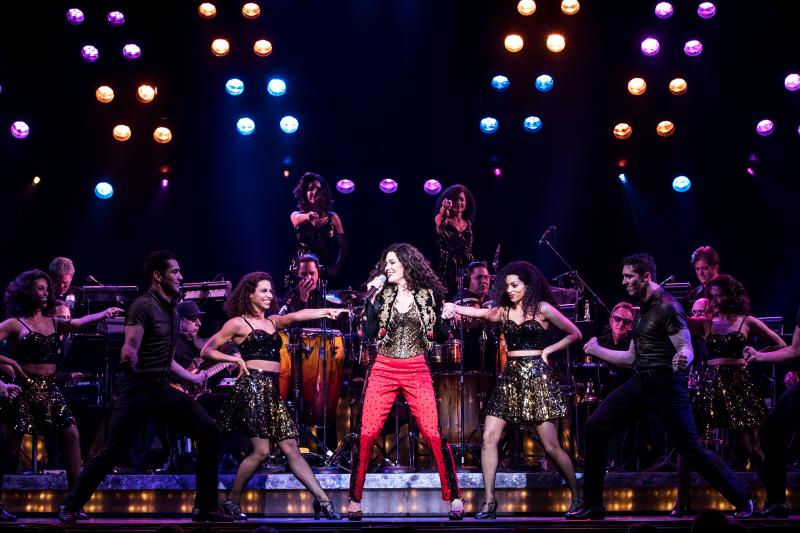 Who hasn't danced around their home to the fabulous tunes of Gloria Estefan and the Miami Sound Machine knowing that the "Rhythm is Gonna Get You"? I know I have. (Don't judge.) And really if you too have any kind of affinity for their hot Latin rhythms then their bio-musical "On Your Feet!", currently playing at the Paramount, will be for you. Maybe not the most engaging story, but oh those hips.
The lives and career of Gloria and Emilio Estefan (played with heart and fantastic voices by Christie Prades and Ektor Rivera) of Miami Sound Machine are not the most fascinating or tumultuous. They met, they hit it off, they went through some adversity getting the labels to let them crossover beyond the Latin scene, they had a lot of success, then a tragedy which they pushed through, the end. Sure, there's some family conflict with her mother (Nancy Ticotin) counteracted by much support from her Grandmother (the hilarious Alma Cuervo). And there's some lovely moments in flashback and dream sequence with her father (Eddie Noel). But let's face it kids, we're here for the music and the dancing and they have that in spades.
Choreographer Sergio Trujillo has once again given us a stunner of a dance show with the ensemble of dancers so energetic and powerful they practically come off the stage. Oh wait, they do. And their dancing is only matched by their powerful voices. Prades is a spot-on Gloria Estefan and has the energy and heart to match. And Rivera makes for her perfect partner with his soulful voice and sexy moves. Ticotin too gets her chance to cut loose in a flashback and does not waste it as she belts out an incredible number only to have to finish the number under emotional duress. Noel as Gloria's father blew me away as his flashback songs were so amazingly sweet and tender and truly some of my favorites of the evening. And I must give kudos to Ana-Sofia Rodriguez and Jeanpaul Medina Solano as Young Gloria and Gloria and Emilio's son Nayib respectively. Especially to Solano whose feet apparently do not obey the laws of physics. And then there's the rest of the ensemble of singers, dancers and musicians who blew the roof off the Paramount in the sexiest way possible.
So, the story may be a bit thin and slightly forced and the show isn't one that's going to blow your theatrical doors off but for a fun evening, hell yes! And so, with my three-letter rating system, I give "On Your Feet!" at the Paramount at hip shaking YAY. A lovely little bit of candy fluff, and who doesn't love candy?
"On Your Feet!" performs at the Paramount Theatre through October 28th. For tickets or information visit Seattle Theatre Group online at www.STGPresents.org.
Born and raised in Seattle, WA, Jay has been a theater geek for years. He attends as many shows as he can around the country (read more...)