BWW Review: BOHEMIA Delights All the Senses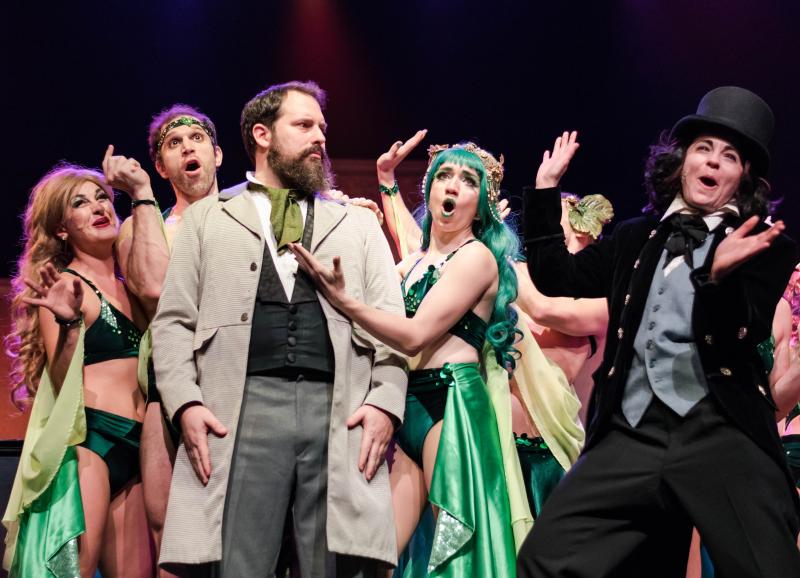 Whether or not you actually drink the absinthe (and there is plenty of it flowing) the green fairies are out in full force at the latest venture from Opal Peachey and Mark Siano, "Bohemia", currently playing at The Triple Door. Should you catch this eye-popping extravaganza (and you should) be prepared for an evening of decadence for your eyes, ears, and taste buds. I'm sure Siano and Peachey would have liked to have included the other two senses as well but that might have landed us back in the territory of their previous hit show, "Seattle Vice" although some of the numbers came pretty close to that territory.
This dreamlike cabaret is part musical theater, part burlesque, part aerial and acrobatics and all fun. Directed by Brandon Ivie, the absinthe fueled evening is hosted by Wormwood (Tori Spero Dullenty), the sassiest green fairy you'll ever meet, so named for the active ingredient in the aforementioned cocktail. She's here to introduce us to Antonin Dvorak (Mark Siano), a composer who can't seem to get out of his own head enough to come up with his next great work. Enter his friend, celebrated artist Mucha (Hisam Goueli), who invites him to a party and offers up a bottle of absinthe to get his juices flowing. Dvorak takes to the bottle quite quickly causing all the green fairies to come out in force along with the spirit of Frederic Chopin (Opal Peachey) to guide him through a world of feeling rather than so much thinking.
Now I'll admit that burlesque shows are a lot of fun but what Peachey and Siano do is to develop theirs into such a wonderfully cohesive evening with a rich and engaging story complete with original songs from Peachey and Siano as well as the leader of their killer band, The Dayton Philharmonic, Dayton Allenmann. And under the direction of Ivie that cohesion becomes even stronger with each act seamlessly flowing into the next.
I would say the cast is from the Gods but since I believe them to be actual fairies, that's obvious. Each one of this outstanding ensemble not only wows with stunning dance, musical and aerial routines but each one down to the last fairy has their very own distinct personality making the show that much richer. They sing, they dance, they fly through the air and they do things while silhouetted behind a screen that ... well ... was it hot in there or was it just them? Dullenty owns the stage from the moment she sets foot on it and commands the audience like no other. Siano's voice keeps amazing me each time I see him perform. I know he's a gifted comic actor but then I'm reminded of his killer pipes. And Peachey is, as always, an absolute bubbly delight with her own scintillating voice and brilliant comedic timing. And of course, there's a reason she and Siano keep working together, they have great chemistry.
The approach of "Bohemia" has had Seattle buzzing for some time now and they do not disappoint. And so, with my three-letter rating system, I give "Bohemia" a still a little drunk (on the show) YAY. Trust me, you want to make a point to dance with these green fairies.
"Bohemia" performs at The Triple Door through January 27th. For tickets or information visit them online at www.thetripledoor.net.