BWW Review: ACT's TRIBES – Touching and Engaging But a Bit Cliché and Forced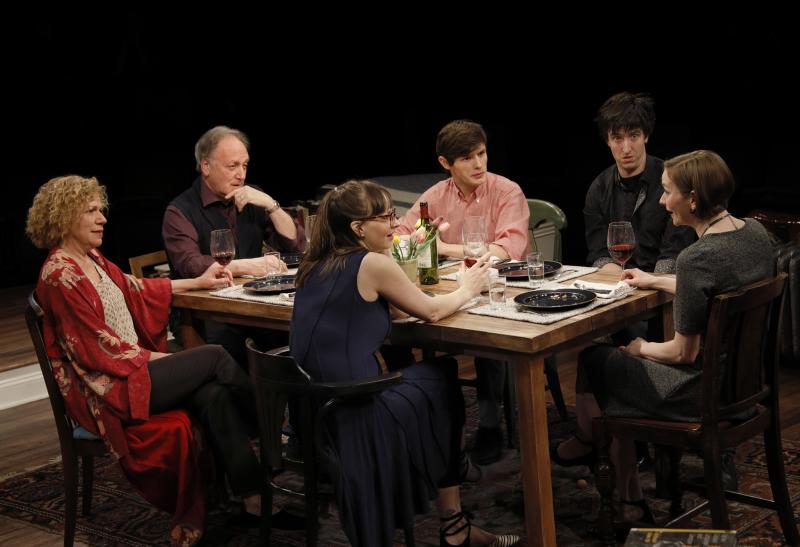 I want to start off, Dear Readers, by stating that I really did enjoy ACT's current production of "Tribes". There are some Great Performances and it's a funny, engaging play with rich dialog. But even with my level of enjoyment in the moments of the play I can't help but also see some glaring shortcomings in the piece itself specifically having to do with the characters and their arcs. But let's set the stage (so to speak) first.
Nina Raine's play focuses on Billy (Joshua Castille), a young, deaf man in England just back with his family after attending University. His family with his Mother and Father, Beth and Christopher (Anne Allgood and Frank Corrado) along with his two siblings, Daniel and Ruth (Adam Standley and Kjerstine Rose Anderson) all obviously love Billy very much but are also very selfishly caught up in their own drama and have made no attempt to truly include and accommodate Billy or his disability for his entire life. So much so that he's never even learned sign language as his family couldn't be bothered to learn it too. Enter Sylvia (Lindsay W. Evans), a vibrant young woman who's fully immersed in the deaf community from having two deaf parents and who is also going deaf herself due to a genetic condition. Billy and Sylvia click right away and Billy begins to see that there's a whole other world for him outside of the hearing world his family has kept him in.
As I said, it's a very touching and engaging story with rich dialog and some well-drawn characters but my problem is that the division between the characters is so black and white with Billy and Sylvia being so obviously the good guys and his awful and self-centered family so obviously being the bad. Sure they articulate their attitudes and feelings well on why they don't attempt to fit in with Billy's life more, but still end up coming across as cliché stereotypes. Plus, many of the resolutions of the play come out of nowhere are aren't really earned. They simply happen as if the author suddenly realized she needed to end the play. I could say these were minor qualms considering how much I did still enjoy seeing the play but afterwards in retrospect I could see how much of the play felt forced down my throat by these issues.
The performances are absolutely top notch even if the play structure isn't. Castille and Evans are adorable together and their chemistry is palpable making their journey all the more impactful. Allgood and Corrado as the squabbling parents are viciously delightful and manage a sense of grounding to these outrageous characters. And Anderson and Standley bring in two very different sides of the same coin as the perpetually searching and damaged siblings. And I have to mention Standley's stunning turn as a young man who's own insecurities devolve him to the point of incapacitation.
Director John Langs as usual paces and stages the piece beautifully especially in the round where he manages no bad sight lines (something I've had issue with in some other local productions lately) and creates a solid production. No, my issue is not with the production in the slightest but with the play itself as I felt its construction could have been a bit more elegant. But even with my qualms on the show, with my three letter rating system I still give ACT's "Tribes" a thoroughly engaged YAY-. As I said, I enjoyed my time with the play even if I felt it was a bit forced. So I can recommend it but maybe take it all in with a grain of salt.
"Tribes" performs at ACT through March 26th. For tickets or information contact the ACT box office at 206-292-7676 or visit them online at www.acttheatre.org.