BWW Review: LONG DAY'S JOURNEY INTO NIGHT, Citizens Theatre, Glasgow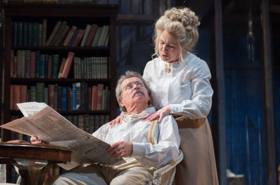 It is clear from the start that things aren't quite right with the Tyrone family. We join the four members of the family at dinnertime and although they seem to all be getting along, it is apparent that there is a lot not being said. This sets the tone for the play with a deep level of intrigue surrounding what is actually going on.
The strongest element of this production is undoubtedly the performances. The accents are very authentic and the cast manage to sustain the intensity of the piece throughout. Bríd Ní Neachtain is exceptional as Mary, the mother whose hands have become crippled with rheumatism and can only find relief in morphine. An addiction which her family allude to but avoid explicitly stating as they feel it is socially unacceptable.
Lorn Macdonald gives a wonderful performance as youngest son Edmund. Sick with consumption, he is willing to let his mother believe that he merely has a 'summer cold' in a desperate attempt to keep the peace. Although he seems like the most rational member of the Tyrone family even he can't contain himself when things come to a head with his father.
The staging for Long Day's Journey Into Night very much reflects the themes of the play. Although the ground floor appears to be well decorated, the bare upper levels of the house are exposed. While everything looks fine initially, we start to notice the emptiness of the place that Mary declares will never feel like a home.
Long Day's Journey Into Night is a piece that I could pick apart for hours. Every member of the family has their own tragedy and the strain of their relationships is fascinating to witness. Many secrets about the family are revealed as the alcohol flows and tensions build. Gentle digs are made about the father James being cheap from the very beginning of the evening which results in an explosive argument later on where he defends his miserly ways.
At just over three hours with an interval Long Day's Journey Into Night is an exhausting watch. The cast do a magnificent job with Eugene O'Neill's intense script and the evening flies by.
Long Day's Journey Into Night is at the Citizens Theatre until May 5th and then at HOME, Manchester from May 10th until May 26th.
Photo credit: Tim Morozzo
Natalie has been an avid theatre goer since her first London production of Blood Brothers when she was 12. Based in Glasgow, she also reviews (read more about this author...)