BLANCHE AND BUTCH To Open At Tron Theatre This Month Before Embarking On Scottish Tour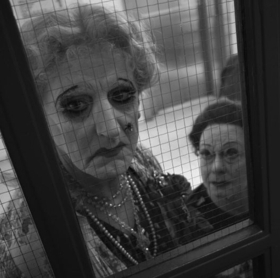 Birds of Paradise and Tron Theatre present brand new co-production, Blanche & Butch; a dazzling new drag show that tells the witty and poignant story of three disabled drag queens.
As a trio, they used to be part of the sensational
Heelz n Wheelz
. Now there's not much sensation left. The glitz, glamour and sparkles have faded and, instead, they find themselves backstage at a down at heel production of
Whatever Happened to Baby Jane?
Inspired by Noel Greig's original production
Heelz n Wheelz
,
Blanche & Butch
pulls back the curtain and tells the deeply touching story of three men and their lives, loves and losses. Written by Robert Softley Gale, who will star alongside Garry Robson and Kinny Gardner,
Blanche & Butch
is an outrageous new show that challenges the boundaries of PC, through high quality camp and original storytelling. Directed and designed by Kenny Miller,
Blanche & Butch
will include original songs by
Akintayo Akinbode
, with live music played by Amelia Cavallo. Talking about
Blanche & Butch
, Writer Robert Softley Gale said:
'As a disabled, queer man I look to different camps to work out where I fit in to the world. Drag queens have always intrigued me.
Blanche & Butch is a personal and political production that surrounds three disabled drag queens. It has taken over a decade to write and looks to explore gender, identity, equality and disability through cabaret, camp songs and frocks.'
Commenting on the co-production Andy Arnold, Artistic Director of Tron Theatre, said:
'We're delighted to be co-producing Blanche & Butch with Birds of Paradise this autumn and to be associated with a team whose track record in producing original, challenging and hilarious new work is second to none'.

Writer Robert Softley Gale is an established figure in the Scottish arts scenes with over sixteen years of experience as a writer, director, actor, performer and advocate. He is Artistic Director of Birds of Paradise Theatre Company and alongside writing, has directed smash-hit sex comedy 'Wendy Hoose' and 'Purposeless Movements', for which he was nominated for Best Director at the CATS awards.
Director and Designer Kenny Miller works as a freelance director and designer, after undertaking the roles of Associate Director and Head of Design at the Citizens' Theatre, Glasgow. He has worked in Theatre and Opera both nationally and internationally, in designing and directing, and has won three Critics' Awards for Theatre in Scotland (CATS) for his work.
Full dates for Blanche and Butch can be found on the BOP Theatre website.