Click Here for More Articles on Stream Now
Van Wezel Announces Additional Performance - LIZ CALLAWAY: HOME FOR THE HOLIDAYS
Tune in on Friday, December 11, 2020 at 7 p.m.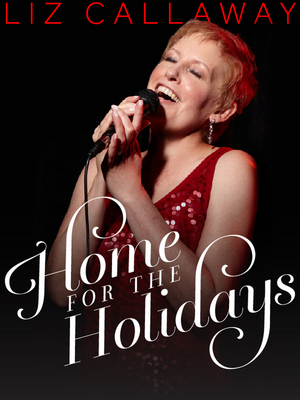 Liz Callaway: Home for the Holidays is a magical concert that can be viewed from the comfort of your home! On Friday, December 11, 2020 at 7 p.m., Tony nominee and Emmy winner Liz Callaway will perform a mix of holiday favorites and beloved Broadway showtunes with stories about the holidays and her career. Viewers will even get a preview of music from her upcoming holiday album, Comfort and Joy. The stream will also include a special behind-the-scenes interview with the artist and a post-show Q&A.
Ms. Callaway made her Broadway debut in Stephen Sondheim's Merrily We Roll Along, received a Tony Award nomination for her performance in Baby, and for five years, won acclaim as Grizabella in Cats. She also starred in the original casts of Miss Saigon, The Three Musketeers and The Look of Love. Other New York appearances include the legendary Follies in Concert at Lincoln Center, A Stephen Sondheim Evening, Fiorello (Encores) and Hair in Concert. Liz sang the Academy Award-nominated song "Journey to the Past" in the animated feature Anastasia. Other film work includes Jasmine in the two Aladdin sequels, The Swan Princess and The Rewrite with Hugh Grant. She received an Emmy Award for hosting Ready to Go, a daily, live children's program on CBS in Boston.
Tickets are $25 per stream. Tickets can be purchased at www.VanWezel.org, by calling the box office at 941-263-6799 or by visiting the box office Monday through Friday between 10 a.m. and 4 p.m. The event will be available for purchase and streaming through Saturday, December 19, 2020. Patrons will have 24 hours to watch the stream from when they start it and must watch it by the end of the day on Saturday, December 19, 2020.
Many virtual events and socially distanced shows, as well as Variety shows on the main stage, are on sale now for the 2020-2021 season. To view a full listing of upcoming events, visit www.VanWezel.org.
Shows on sale now:
Bay Park Yoga (FREE Every Saturday from November 21 through December 26, 2020, on the lawn outside of the Van Wezel)
BroadwayHD (available now, streamed)
A Killer Party: A Murder Mystery Musical - The Movie! (available now, streamed)
Jim Brickman: Comfort & Joy at Home (December 3, 2020, streamed)
Darlene Love Streaming Concert: Love for the Holidays (December 5, 2020, streamed)
Cabaret by the Bay starring Whitney James (December 11-12, 2020, in the Van Wezel's Grand Foyer)
Dave Koz & Friends: The Greatest Hits of Christmas 2020 (December 12, 2020, streamed)
Jagged Live in NYC: A Broadway Reunion Concert (December 13, 2020, streamed)
Moscow Ballet's Great Russian Nutcracker Christmas Stream (December 19, 2020, streamed)
Celtic Thunder - Christmas (December 20, 2020, streamed)
Salute to Vienna and Budapest (December 27, 2020, streamed)
Reza: Edge of Illusion (January 25, 2021, main stage)
Audra McDonald (February 13, 2021, main stage)
Jay Leno (February 14, 2021, main stage)
STOMP (March 7, 2021, main stage)
PROUD Tina: The Ultimate Tribute to Tina Turner (March 9, 2021, main stage)
America (March 10, 2021, main stage)
An Evening with Chris Botti (March 14, 2021, main stage)
Paul Anka - Greatest Hits: His way (March 17, 2021, main stage)
Kenny G (March 31, 2021, main stage)
Terry Fator: It Starts Tonight (April 2, 2021, main stage)
Mansion of Dreams starring Illusionist Rick Thomas (April 8, 2021, main stage)
Johnny Mathis 65 Years of Romance (April 14, 2021, main stage)
Sweet Caroline Tour (April 21, 2021, main stage)
One Night of Queen performed by Gary Mullen and the Works (May 15, 2021, main stage)
Maks & Val LIVE: Motion Pictures Tour featuring special guests Jenna Johnson and Peta Murgatroyd (July 25, 2021, main stage)
An Evening with Bruce Hornsby (November 11, 2021, main stage)
Celtic Thunder: Ireland (November 17, 2021, main stage)
Neil Berg's 50 Years of Rock 'N' Roll, Part IV (November 18, 2021, main stage)
Come From Away (November 23-28, 2021, main stage)
The Temptations and The Four Tops (December 2, 2021, main stage)
An Intimate Evening with David Foster: HITMAN Tour (December 9, 2021, main stage)
Hymn: Sarah Brightman in Concert (December 14, 2021, main stage)
Salute to Vienna New Year's Concert (January 3, 2022, main stage)
Renée Fleming (January 5, 2022, main stage)
Il Divo (January 6, 2022, main stage)
The Choir of Man (January 30, 2022, main stage)
A Tribute to Aretha Franklin: The Queen of Soul (February 9, 2022, main stage)
Neil Berg's 112 Years of Broadway (March 9, 2022, main stage)
Menopause The Musical® (March 16, 2022, main stage)
Featured This Week on Stage Door
Shoutouts, Classes, and More from Your Favorite Broadway Stars
Related Articles
More Hot Stories For You