Martyna Majok Becomes First Woman Playwright to be Chosen as Greenfield Prize Recipient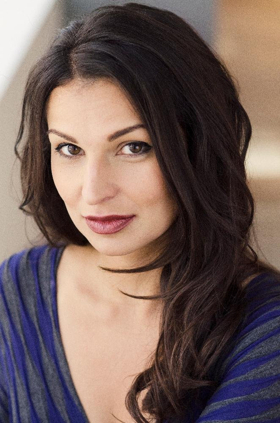 The Hermitage Artist Retreat along with its partner the Philadelphia-based Greenfield Foundation announce that Playwright Martyna Majok has won the 2018 Greenfield Prize, given this year in Drama. Majok joins only three other playwrights who have previously won this prestigious award, Craig Lucas (2009), John Guare (2012) and Nilo Cruz (2015). She is the first female playwright to win. Recipients of the Greenfield Prize receive a $30,000 commission for a new work which can be presented to an audience in two years. In addition, they receive time and space to create the work at the Hermitage Artist Retreat in Englewood, FL (Sarasota County). The first public showing is arranged through the Hermitage with a professional arts organization in Sarasota, during a future Greenfield Prize weekend. The Hermitage will partner with Sarasota's Asolo Rep to present Martyna's project in the spring of 2020. Help in securing future performances elsewhere is also included. Majok was selected by an impressive jury that included Carey Perloff, Artistic Director for American Conservatory Theatre, Jaime Castaneda, Associate Artistic Director, La Jolla Playhouse and Mandy Greenfield, Artistic Director, Williamstown Theatre Festival. Martyna Majok will receive her award at a special Greenfield Prize Award Dinner on Sunday, April 8 at 6:30 pm at Michael's On East ballroom, 1212 East Avenue South, Sarasota, FL. Tickets are $150 for individuals and $250 for Patrons. Reservations can be made online at www.GreenfieldPrize.org or by calling Development Director Craig Badinger, 941-475-2098, ext. 2.
"I'm immensely grateful for the generosity and faith of the Greenfield Prize. It means the world to be believed in," Majok stated. "What a gift to receive this level of support and encouragement to continue writing the stories I feel compelled to tell. It is an incredibly humbling honor to be in the company of past recipients and brilliant legends Craig Lucas, John Guare, and Nilo Cruz. I'm proud to be the first woman and the second immigrant to share this prize in drama and for what this honor communicates about the value of our stories."
Martyna Majok's plays have been performed at LCT3/Lincoln Center, Williamstown Theatre Festival, Manhattan Theatre Club, Rattlestick Playwrights Theater/Women's Project Theatre, and The O'Neill, among others. Awards include The Lanford Wilson Prize, Helen Merrill Emerging Playwriting Award, Stacey Mindich Prize (Lilly Awards), Charles MacArthur Award for Outstanding Original New Play (Helen Hayes Awards), The Kennedy Center Jean Kennedy Smith Award, David Calicchio Emerging American Playwright Prize, New York Theatre Workshop 2050 Fellowship, and NNPN Smith Prize for Political Playwriting. Commissions include Lincoln Center, The Bush Theatre in London, Geffen Playhouse, La Jolla Playhouse, South Coast Rep, and Manhattan Theatre Club. BA: University of Chicago; MFA: Yale School of Drama, The Juilliard School. Martyna was the 2015-2016 PoNY Fellow at the Lark Play Development Center and is a 2018-2019 Hodder Fellow at Princeton University.
Jury Chair, Perloff, commented about selecting Martyna, "We were unanimously excited about Martyna because of the ferocity of her writing, the breadth of her imagination and the ambition of her proposal. She is truly unique, and we can't wait to see what she comes up with through the extraordinary support of the Greenfield Prize.
"We could not be more pleased to have Martyna Majok as our 2018 Greenfield Prize winner," Hermitage Executive Director Bruce E. Rodgers added. "Her work has been recognized around the country and in Europe. It's this caliber of artist that the Greenfield Prize was created to honor and encourage to continue to do meaningful work. That is the crux of this prize and we are proud and excited to see and hear what Martyna has to say."
In addition to the Greenfield Prize dinner, the weekend will include free talks and discussions about art and the theater. One will be with the winner, Martyna Majok, discussing her work and career. For more information or to reserve for the dinner, visit the website, GreenfieldPrize.org. or call Development Director Craig Badinger, 941-475-2098, ext. 2.
The Hermitage is a not-for-profit artist retreat located at 6660 Manasota Key Road in Englewood, FL. It invites accomplished painters, sculptors, writers, playwrights, poets, composers and other artists from all over the world for residencies on its beachfront historic campus. Many of these artists are Pulitzer Prize, Tony, Emmy, Grammy and MacArthur "Genius" Award winners. Artists are asked to interact with the community during their stay and as a result, Hermitage artists touch thousands of Gulf Coast community residents with unique and inspiring programs each year. Hermitage community programs are partially sponsored in part by the Florida Department of State, Division of Cultural Affairs, the Florida Council of Arts and Culture and the State of Florida (Section 286.25, Florida Statutes), and the Sarasota County Tourist Development Tax Revenues. In addition, the Hermitage awards and administers the prestigious Greenfield Prize, an annual $30,000 commission for a new work of art, rotating among visual art, music and drama. The Hermitage also partners with the Aspen Music Festival and School to award the annual Hermitage Prize to a composition student during the Festival. For more information about The Hermitage Artist Retreat, call 941-475-2098, ext. 5, or visit the website at www.HermitageArtistRetreat.org.
The Greenfield Prize at the Hermitage Artist Retreat is a groundbreaking partnership between the Philadelphia-based Greenfield Foundation and the Hermitage Artist Retreat. Pursuing the mission "to bring into the world works of art that will have a significant impact on the broader or artistic culture," the prize seeks to identify individuals whose past work and future prospects position them to achieve this lofty and ambitious goal. The prize is awarded annually and includes a $30,000 commission for a new piece of work to be created within a two-year time frame. A residency at the Hermitage Artist Retreat on Manasota Key in Englewood, FL, ensures time and space in which to do the work. The Greenfield Prize rotates each year among three artistic areas; drama, music, and visual arts.
Related Articles View More Sarasota

Stories

Shows
More Hot Stories For You