GREAT BALLS OF FIRE Will Open FST's 2021 Summer Cabaret Series
The revue will bring the music of Jerry Lee Lewis to life.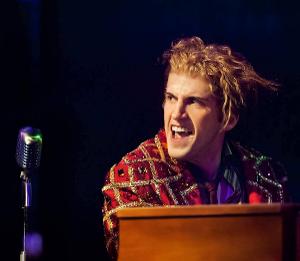 Florida Studio Theatre (FST) kicks off its Summer Cabaret Series with Great Balls of Fire, a high-energy musical revue bringing the music of Jerry Lee Lewis to life. An electrifying tribute to the original bad boy of Rock & Roll, Great Balls of Fire features over 20 hits from the 1950s and beyond including "Good Golly, Miss Molly," "Shake, Rattle, and Roll," and "Whole Lotta Shakin' Goin' On." Created by Jason Cohen and Michael Schiralli, Great Balls of Fire begins playing June 15 in FST's Court Cabaret. Tickets are now on sale at FloridaStudioTheatre.org or at 941.366.9000.
Great Balls of Fire is part of a three-show subscription package. Also included in the Cabaret subscription package is Shades of Bublé, a three-man tribute to the Canadian crooner Michael Bublé, along with Jukebox Saturday Night, an all-new show from The Swingaroos. Subscriptions for all three Summer Cabaret shows can be purchased for as little as $49 at (941) 366-9000 or FloridaStudioTheatre.org.
"Great Balls Of Fire is a party from start to finish," said Michael Schiralli, co-creator of the Cabaret. "We hope that the audience will leave the challenges and weight of the past year outside and escape to the never-ending musical celebration of Jerry Lee Lewis we're creating inside FST's Court Cabaret."
Leading the fast-moving Cabaret is Jason Cohen, who played Jerry Lee Lewis in the national tour of Million Dollar Quartet, the Tony Award-winning musical dramatizing the 1956 Million Dollar Quartet recording session with Elvis Presley, Johnny Cash, Carl Perkins, and Lewis at Sun Records. Cohen played Lewis in over 75 theatres across North America, garnering critical acclaim for his ability to channel Lewis' charisma and musical talent. He was called "the best part of the show" by BroadwayWorld and critics in Topeka, KS, wrote that "he [Cohen] could go round for round with Lewis when it comes to pounding out a tune."
"Jason Cohen is a professional with great energy," said FST Associate Artist Catherine Randazzo, who will provide artistic oversight for the lively Cabaret. "His show takes the audience through Jerry Lee Lewis's songs and stories, but adds a touch of comedy and a few surprises, which keeps the audience on their toes. It's the perfect show to kick off our Summer Cabaret Series."
Performing alongside Cohen are Luke Darnell (Guitar, Mandolin, and Vocals), Nathan Yates Douglass (Bass, Harmonica, and Vocals), Justin Brown (Sax, Clarinet, Piccolo, and Vocals), and Jon Rossi (Drums, Vocals). Douglass was last seen at FST in the 2018 Summer Cabaret The Music of the Night With The Swingaroos. Brown specializes in woodwind instruments and has performed on Broadway, national tours, and luxury cruise ships, as well as in theaters, symphonies, and big bands.
FST's presentation of Great Balls of Fire is supported, in part, by Sarasota County Tourist Development Tax Revenues; by the Department of State, Division of Cultural Affairs, the Florida Council of Arts and Culture and the State of Florida; and the Gulf Coast Community Foundation. Thank you to our media sponsor, Sarasota Magazine.