'Embracing Kindness' Embracing Our Differences Announces Winners Of The 2023 Exhibit
Learn more about the winners here!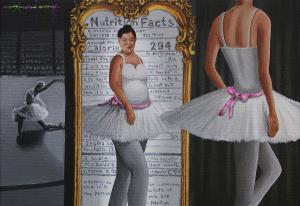 Since 2004, Embracing Our Differences has used the power of art and prose to promote diversity. One way it achieves this is through its annual, juried international outdoor art exhibition comprising 50 billboard-sized works of art, each accompanied by an inspirational quotation.
This year's response to the call for artwork and inspirational quotations received 13,733 entries pouring in from 119 countries and 45 states. Students from 424 schools around the world submitted artwork or quotations to the juried exhibit. The Best-in-Show Adult artwork award went to Whittney de Araújo, from Recife, Brazil, for "We Are All Pearls."
Alexis Lee, a 10th grade student from the Icon Art Academy in Irvine, California, won the Best-in-Show Student award for "Stretching Beauty." Alexis Morrell of Wolcott, Connecticut, won Best-in-Show Adult for her inspirational quotation, "It takes more courage to speak in a silent room than to become another voice in a crowd."
The award for the Best-in-Show Student inspirational quotation was given to Hartley Livesey, a fifth grade student at The Out-of-Door Academy for "Always remember you are braver than you think and stronger than you believe." The winning quotations and art will be showcased at the 20th annual exhibits, January 18-March 12, in Sarasota's Bayfront Park; March 22-April 19 at Butler Park in North Port; and April 26-May 29 at State College of Florida, Manatee-Sarasota.
For more information about these exhibits or Embracing Our Differences, call 941-404-5710 or visit www.embracingourdifferences.org.