Review: THE SWINGAROOS, MUSIC OF THE NIGHT at Florida Studio Theatre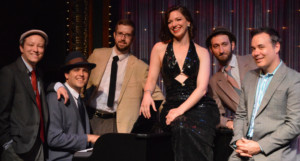 Florida Studio Theatre opened its second show of the Summer Sidekicks Cabaret Season with The Music of the Night, featuring the multi-talented swing/jazz sextet, The Swingaroos.
With brick walls, wooden staircase, rounded-out stage, posters from Cabaret and Follies shows, and the intimate feel of a New York supper club, the John C. Court Cabaret was a perfect venue for the showmanship and tribute to jazz and Broadway presented by one of America's favorite swing bands, The Swingaroos. Creator, multi-instrumentalist/vocalist Kimberly Hawkey pulled together an remarkable team of immeasurable talent in Nathan Yates Douglass (upright bass/vocals), Daniel Glaude (reeds), Assaf Gleizner, (musical director/piano), Steve Morley (trumpet), and Uri Zelig (drums). Each one brought their unique set of talent and personality to the stage. Their musicianship shines and their camaraderie onstage is delightful to watch.
Assaf started off playing a little soft shoe version of "Tea for Two" from NO,NO NANNETTE. It got jazzier as the rest of the band descended the staircase and added dimension to Rodgers & Hart's "Manhattan". Clever dialogue is woven between songs as Ms. Hawkey and crew take you on a journey from 1925 to the present with some of the most beloved and iconic songs from jazz and Broadway. "Ain't Misbehaven", "You're the Top", "Come Rain or Come Shine", "On a Clear Day You Can See Forever", and "I Got Rhythm" were just a few of the numbers in Act 1 that got the "swing treatment", which had the audience's toes tapping and heads bobbing to the big band sound that filled the theatre. Ms. Hawkey picked up the banjo and joined in with her band on, "Blue Moon".
Act 2 brought some costume changes as "Cabaret", "I Could Have Danced All Night", "If I Loved You", and "Music Of The Night" were highlighted. Throughout the evening, time was given for each member to solo their work in the spotlight. This further confirmed the band was not just awesome together, but each was an accomplished performer in their own right. Their "The 11 o'clock Number" was delightfully funny and made for a great segue to their final song, "Give My Regards to Broadway".
Music Of The Night is jammed packed with standards from Kander & Ebb, Rodgers & Hart, Irving Berlin, Cole Porter and the Gershwins. This is one of the most entertaining shows you will see with top-notch musicians, who can also sing well and harmonize together. Ms. Hawkey's stylish essence makes her a charming chanteuse to front her band. She has a beautiful voice and a range that is a gift for the music of the night. (And she has Natalie Wood's dark, sparkling eyes.) Mr. Douglass was quite the crooner on the bass while singing, "Come Rain or Come Shine", finishing with a hauntingly soulful touch on the harmonica. The ridiculous amount of notes streaming from Mr. Glaude, switching from sax to flute and back again was amazing. Equally amazing was Mr. Morely's trumpeting skills. I don't think either musician missed any note very written. Mr. Zelig was impressive to watch as he showered his drum set with the passion of every beat. Mr. Gleizner held it all together as the musical director and pianist showing his sweet personality and musical acumen for swing. Bravo all!
The Music of the Night runs through August 19, 2018 at the John C. Court Cabaret. For more information on Florida Studio Theatre and their upcoming shows, visit www.floridastudiotheatre.org. For more information on the Swingaroos, visit www.theswingaroos.com.